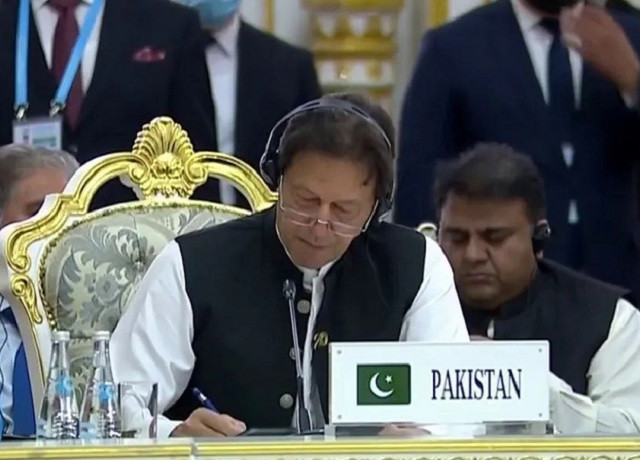 ---
DUSHANBE:
Prime Minister Imran Khan on Friday called upon the regional countries to "resist any drift towards bloc politics" and stressed the need for pursuing the approach of peaceful coexistence.
Speaking at the 20th Shanghai Cooperation Organization (SCO) Council of Heads of State meeting, held in the Tajik capital, the prime minister said that addressing the threats to international and regional peace and security was vital for the regional organisation.
"Peaceful coexistence and cooperation – not confrontation, should be the main drivers of global politics," he told the summit, attended by the presidents of Tajikistan, Uzbekistan, Kyrgyzstan, Kazakhstan, Iran, besides leaders of observer states and others.
Imran said addressing threats to international and regional peace was of vital interest for the SCO. "Fight against terrorism will not be won if such threats and challenges are ignored, with state terrorism being the biggest one, perpetrated against people living under foreign occupation in disputed territories.
Imran said that the Covid-19 pandemic afflicted the world in unprecedented ways, adding that the poor were hit the hardest everywhere. He shared with the regional leaders how Pakistan adopted a calibrated strategy of 'smart lockdowns'.
Read More: PM reiterates need for stable Afghanistan
The prime minister also took the opportunity to speak on his favourite topic of climate change and termed it yet another existential threat that the planet earth faces. "We have taken a number of flagship initiatives to mitigate its adverse impacts, including the 10 Billion Tree Tsunami project.
The prime minister said sustainable peace and stability in Afghanistan would also help realize Pakistan's vision of an inter-connected, prosperous and economically vibrant region. He said Pakistan had shifted its focus from geo-politics to geo-economics.
He was optimistic that the web of rail, road, sea and air links across the SCO region would usher in a new era of enhanced trade, energy flows, and people-to-people exchanges, and added that this connectivity would contribute significantly to progress and prosperity in the region and beyond.
The prime minister Imran termed the 20th anniversary of SCO an important juncture to reflect on its journey so far. The prime minister also proposed a five-point way forward on the SCO: support for effective multilateralism, collective endeavours to mitigate impact of the Covid-19 pandemic, coordinated SCO approach towards stabilising Afghanistan, regional connectivity and recognising the immense potential of our youth.
The prime minister addressed President Raisi of Iran as "my brother" and congratulated the country on admission to SCO as full member. He also congratulated Saudi Arabia, Egypt and Qatar on joining as new Dialogue Partners.
Bilateral meetings
Prime Minister Imran Khan met Chinese Foreign Minister Wang Yi on the sidelines of SCO summit in Dushanbe and discussed bilateral relations, economic corridor, and regional situation. He appreciated China's support for Pakistan's fight against the Covid-19 pandemic.
Imran underscored that the China-Pakistan Economic Corridor (CPEC) was a "transformational project" and both sides were working for its timely completion. He urged the international community to remain engaged in support of the Afghan people and take steps to prevent a humanitarian crisis.
Imran also held a bilateral meeting with President Emomali Rahmon at the presidential palace, the Qasr-e-Millat. He was accorded a red carpet welcome as he arrived here at the palace. Following their talks, the two leaders addressed a joint press conference.
Imran stressed that the establishment of an inclusive government with all ethnic groups on board was inevitable to achieve sustainable peace and stability in Afghanistan. "Peace and stability in Afghanistan is not only important for Pakistan and Tajikistan but also for the whole region," he said.
The Prime Minister said besides having wide-ranging talks to strengthen bilateral cooperation in diverse areas, they discussed the most important issue of the situation in Afghanistan. He added that he and President Rahmon discussed how they could ensure peace and stability in the war-torn country.
He described the situation of conflict between Tajiks and Taliban in Panjshir as "worrying" and said that the two countries agreed to try their best to resolve the issue through dialogue. He warned that they "cannot dictate Afghanistan but urge them as friends to resolve the [Panjshir] issue through dialogue".
Earlier, Prime Minister Imran and President Rahmon witnessed the signing of various documents and memoranda of understanding (MOUs) for increased cooperation between the two countries in diverse areas, including intelligence sharing to check money laundering and avoidance of double taxation.
COMMENTS
Comments are moderated and generally will be posted if they are on-topic and not abusive.
For more information, please see our Comments FAQ