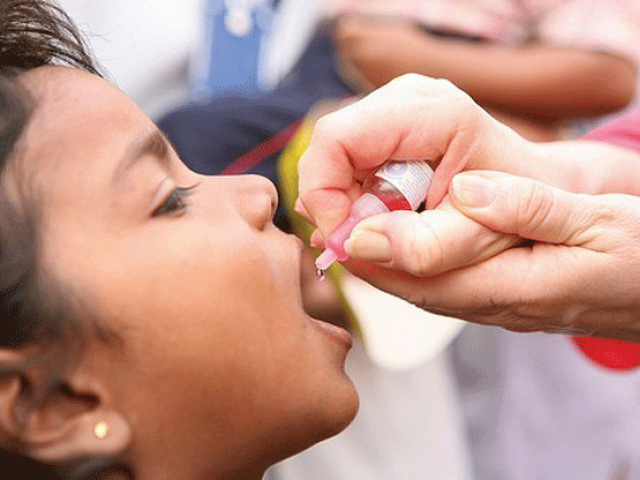 ---
KARACHI:
No poliovirus infection case has been reported in Karachi for the last one year as all the polio environmental samples collected from the seven districts of the metropolis have been found negative.
Karachi Commissioner Naveed Ahmed Shaikh, who is also the head of the Commissioner Karachi Task Force for Polio said chairing a meeting on Thursday. At least 2.3 million children in Karachi up to five years of age will be administered oral polio vaccine drops with the help of 23,000 polio workers and supervisors.
This was decided in a meeting, held on Thursday with Karachi Commissioner Navaid Ahmed Shaikh in the chair. The meeting decided to start the seven-day anti-polio campaign from September 20.
Read More: Anti-polio drive kicks off with SOPs
Appreciating the joint efforts, the commissioner said: "Negative test results are a good sign and the good news is that no polio case has been reported in the city during the last one year."
Meeting was attended among others by the Sindh Emergency Operation Centre (EOC) for Polio Coordinator Fayaz Jatoi, Additional Commissioner Jawwad Muzaffer, Assistant Commissioner General Aijaz Hussain Rind, representatives of the WHO, Unicef, Programme officer of Bill and Melinda Gates Foundation Dr Erin Stuckey and others.
It was decided that Covid SOPs would strictly be followed during the upcoming campaign.
BENAZIRABAD
Deputy Commissioner Shaheed Benazirabad, Amir Hussain Panhwar on Thursday chaired a meeting and reviewed the arrangements to make successful the 7-day national anti-polio drive commencing from September 20.
He said all possible steps should be adopted to administer polio drops to all children up to the age of five years throughout Shaheed Benazirabad district.
The DC instructed all assistant commissioners to ensure surveillance of polio teams during the campaign in order to achieve the stipulated target.
Briefing the meeting, District Health Officer Shaheed Benazirabad, Dr Daulat Ali Jamali and focal person for polio, Dr Allah Bux Rajpar said that more than 333,000 children up to age of five years would be vaccinated against polio during the campaign.
They said that Vitamin A drops would also be administered side by side with polio drops. They said, 1,038 polio teams comprising 896 mobile teams, 70 fix, 50 transit and 22 senior management teams have been formed.
Published in The Express Tribune, September 17th, 2021.
COMMENTS
Comments are moderated and generally will be posted if they are on-topic and not abusive.
For more information, please see our Comments FAQ