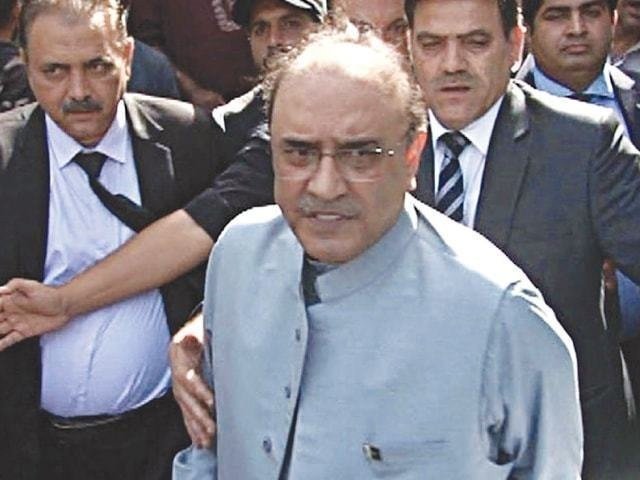 ---
ISLAMABAD:
Former president Asif Ali Zardari on Thursday moved an accountability court for his acquittal in the Toshakhana (gift depository) reference.
In September 2020, an anti-graft court had indicted the former president along with ex-prime minister Yousaf Raza Gilani in the reference.
Zardari had been accused by the National Accountability Bureau (NAB) of illegally retaining expensive vehicles gifted by various foreign states and dignitaries instead of depositing them in the Toshakhana.
According to the anti-corruption body, Zardari retained the vehicles "against a nominal payment of 15% of their total value" through "dishonest and illegal means for personal benefit and interest".
On Thursday, the former president's counsel Farooq H Naek filed a application under Section 265-K of the Criminal Procedure Code (CrPC)
The application states that the Zardari is "innocent and has been falsely implicated" in the reference on account of "political victimization".
"The applicant who has been made a victim of circumstances languished in jail for more than eight years without any fault on his part in innumerable cases ultimately resulting in acquittal in all the cases," the application further stated.
Read Zardari gets pre-arrest bail in Manhattan apartment case
"It is evident from the record produced by the prosecution that its case, taken at its highest, would be insufficient for conviction of the applicant," the application added.
"The prosecution has failed to produce any tangible incriminating evidence against the applicant and hence it is evident that there is no probability of the applicant being convicted in the instant reference."
The application also said that the allegations made against the PPP co-chairperson are false and there is "no ground for proceeding with his trial".
Counsel Naek further stated that the prosecution has failed to bring on record any evidence to show or substantiate that Zardari committed the offence of corruption or was involved in corrupt practices as defined in Section 9 of the National Accountability Ordinance 1999 (NAO 1999) and Anti-Money Laundering Act 2010.
"That a close reading of the charge along with the evidence that has come on record makes it absolutely clear that no case whatsoever has been spelt out against the applicant and indeed the applicant has not committed any offence as defined in NAO 1999 and Anti-Money Laundering Act 2010," the application prayed.
"The presumption of innocence available to the applicant under the law stands fully reinforced and become irrefutable. Hence the applicant is innocent and has been falsely implicated in this case," it concluded.
COMMENTS
Comments are moderated and generally will be posted if they are on-topic and not abusive.
For more information, please see our Comments FAQ