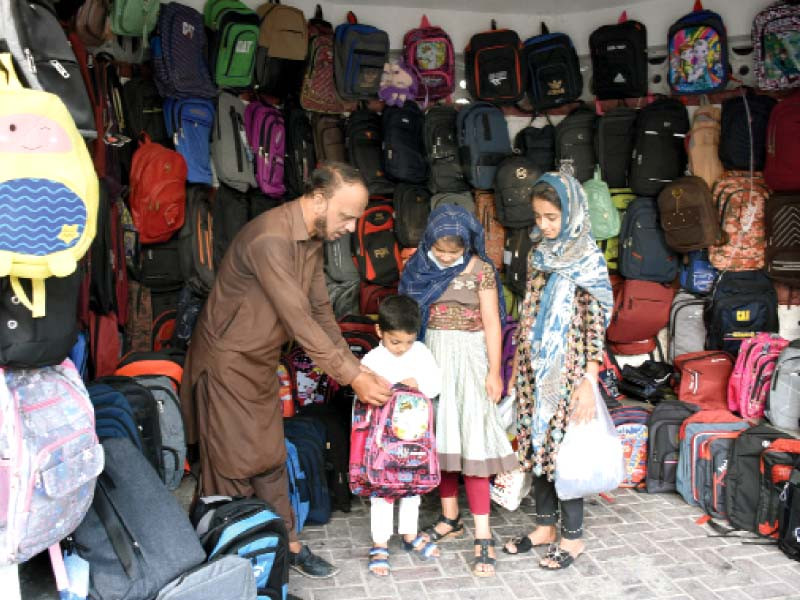 ---
Schools resume operation today
Another seven lose battle to coronavirus in Rawalpindi
---
RAWALPINDI:
The private and public schools in Rawalpindi are set to reopen today (Thursday) after they were closed due to the high positivity rate of Covid infections. The federal and Punjab governments have issued notifications in this regard as well.
The leaders of All Pakistan Private Schools Management Association and All Pakistan Private Schools Colleges Association on Wednesday welcomed the decision of the reopening of schools.
They assured that all anti-Covid standard operating procedures (SOPs) will be strictly followed and it will be mandatory for students to wear masks.
They said that the temperatures of all students will be checked at the school entrance and there will be no morning assembly, adding that the students will not be allowed to shake hands or hug each other and exchange lunch or stationery.
Meanwhile, Covid-19 claimed seven more lives in Rawalpindi during the past 24 hours as the infection rate climbed to 5.9 per cent while six coronavirus patients died on Wednesday.
Read Are 66 schools enough for 300k children?
The recent election campaign in the Rawalpindi cantonment board elections may be a major factor in the infection rate rising. According to the district authorities, 84 people contracted the virus during the last 24 hours while 156 infected patients are receiving treatment in hospitals.
Meanwhile, on Wednesday, the total number of people who have received coronavirus vaccination crossed 2.4 million with the inoculation of 23,533 more persons. According to data released by the District Health Authority, 40,849 health workers and 2,372,224 other people have been vaccinated so far.
Of the patients reported during the last 24 hours, 14 belonged to Rawal Town, 20 were from Potohar, 18 from Rawalpindi Cantt, seven from Kahuta, six from Kallar Syedan, four from Gujar Khan, three each from Taxila and Kotli Sattian while one case each was reported from Attock and Jhelum.
At present, 176 confirmed patients were admitted to various hospitals in the city with 21 at Holy Family Hospital, 55 at Benazir Bhutto Hospital, 57 at Institute of Urology, 27 at Fauji Foundation Hospital, six at Bilal Hospital, five at District Headquarter Hospital, three at Hearts International Hospital and one each at Akhtar Rukhsana Memorial Trust and Attock Hospital.
The report said eight patients were on the ventilator in critical condition, 75 were stable and 93 were on oxygen support while the positivity ratio was recorded at the rate of 5.9 per cent during the last 24 hours.
FIA busts fake Covid report-making gang
The officials of the Federal Investigation Agency (FIA) Cybercrime Wing Islamabad, while making progress in two registered cases against fake covid-19 reports, has summoned more than 30 people. The wing has also initiated investigations against fake vaccination certificates.
The FIA Cybercrime Wing arrested a person, Amjad, for generating fake PCR reports and registered a case against him. Meanwhile, his accomplice is on pre-arrest bail. On the other hand, the cybercrime team has traced all WhatsApp accounts being used for communication.
Read more Nearly 11,000 beat Covid in a single day
Additionally, the team of Cybercrime Wing arrested the accused named Fayyaz for preparing fake covid-19 reports. Moreover, raids are being carried out to arrest the accused involved in developing the software for fake reports.
While talking to The Express Tribune, FIA officials said that notices were sent to nearly thirty people involved in the crime, including the fake report makers and the consumers.
Four more die in Abbottabad
Another four patients succumb to coronavirus in Abbottabad within the last 24 hours, bringing the total tally to 353 in the district.
According to the health department statistics, the number of confirmed cases has reached 7,965 with 193 active cases while the number of recovered patients was 7,419.
The district health office has conducted 124,605 coronavirus tests, out of which 3,045 results are awaited, 113,520 came out negative, 7,965 tested positive and 74 were inconclusive.
Published in The Express Tribune, September 16th, 2021.