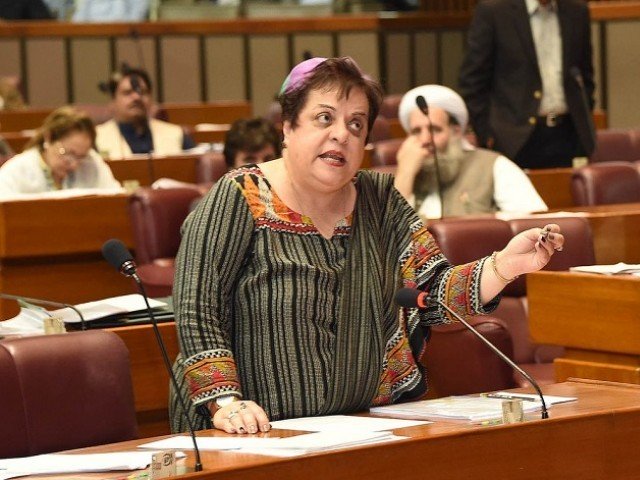 ---
LAHORE:
Amid journalists' protests against the proposed Pakistan Media Development Authority (PMDA) legislation, Human Rights Minister Shireen Mazari on Tuesday claimed that the draft has yet to be given a "final shape" before being sent to the cabinet committee.
The minister said that the draft has not been finalised, adding that this has been confirmed by Information Minister Fawad Chaudhry as well.
The remarks made by the minister came a day after the opposition leaders, including PPP chief Bilawal Bhutto-Zardari and PML-N President Shehbaz Sharif, visited a protest camp organised by the journalists at the D-Chowk in Islamabad. The opposition leaders had expressed solidarity with journalists and vowed to defeat the bill in parliament.
Read Shehbaz vows to stand by journalists on PMDA issue
Responding to the remarks of the opposition leaders, Mazari wondered what sort of bill was the opposition talking about as the draft has not been finalised yet. She said the PMDA bill will be sent to the cabinet committee that will send it to the cabinet and after the approval of the cabinet, the bill will be tabled in the National Assembly.
Furthermore, she urged journalists to urged Bilawal, who heads the National Assembly Standing Committee on Human Rights, to approve the bill pertaining to the protection of journalists. Mazari said the bill, drafted in consultation with the stakeholders, has already been approved by the sub-committee.
Moreover, the human rights minister disclosed that Prime Minister Imran Khan has tasked the human rights ministry to hold "consultative meetings" with different stakeholders on how the government can deal with fake news, defamation and rise in sex crimes.
After taking suggestions from journalists, media watchdogs, lawyers, ulemas, academics, and rights advocacy groups, the government will chalk out a cohesive policy based on their recommendations.
PMDA bill postponed?
According to sources, the government may postpone the proposed bill for the next 60 days after journalists expressed their reservations and staged protests over it. They said that the issue will be taken in the federal cabinet meeting on Tuesday (today).
Sources said the media authority bill will now be brought to the fore after addressing the reservations expressed by the stakeholders.
Sources in the government maintained that the bill was not being tabled immediately in parliament and that consultations on its postponement had started. They further said that some senior ministers had advised the premier not to "rush" with the bill.
COMMENTS
Comments are moderated and generally will be posted if they are on-topic and not abusive.
For more information, please see our Comments FAQ