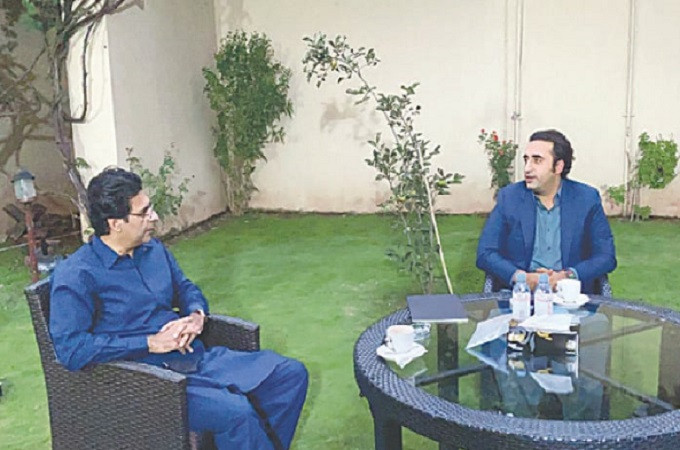 ---
KARACHI/LAHORE:
PML-Q leader and Federal Water Resources Minister Moonis Elahi on Sunday met PPP Chairman Bilawal Bhutto-Zardari at the latter's residence in Karachi – a meeting that is indicative of the two parties' alliance in the future.
According to a statement issued by the PPP, the two leaders discussed the country's overall political situation as well as the issue of water shortage in Sindh.
PPP's Senator Mustafa Nawaz Khokhar was also present during the meeting.
Bilawal inquired after the health of Moonis' father, Punjab Assembly Speaker Chaudhry Pervaiz Elahi, and expressed best wishes for him.
PPP Central Punjab General Secretary Hasan Murtaza said it was a scheduled meeting for which time was sought in advance.
Read Bilawal declares PM Imran 'security risk'
This was the third meeting between the top leadership of PPP, an opposition party, and the PML-Q, a coalition partner of the ruling PTI in Centre and in Punjab in the past six months.
The first was in March, when Bilawal met the Chaudhry brothers of the PML-Q at their residence in Lahore. Later in June, Chaudhry Pervaiz Elahi met with PPP Co-Chairperson Asif Ali Zardari at his residence in Lahore.
The PPP had even supported the PML-Q Senate candidates in Punjab -- a move that speaks of the warmth between the two sides.
However, PML-Q leader amd Federal Minister Tariq Bashir Cheema has in categorical terms denied the impression that any understanding to form a future alliance with the PPP had been reached.
Interestingly, he also denied knowledge of Moonis' meeting with Bilawal.
He said the meetings between the leaders of the PPP and PML-Q should not be misconstrued in any way.
"The PML-Q is a coalition partner of the PTI and that is the existing reality. What the future beholds, no one knows," he added.
COMMENTS
Comments are moderated and generally will be posted if they are on-topic and not abusive.
For more information, please see our Comments FAQ