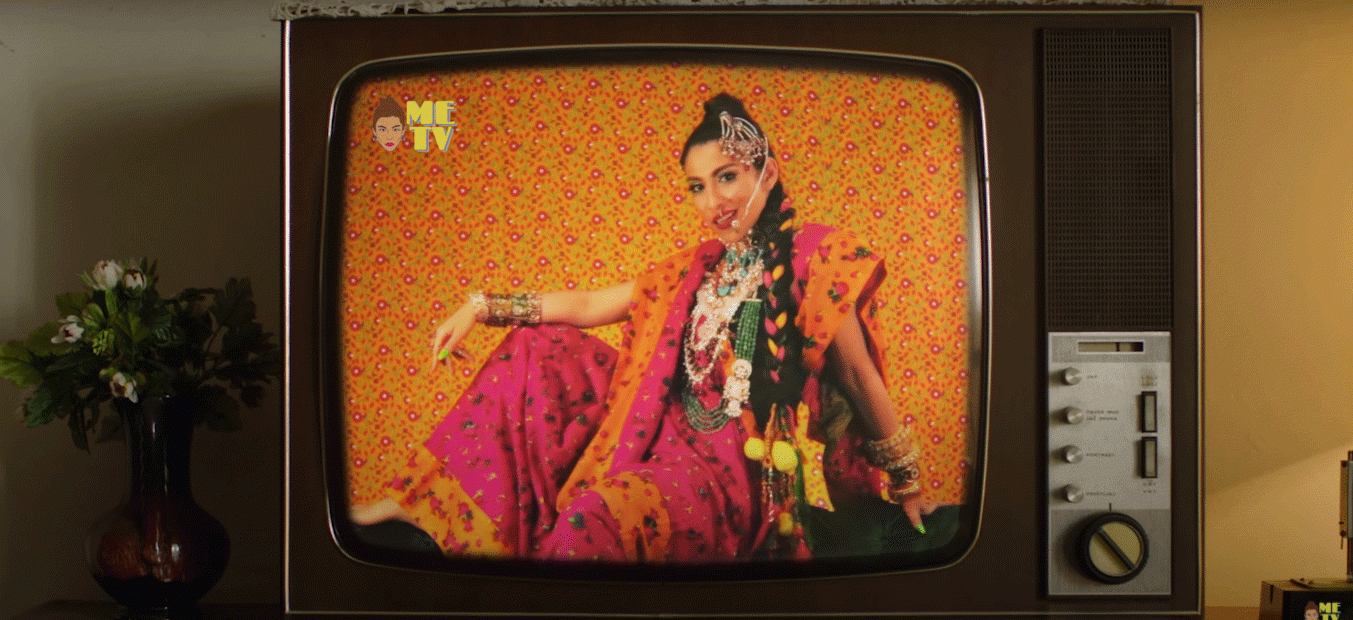 ---
Meesha Shafi dropped a new single starring Eman Suleman, Zara Peerzada, Abdullah Siddiqui, Rubab Ali, Hashim Ali and Swineryy.

The Aaya Lariye crooner revealed the chromatic fusion of desi and western for her new fun track, Hot Mango Chutney Sauce. Known for her knack for thinking outside the box, Meesha is back with yet another groovy track that we cannot get enough of!
While the mood of the song is joyful, it cleverly employs irony and sarcasm to question an unfortunate yet comic facet of urban Pakistani society: the rampant obsession with consumerism and the inability to understand ourselves beyond the facade of "wealth" or "success" we put up in social settings. The South Asian artist celebrates her roots and explores why we express our identities by acquiring and flaunting material possessions, instead of nurturing our values and vocalising principles we believe in.
"The idea of writing this song came out of a period of reflection on the rat race we often find ourselves in, where much of the focus is on what people own instead of who they are. It's a pitfall that is particularly hard to avoid in an industry literally called showbiz, so coming to this realisation has been fascinating," Meesha said in a statement.
Blending English, Urdu and Punjabi, she speaks colloquially and playfully integrates quintessentially Pakistani idioms and tongue twisters in her lyrics. "Ultimately, the song pokes fun at our collective identity crisis, which is only worsened by our colonial hangover as many of us have begun to realize. Even within the race, we've come to attach a higher value to aspects of pop culture that have no roots in Pakistan or the wider South Asian community. So, whether it was cultural references in the lyrics or the visual translation of the track into a music video, I aspired to create something uniquely us - desi and proud", said the songstress.
The music video begins with the famous singer rapping the popular tongue twister, Chandu Ke Chacha. The set has a huge mango truck with flashing rave lights parked near a Dhaba also tuned with the disco scene. Usually, such spaces tend to have a rather dull vibe to them, but this video makes the space regal with its props and flamboyant accessories. With bright-colored eyeshadows, pearl embedded blouses, maang tikas, popping parandas and embroidered denim coats, the whole video has a certain look to it.
Complementing the groovy hip-hop beat and its familiar words and sassy tone, the song plays on the notion of capitalism in the country. Meesha's song also marks a debut for a budding Instagram account, Swineryy, and it is a hit amongst the masses. It's a savage move by the production. Her sarcastic mimicry of the high-end culture of the Pakistani elite does not feel like an added narration at all. It blends in with the music and we're all living for it.
There are such details in the video that really brings out the hyper desi belonging in this very pop video. There's a constant cross between the past and the present. There's a sewing machine next to the very old-style television set which displays the communication from Meesha and Swineryy.
The mango season has already come to an end, but now we'll always have our Hot Mango Chutney Sauce.
Have something to add to the story? Share it in the comments below.
COMMENTS
Comments are moderated and generally will be posted if they are on-topic and not abusive.
For more information, please see our Comments FAQ