 ---
On Friday, a district court in Lahore cancelled the bailable arrest warrants issued against actor Saba Qamar and singer Bilal Saeed – according to a press statement shared by the duo's representatives – in a case pertaining to the alleged violation of the dignity of Wazir Khan Mosque.
Judicial Magistrate Jowaria Munir Bhatti had issued these warrants on Wednesday – setting the bail at Rs30,000 each – after Qamar and Saeed failed to make an appearance at the hearing. Bhatti had heard the case filed last year, which was followed by an FIR against the duo in a Lahore court.
Now, their issued statement assures they had submitted an application to the court for the withdrawal and cancellation of the bailable warrants issued on September 8, which has now been "graciously accepted." Both the artists contended that they are law-abiding citizens because they had communicated the "genuine reasons" for not appearing before the court.
"We are pleased to announce that the honourable court has accepted our application, and bailable warrants have been withdrawn through the court's orders issued today, on September 9," the statement read.
It went on to address the "widespread misreporting and mischaracterization of the court's orders by numerous print and television media outlets." And clarified that at no point, were there any directions issued to the law enforcement for the arrest of Qamar and Saeed.
On the contrary, the court followed its standard procedure and issued directions in the nature of production orders, to ensure the presence of the celebrities on the next date of hearing.
"We would, therefore, request all print and media outlets to exercise diligence and conduct verification before reporting on any orders of the honourable court, to prevent the dissemination of false news that poses a significant and detrimental risk to the lives, liberty and well-being of our clients," the statement concluded.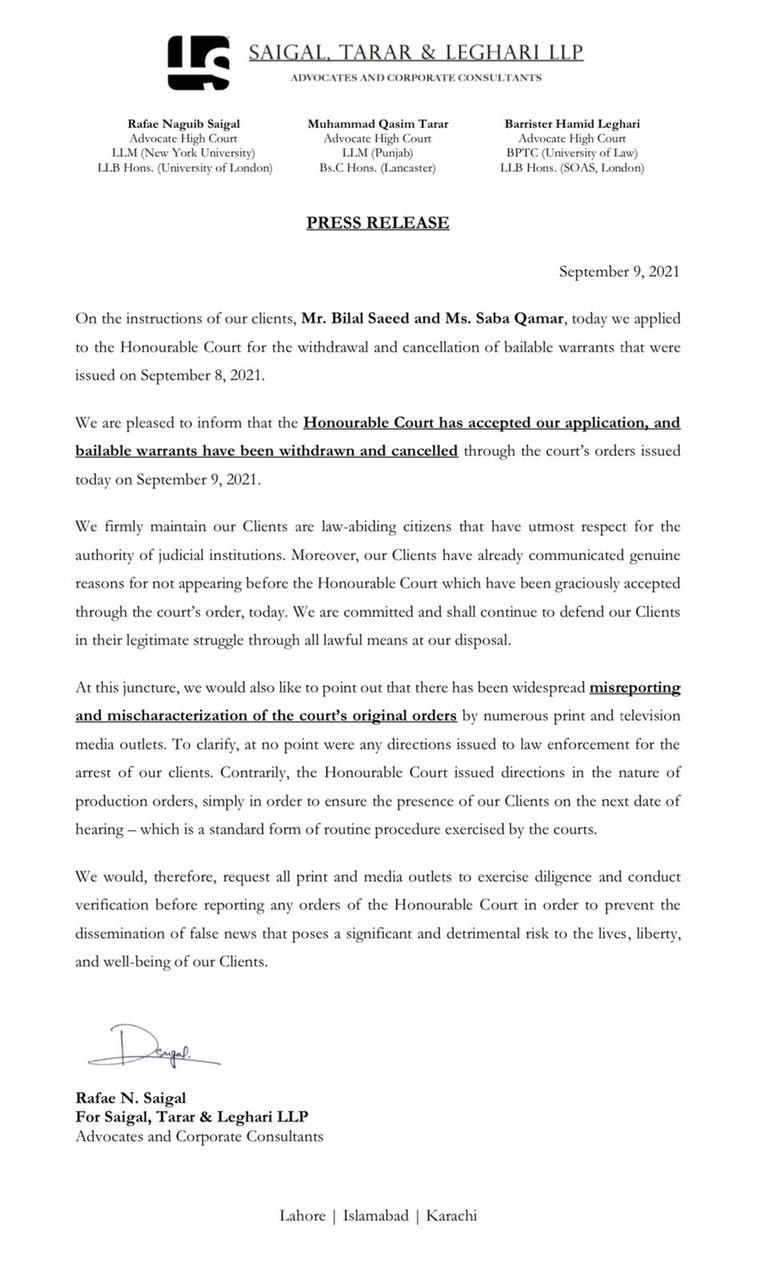 The Hindi Medium actor also shared this press statement on her Instagram Stories and wrote "Indeed, there is no substitute for diligent, responsible reporting and some good research."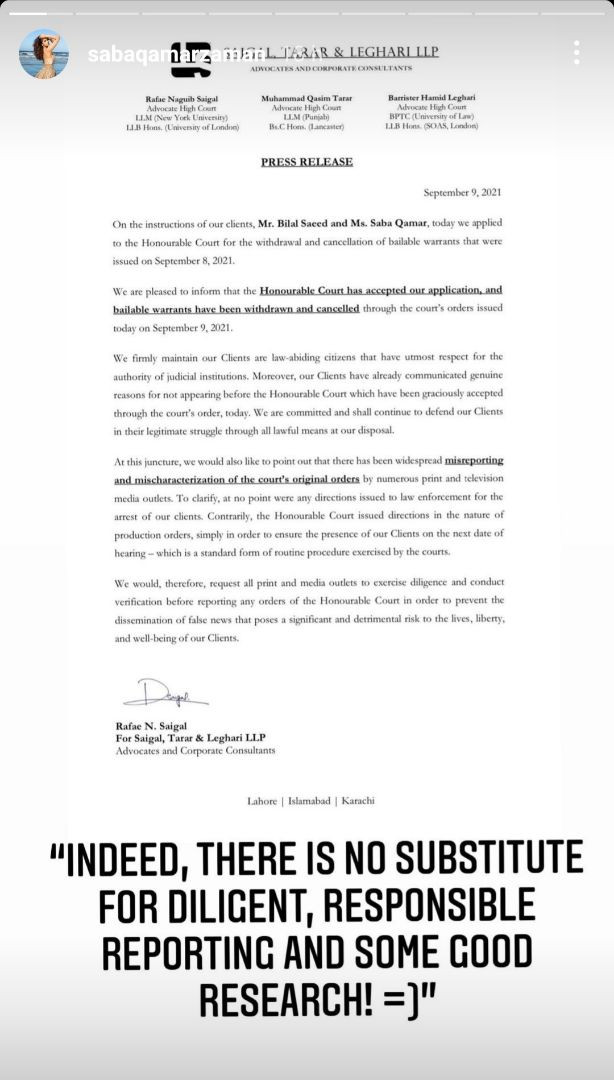 In August last year, a case had been registered at the Akbari police station of Lahore on the complaint of advocate Farhat Manzoor after the release of the song, Qabool Hai.
COMMENTS
Comments are moderated and generally will be posted if they are on-topic and not abusive.
For more information, please see our Comments FAQ