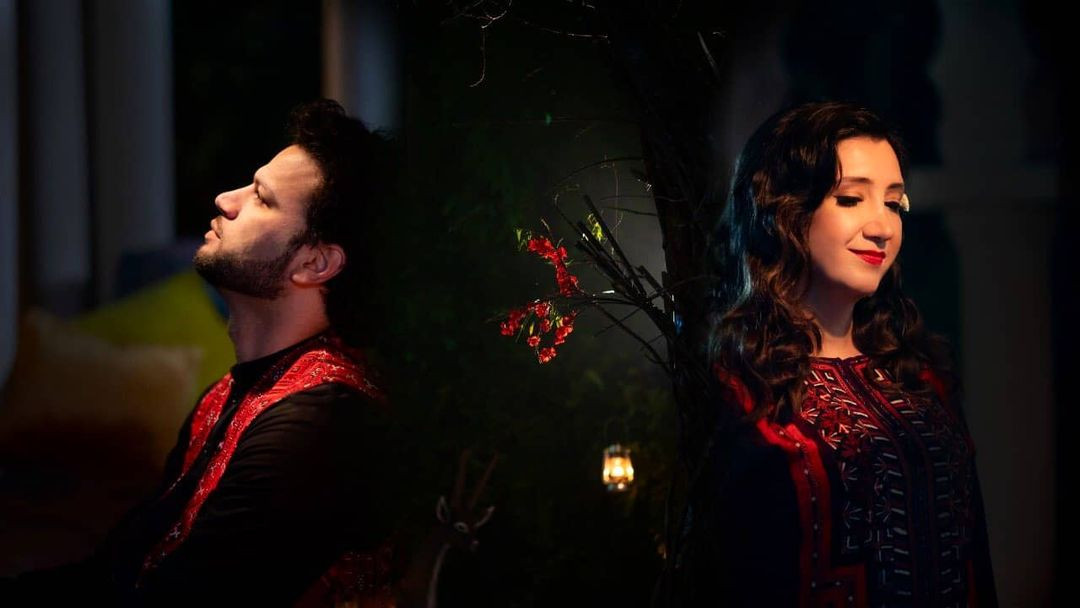 ---
KARACHI:
As much as there was a promise of Taliban 2.0 the recent videos of the Taliban assaulting women on streets and pictures of musical instruments broken by the Taliban paint a picture we all have seen before. Some artists have reportedly also gone into hiding while others are seeking refuge on the internet by digitising their content and sharing testimonies with those away from home.
The artists and their repeated pleas have allowed both the Afghans and Pakistanis to look through the propaganda and reconsider their position on what is a humanitarian crisis first and political chaos later.
Shamali Afghan and Zeb Bangash are two known names in the Afg-Pak music scene who continue to take inspiration and give back to their roots while staying thousands of miles away from home. Shamali, despite having lived in Toronto has grown up listening to the stories of Afghanistan, courtesy of his Afghan father Ustad Shah Wali and Zeb, whil having no direct link to what we call Afghanistan today, feels connected to it because of her Pashtun descent and a 'serendipitous' bond with Shamali. Both artists recently joined hands for Love Letters to Kabul, their EP which traces the musical connections between Pakistan and its neighbours.
The Pashtun connection
"When Paimona first came out, there were a slew of anti-Afghan and anti-Pakistan sentiments that built up in its comments section. Then there were Indian users picking sides. But they all loved the song," Zeb Bangash recalled in a conversation with The Express Tribune. "So it was quite interesting for me because irrespective of people's feelings towards a country's politics, they always react differently to its culture. Culture really rises above it all," she added.
"This collaboration came into being a year ago. Shamali and I met by chance when we were being pitched to do a Coke Studio song together" recalled the Sooha Saaha singer. "I know his father, Ustad Shah Wali. He's our family's favourite performer. I learnt Paimona and Bibi Sanam under his tutelage" she revealed, gratefully.
It all started when Shamali, who was in Kabul when Covid-19 broke out, visited Zeb in Pakistan with his cousins. They ended up jamming for a few weeks. "We spent a lovely time doing music, after which, we decided to record a few songs. Now, they all have a different meaning and gravity to them," acknowledged Zeb.
The Dilruba Na Raazi singer remembered reaching out to Saad Sultan, who agreed to produce the songs and Hashim Ali, who agreed to make their music videos.
About the musical connection between Pakistan and Afghanistan, and whether it can be used to cure the hatred which has built up, Zeb assured, "Of course! Connection to the Afghan culture is part of our genetic make-up. All three Afghan Ustads that we are covering in our EP have either contributed to or played in Pakistan. Ustad Nashenas has several PTV recordings. Most of our parents and grandparents would have all his cassettes. Ustad Biltoon has come and performed here so many times. So with travel, the transition of music is a continuum and it has been that way for a long time."
The continuum
Whether you call Afghanistan the Heart of Asia or the Graveyard of Empires, its artists appear to be as resistant to influence as its inhabitants are to occupants. And that can be assessed by the way they continue to express themselves. As Zeb relayed, "The new element is that we decided not to include too many new elements. The traditional Afghan sound is in itself so beautiful and the Pashtu saazina or Afghan saazina is a common denominator on both sides of the border, so we thought it would be nice to put them together."
However, she clarified that the beauty of the traditional styles does not mean she and Shamali felt there was no room to add their own touch. "There is a bass in there, there are keys in there, and there are certain parts that are modern. It's a modern sound but it's been crafted in a traditional way. We needed that original Afghan tabla jhol and this Pashtu groove, it's a very specific groove that only people from Peshawar can get a hang of. So we got this amazing tabla player, Javed Khan, from Peshawar, and a great rubab player, Waqar Attal, as well," elaborated the vocalist.
A-political stand
Zeb, who in 2017 had promised to keep her political views under wraps, has now kept them at bay entirely. "I feel the best things come out when we're entirely connected to our music and our intentions don't have [an agenda]," she shared. "So this was liberating. It is our privilege as performers and we often give it up by delving into matters that political experts can talk better about," she continued.
But if one's art does not reflect the politics of the time, how does one connect to the viewer or listener? "It feels squeamish to hear constant political commentary by people who can express themselves in other ways," resorted the singer. "I mean right now, I would much rather write a song than have a political discussion," she admitted.
As for her EP making a political statement – provided the timing of its release – despite having been conceived out of the sheer love for a city, Zeb assured, "As a student of history I know that there is no situation. Things in this world have always been the same. There's always been famine, brutality, violence, but as an artist, I feel, we're lucky to have a medium through which we can connect to people and help bridge gaps rather than pushing them away with politics and alienating them."
Listen to Yaar from Zeb and Shamali's Love Letters to Kabul here:
Have something to add to the story? Share it in the comments below.
COMMENTS
Comments are moderated and generally will be posted if they are on-topic and not abusive.
For more information, please see our Comments FAQ