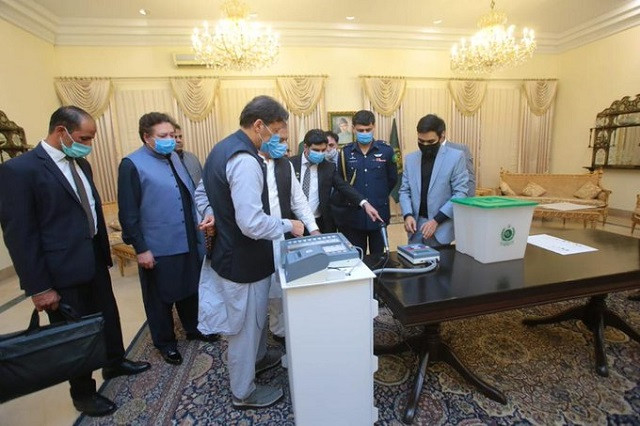 ---
ISLAMABAD:
The government on Thursday insisted on going ahead with using electronic voting machines (EVMs) and e-voting in the next general polls, ruling out the possibility of rolling back its plan.
Adviser to PM on Parliamentary Affairs Babar Awan said he wanted to remove the "misunderstanding" that the government would step back from its decision to use EVMs in the elections.
"Prime Minister Imran Khan will not back down from e-voting and EVMs, nor will his government," he told reporters.
"The Supreme Court has given a very clear verdict on internet voting. It would be contempt of court by not giving the right of voting to the overseas Pakistanis."
He added that the Election Commission of Pakistan (ECP) was the constitutional regulator to organise polls. "It is its prime responsibility to conduct elections in accordance with the law. The ECP does not have the authority to carry out legislation."
Awan said legislation was the job of parliament. "If it becomes law, the ECP no longer has the right to object to it."
He added that the government has listened to everyone including the ECP for hours.
"Those objecting to giving e-voting rights to overseas Pakistanis and the use of EVMs should come up with a way to prevent electoral fraud."
The adviser maintained that 20,000 to 25,000 "fake" votes were cast in each constituency.
"I invite the opposition to openly accept EVMs," Awan said.
Read Senate panel fails to satisfy members on EVMs
The adviser clarified that EVMs would be bought by the ECP, not the government.
"We are not insisting on the ECP using EVMs manufactured or purchased by the government. The government will provide funds and the machines would be bought by the commission."
A day earlier, the government had rejected the objections of the ECP on the use of EVMs in the next general elections, describing them as "one-sided".
On Tuesday, the ECP had raised 37 objections to the proposed introduction of EVMs.
The commission, in a document submitted to the Senate Standing Committee on Parliamentary Affairs, had warned that the machine was prone to tampering and its software could easily be altered.
"Those opposing the use of EVMs are against fair and transparent elections in the country," Science and Technology Minister Shibli Faraz said at a news conference.
"They [EVMs] are bad news for those who use money and intimidation [in elections]," he added.
The minister maintained that neutral umpires would be introduced in the 2023 polls in the form of EVMs.
He added that 27 of the 37 objections raised by the ECP were not even related to the commission.
"The opposition can call international experts to show them the machine to address their reservations."
COMMENTS
Comments are moderated and generally will be posted if they are on-topic and not abusive.
For more information, please see our Comments FAQ