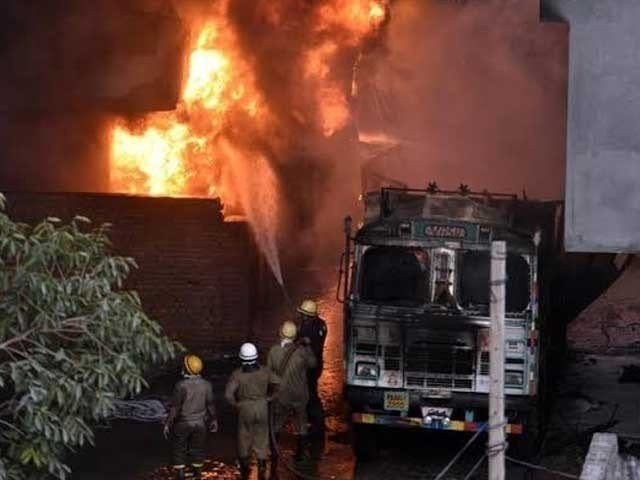 ---
KARACHI:
The police arrested the owners and manager of the Mehran Town factory on Tuesday as they attempted to flee the premises of a local court after being denied interim bail.
The owner of the building, Faisal Tariq, the factory owner, Hassan Mehta, and the manager, Syed Imran Ali Zaidi, appeared before the East district and sessions court. The court cancelled the interim bail of the three accused in the case pertaining to the Mehran Town factory fire, which killed 16 labourers.
The building owner's counsel argued that there was a commercial PMT installed in the building and the PMT remained secure even after the blaze. He contended that the landlord was not responsible for the fire that sparked due to an internal fault.
Meanwhile, the factory owner's counsel argued that the factory was purchased by the owner in running condition. He maintained that the factory premises had an emergency route. The defence counsel argued that the authorities should have taken action against the factory if it was deemed illegal and moved the court to inquire about other factories operating in the area.
The public prosecutor maintained that the factory was set up illegally in a residential area and negligence had led to the loss of labourers' lives.
Read More: 16 die in Karachi factory blaze
The three accused attempted to flee from the court premises after their bail was cancelled but they were arrested by the police.
At least 16 labourers were killed after a fire sparked in a luggage manufacturing unit in Korangi's Mehran Town on August 27. The father of one of the young victims of the deadly blaze also died of a heart attack after seeing the body of his son at the hospital.
The police said that some 26 labourers were inside when the fire broke out and 16 of them were trapped inside the factory because the gates of the unit were locked.
The factory workers have pointed out that there was only one way to enter and exit the building and the blaze had made it impossible to reach it. They said that the victims had run up towards the roof to save themselves but found the gate at the stairs also locked.
A case was lodged against the building owner, factory owner, the manager, two supervisors, Zafar and Rehan, and a watchman, Syed Zarin, under Section 322 read with 34 [pertaining to unintentional murder] of the Pakistan Penal Code at the Korangi Industrial Area Police Station on behalf of the state.
Published in The Express Tribune, September 8th, 2021.
COMMENTS
Comments are moderated and generally will be posted if they are on-topic and not abusive.
For more information, please see our Comments FAQ