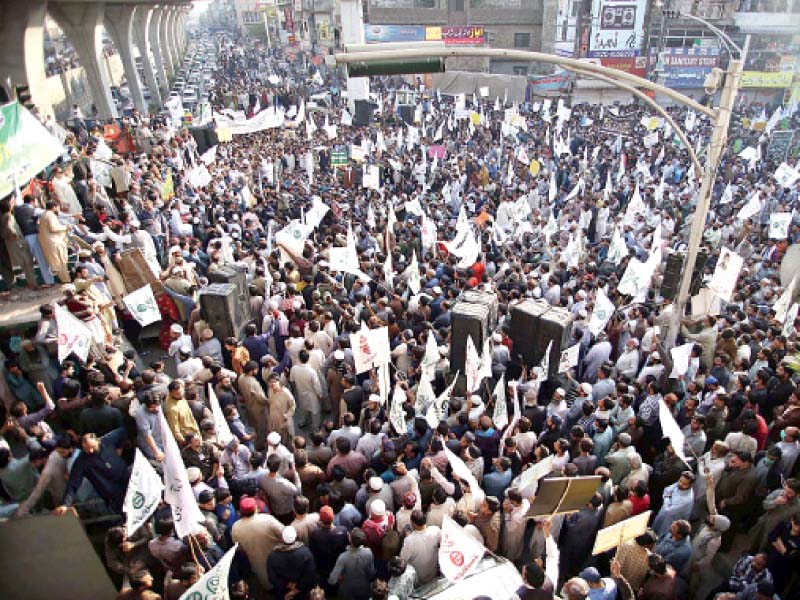 ---
KARACHI:
Traders in Karachi have demanded the Sindh government to relax coronavirus curbs, dubbing the stricter policies in the metropolis and in Hyderabad as compared to the rest of the province as 'discriminatory'.
Different traders' associations staged a symbolic hunger strike against Covid restrictions, including early closure of markets and two safe days a week. On Friday, Opposition Leader in Sindh Assembly Haleem Adil Sheikh visited the traders' camp set up on MA Jinnah Road near the Lighthouse. Haleem alleged that the Karachi Police was active when enforcing Covid-closures but failed to maintain peace and order in the city.
The Sindh government had earlier notified stricture measures in Karachi and Hyderabad as compared to the rest of the province in line with the NCOCs decision to impose stricter SOPs in 27 cities across the country with a higher positivity ratio citing burden on the healthcare system.
Leaders of the Karachi Traders Action Committee objected to the separate policies for the province's two urban centres. Terming this move by discriminatory by the Sindh government against Karachi, they demanded immediate relaxation of restrictions in Karachi and Hyderabad, an extension of business hours till 10pm, and called for an end to two 'safe days'. The Karachi Banquet and Marriage Halls Association, along with representatives of various shopping malls and markets, also joined the hunger strike.
Published in The Express Tribune, September 4th, 2021.
COMMENTS
Comments are moderated and generally will be posted if they are on-topic and not abusive.
For more information, please see our Comments FAQ