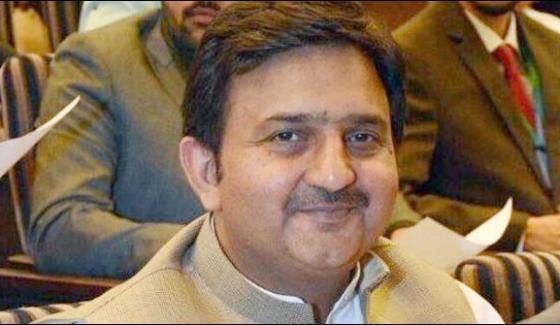 ---
LAHORE:
PML-N President Shehbaz Sharif, whose voice has long been taken to be of secondary importance within his own party, has finally appointed MPA Malik Muhammad Ahmed Khan as his spokesperson to advance his narrative of "reconciliation" especially in the media, where the party leaders were largely seen towing Nawaz Sharif and Maryam Nawaz's policy line.
Shehbaz in a tweet announced appointing Malik Muhammad Ahmed Khan as his spokesperson, saying that Malik had served as special assistant to Punjab chief minister on information and culture during his tenure, where he did a remarkable job.
I am happy to announce that Malik Ahmad Khan @MalikMAhmadKhan will be my spokesperson. He served as special assistant to Chief Minister Punjab on Information and Culture during my tenure as CM and did a remarkable job. pic.twitter.com/H1ATfLDlVB

— President PMLN (@president_pmln) September 2, 2021
This development, according to a party insider, the MPA was appointed more than 10 days ago and it should also be a telltale for those who are habitual of the arraigned party president, publically.
This appointment comes on the heels of the Karachi episode. It was reported that Shehbaz's statement regarding the national government was termed as his personal opinion by party spokesperson Marriyum Aurangzeb.
Read more: Nawaz rebuffs Shehbaz's views on political reconciliation
Marriyam vehemently denied the impression that Malik has been brought to represent Shehbaz's narrative, stating that there are no two narratives or two camps as it is being reported in the media. She said that the party stood united behind its leadership. "Malik Muhammad Ahmed Khan has been brought in to fill in a vacant post."
Regarding the Karachi episode, she said it is unfortunate that certain sections of the media have not only misconstrued a simple matter but have gone further by sensationalising it to serve the plots in their minds.
It was a simple matter of certain media outlets quoting Shehbaz incorrectly by not mentioning a key element of his statement in which he clearly mentioned that he would be willing to work with all political parties, "excluding PTI".
The irresponsible, doctored statement printed by certain media outlets prompted the PMLN president to issue the clarification.
Also read: Shehbaz proposes national govt, demands fair vote
For those who do not understand the official hierarchy of a political party, it is clarified that all statements to the media are issued on the instruction of the party president and their dissemination is the responsibility of the information secretary. Twisting, misconstruing and sensationalising such simple official process is highly unprofessional and irresponsible. The PML-N believes in the freedom of the media and urges a responsible and well-informed practice of these freedoms.
MPA Malik, even during his stint as special assistant to the CM on information and culture, was the most powerful voice of Shehbaz's camp. Malik, who comes from a politically well-settled family of Kasur, in a very brief time, made himself somewhat indispensable for the Shehbaz's camp. He is known for talking with logic and reason.
Post 2018, when the party came on the opposition benches, he was taken to be the most suitable candidate to be the party spokesperson of Punjab. However, later when the changes were made, the position was given to Azma Bukhari. Malik was offered to become a spokesperson for the parliamentary party in Punjab, however he declined. The party, then, had accommodated Malik, but he largely remained in the shadows.
COMMENTS
Comments are moderated and generally will be posted if they are on-topic and not abusive.
For more information, please see our Comments FAQ