 ---
A video purportedly showing a man being brutally hanged from a helicopter by the Taliban in Afghanistan's Kandahar has gone viral.

The Express Tribune found the claim to be false.
Conservative blog sites, pundits and politicians in the United States such as Senator Ted Cruz, shared the video castigating the group for their 'barbarity'.
It turns out the post I shared w/ a video of Taliban "hanging a man" from a helicopter may be inaccurate. So I deleted the tweet.

What remains accurate is:

- The Taliban are brutal terrorists.

- We left them millions in US military equipment, including Black Hawk helicopters. https://t.co/zOvNM5UXUW

— Ted Cruz (@tedcruz) August 31, 2021

Various other images and videos reviewed show that the person dangling from the chopper was alive, moving and waving his arms. The person was suspended by a harness that wrapped under his arms, not a noose around the neck.
Pentagon spokesperson Eric Pahon said the Defense Department would not comment on the video, given that it came from social media and was presented "without context, background, a time frame for when the video was shot, or even a clear visual of what is occurring."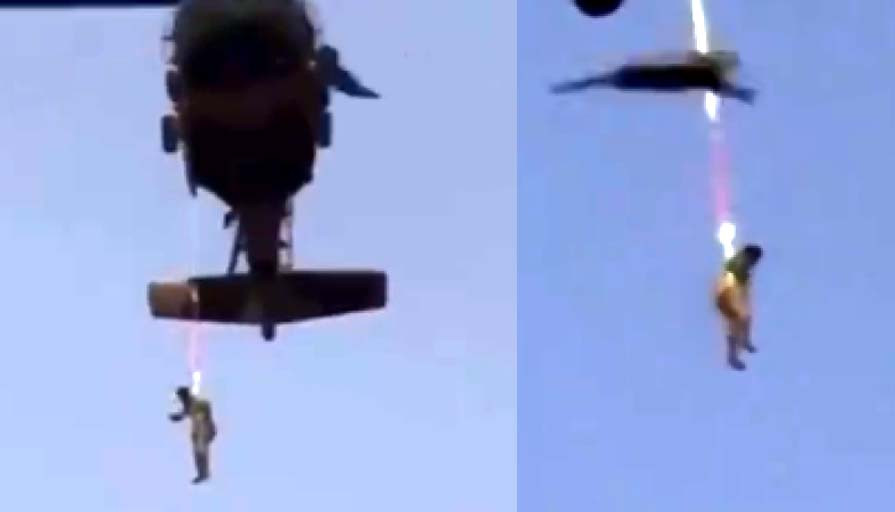 Experts say the flight took place August 30, and that it was an attempt to fix a flag over a public building. The aircraft was likely seized from the Afghanistan Air Force.
Another video claiming to show heavy fighting between the Taliban forces and fighters of the National Resistance Front of Afghanistan in the Panjshir Valley, has gone viral.
The Express Tribune found the claim to be false as the footage is from clashes in Yemen from 2019.
The original video was shared by Arab news channel AlHadath back in 2019 with the caption:"Yemen...a military commander targets militias north of Al-Dhalea".
COMMENTS
Comments are moderated and generally will be posted if they are on-topic and not abusive.
For more information, please see our Comments FAQ