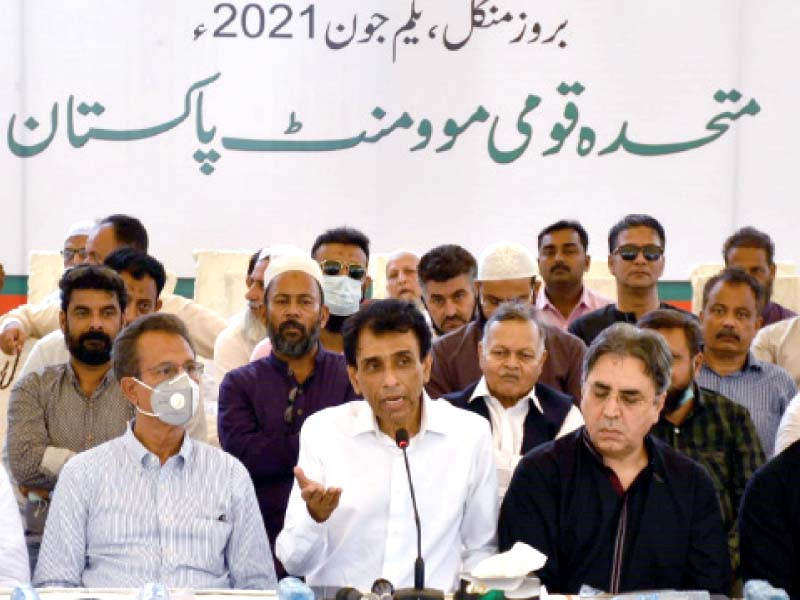 ---
KARACHI:
Muttahida Qaumi Movement-Pakistan (MQM-P) Convener Dr Khalid Maqbool Siddiqui has announced that after celebrating the month of independence, they will spend September highlighting the identity of the emigrants from India, the mohajirs, and their legacy as the founders of Pakistan.
"We started August with a night of prayers and end it with a determination to truly transform Pakistan into a state as envisioned by its founders," he said addressing MQM-P Women Convention in Orangi Town.
Doing away with the term 'Urdu speaking' to identify the people whose ancestors came to settle in Pakistan after the partition of India in 1947, Dr Siddiqui used the popular name, mohajir or emigrant, which remains both derogatory to some, while a sense of pride to millions.
"It is the merciless persecution and sacrifices faced by the mohajir women that MQM-P emerged as a symbol of relentless struggle against oppression," he said recalling the migration from India and then East Pakistan.
Read MQM-P pits nine candidates for CBC polls
Siddiqui further said that the level of education was highest among the mohajir women then women of any other ethnicity of the country.
MQM Raabta Committee Member and Federal Minister Syed Aminul Haq said that the district west has remained as a stronghold for MQM-P in all the elections held from 1987 to 2018.
MQM-P MNA Kishwar Zehra addressing the gathering said these sisters cannot be defeated on any front they are the children of the people who not only created Pakistan but also worked for awakening of the nation.
Sikandar Khatoon, in-charge of women's affairs wing of MQM-P, said that the mohajirs had to face the torments of migration twice, one from the United India and then from East Pakistan.
Senator Khalidah Ateeb said: "We have decided to hold a convention at the district level and then a general convention will be held."
Published in The Express Tribune, September 1st, 2021.
COMMENTS
Comments are moderated and generally will be posted if they are on-topic and not abusive.
For more information, please see our Comments FAQ