 ---
ISLAMABAD:
The federal government has reduced fuel prices by up to Rs1.50 per litre for the next fortnight effective from September 1 to 15.
"Despite international price fluctuations in petroleum products and anticipated increase in future prices, the government has reduced the prices in order to provide maximum relief to the consumers," read the notification issued by the Finance Division on Tuesday.
The new price of petrol will be Rs118.30 per litre against the current rate of Rs119.80 per litre.
High-speed diesel (HSD), which is majorly used by the agriculture and transport sectors, will be sold at Rs115.03 per litre after a reduction of Rs1.50.
The prices of light diesel oil (LDO) and kerosene oil have been cut by Re1 and Rs1.50 respectively, according to the official communiqué.
Also read: Fuel prices likely to go down by up to Rs5 per litre
Kerosene oil is used by the Pakistan armed forces and in remote areas like northern parts of the country for cooking purposes where LPG is not available.
"The government is firmly committed to ensure stability in prices of essential commodities and has sustained the price pressure in line with its commitment to the common man," it added.
It is pertinent to mention that petroleum levy is kept at a minimum "which is a clear reflection that government is fully cognisant of the impact of fuel prices on the prices of basic items that affect people directly".
The petroleum division had recommended a reduction in prices of fuel by up to Rs5 per litre, sources privy to the development told The Express Tribune on Monday.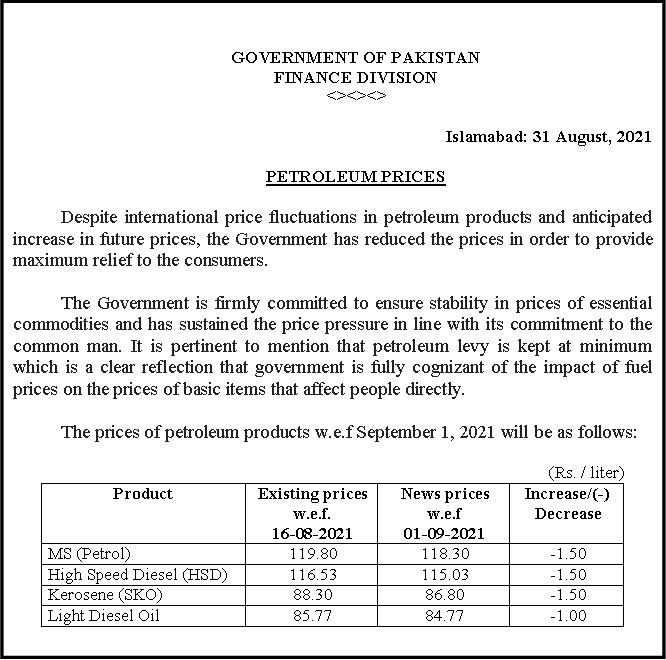 COMMENTS
Comments are moderated and generally will be posted if they are on-topic and not abusive.
For more information, please see our Comments FAQ