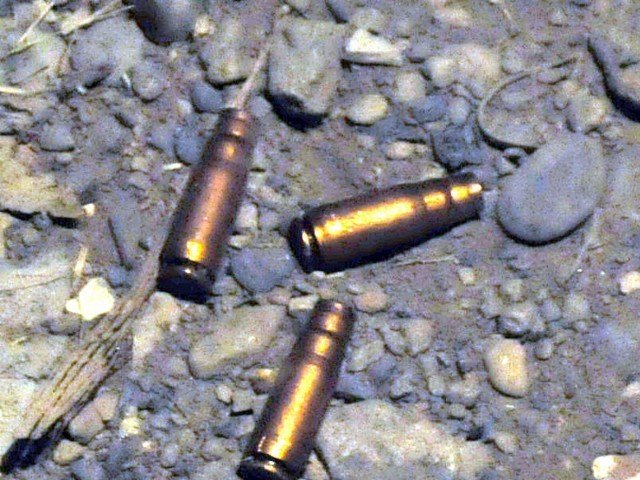 ---
KARACHI:
The police on Monday claimed to have arrested the hired gun who had allegedly killed the son of former Jamaat-e-Islami (JI) Union Council nazim Zulfiqar Ali on Jamia Millia Road in Malir on June 16.
Two men riding a motorcycle had targeted Raza Zulfiqar's car and fled, leaving him severely injured. The 32-year-old was rushed to the Jinnah Postgraduate Medical Centre where he succumbed to his injuries shortly after.
Anti-Violent Crime Cell (AVCC) and Counter Terrorism Department (CTD) police arrested alleged hit-man Ajmal Papri along with his facilitator Hafeez during an intelligence-based operation at a slum on the outskirts of the city near Jamali Bridge on Super Highway. Police are conducting raids to arrest a business partner of Raza's father who ordered the hit after Raza found out about his fraudulent activities.
According to a statement issued by police, on June 16 this year assailants riding a motorbike in the limits of Al-Falah police station had shot dead Muhammad Raza Zulfiqar in a car. The murder case was registered by the police on complaint of victim's father Zulfiqar Ali.
According to the statement, acting on a tip-off, police arrested accused Papri and his facilitator Hafeez during a raid near Super Highway Jamali Bridge. During the investigation, it was revealed that the victim's father Zulfiqar Ali works in the property and a man named Rao Iqbal was his partner. The slain Raza had recently joined his father's business. He discovered that his father's partner, Iqbal, had committed fraud on a large scale with his father. Rao Iqbal also came to know about this. So he planned to assassinate Muhammad Raza Zulfiqar through one of his accomplices Hafeez.
The police said Iqbal gave Rs670,000 to Papri and Hamza through Hafeez. After getting the murder contract, the accused shot dead Raza and went into hiding. Papri revealed during interrogation that he killed his accomplice Hamza on July 1.
Published in The Express Tribune, August 31st, 2021.
COMMENTS
Comments are moderated and generally will be posted if they are on-topic and not abusive.
For more information, please see our Comments FAQ