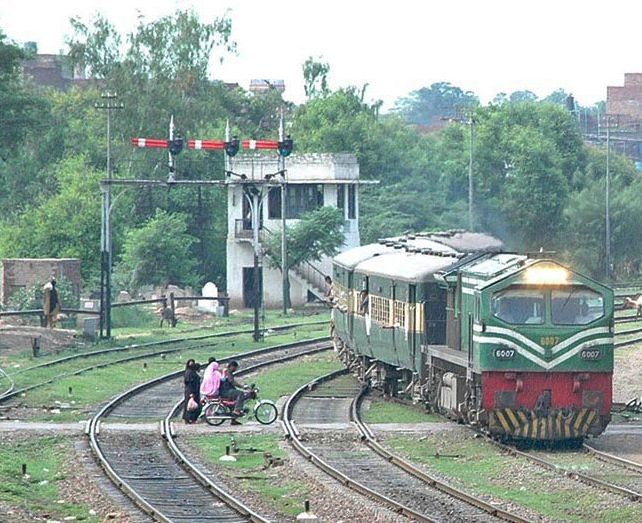 ---
OKARA:
The Chairperson of the National Assembly's Standing Committee on Railways, Mian Muhammad Moin Khan Wattoo, has directed the railway administration to immediately de-seal all the shops and stalls of poor vendors in Okara district, including Mandi Ahmedabad and Basirpur.
While presiding over a meeting of the standing committee at Railway Headquarters, the chairperson reviewed the steps taken for the betterment of the organisation.
According to sources, several MNAs also demanded the replacement of a deputy superintendent of the railways. They alleged that the official was not paying attention to his work, due to which railway accidents had taken place in the Sukkur region.
The chairman ordered replacement of the DS and also expressed dissatisfaction over some matters, instructing the officers to improve their performance.
He also urged Railway Minister Azam Swati to ensure his participation in the meetings of the standing committee.
The chairperson was briefed about the shops and stalls sealed by railway authorities in various districts, including Okara.
He ordered immediate de-sealing of the sealed shops and kiosks at Basirpur, Mandi Ahmedabad and other stations in Okara district.
He also stressed that the auction of t lease of the shops should be made transparent and the rent of outlets that had been set up on the land of the railways' department should be fixed.
PPP MNA Ramesh Lal told The Express Tribune that a meeting held after a train accident in Sukkur had been attended by several MNAs and senior officials, including Additional Secretary Zafar Ranjha and MNA Noman Sheikh. He said it had been claimed in a report that negligence on part of the DS had been observed.
He said the MNAs had urged the chairman of the parliamentary committee to order action against the official to ensure that more accidents did not take place.
MNA Wattoo reportedly ordered the presentation of a report in the next meeting of the committee.
Published in The Express Tribune, August 29th, 2021.
COMMENTS
Comments are moderated and generally will be posted if they are on-topic and not abusive.
For more information, please see our Comments FAQ