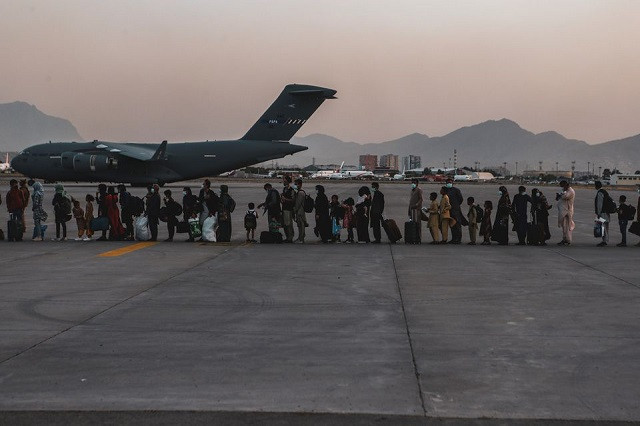 ---
LAHORE/ KARACHI:
Pakistan on Friday accepted a request to host the US citizens and other foreigners leaving Afghanistan in a bid to aid the withdrawal of people from the neighbouring country by August 31.
According to reports, up to 3,000 people will be brought to Karachi.
Flights carrying foreigners from Kabul, Afghanistan would start landing at the Jinnah International Airport from today (Saturday).
The Karachi commissioner has also sent a letter to Sindh DG Rangers, Sindh IG police and Sindh Health Department secretary to ensure proper and necessary arrangements on an emergency basis.
The commissioner informed the department concerned about a meeting held at the Corps Five Headquarters that the people coming from Afghanistan would be staying in the metropolis for a few days.
The commissioner in his letter directed the Malir deputy commissioner to make emergency arrangements at the Karachi airport premises and nearby hotels as well as provide security to those arriving in Karachi with the help of the Provincial Disaster Management Authority (PDMA) and law enforcement agencies.
Read More: Making efforts to help Afghanistan achieve peace, COAS tells MI6 chief
The commissioner also ordered ensuring transport arrangements among other facilities, including mobile health department units and ambulances. Medical personnel were also asked to be deployed at the identified locations.
Moreover, the K-Electric has also been directed to ensure uninterrupted power supply at the designated locations.
Separately on Friday, Interior Minister Sheikh Rashid Ahmed said that the federal government had successfully evacuated all its citizens, who wanted to return to the country, from Afghanistan.
However, he added, there were some Pakistanis who did not want to leave Afghanistan for their personal reasons and, therefore, they were still there.
Addressing a news conference at the National Database and Registration Authority, the minister said that the federal government had issued transit visas to 1,500 people, while about 1,480 people were given access to Pakistan's territories through Torkham border crossing.
"Both Torkham and Chaman border crossings are open for those intending to travel to Pakistan if they have valid documents," he added.
Rashid said that it had been decided to issue 21-day transit visas to all foreigners including members of non-governmental organisations (NGOs), delegates, journalists and others at the Islamabad airport and Torkham border crossing, adding that the world community had appreciated the Pakistan government efforts to evacuate its citizens besides foreigners from Afghanistan.
An emergency helpline was being set up by the interior ministry to register people's complaints pertaining to any issue and law and order situation, he said and added that the Indian media was resorting to baseless criticism as the Indian intelligence agency, RAW, had attempted to hatch conspiracies against China-Pakistan Economic Corridor (CPEC) which had been foiled. "CPEC is of paramount importance for progress and prosperity of Pakistan," he added.
COMMENTS
Comments are moderated and generally will be posted if they are on-topic and not abusive.
For more information, please see our Comments FAQ