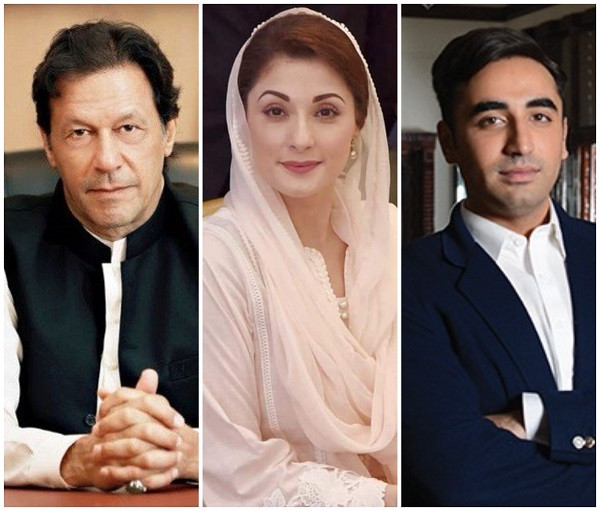 ---
KARACHI/ISLAMABAD:
The Pakistan Peoples Party (PPP) and the Pakistan Muslim League-Nawaz (PML-N) rejected on Thursday the three-year performance report of the Pakistan Tehreek-Insaf (PTI) government, claiming that in the last three years, the country witnessed growth in food price, foreign debt, and unemployment.
PPP Chairman Bilawal Bhutto Zardari said in a statement that the government's performance could only be gauged by the smiles in the faces of the people and not by the compilation of "false figures", stressing that "people are the beginning of the country and the end of the country"
His thoughts were echoed in a statement of opposition leader in Punjab Assembly Hamza Shehbaz, who said that "actual service to the people is changing the conditions of the masses" in which the Imran Khan-led government had failed.
"Imran Khan's three-year performance is that he has snatched jobs from thousands of Pakistanis," Bilawal said in a statement issued from the Bilawal House.
"In three years, only mafias have benefited in Pakistan, flour thieves and sugar thieves have progressed", he said.
Bilawal said that in just three years Imran Khan had brought the country to the brink of a disaster, and the recovery process might take a decade. "Imran Khan has made Pakistan alone in the world. His words are big but his performance is zero. The people can no longer be fooled," he added.
Separately, PML-N Information Secretary Marriyum Aurangzeb said in a series of tweets that if the PTI had initiated any project in the last three years, it could show its pictures. Instead, she added, the PTI had to steal stock images from an Indian portal to show its performance.
Read Bilawal accuses govt of appeasing terrorists
"If Imran published real pictures of the 'nightmare of Naya Pakistan' there would have been pictures of women, children and elderly standing in long queues in scorching heat during Ramazan and humiliated for a single kilogram of sugar," she said.
Aurangzeb said that the PML-N would issue a detailed white paper of "incompetence and corruption" of the PTI government soon to expose the real story of these three years and how they had eroded Pakistan.
Meanwhile, Punjab's opposition leader Hamza Shahbaz Sharif said in a statement that instead of celebrating, the PTI's federal government, as well as its provincial government in Punjab, should mourn their incapacity to deliver.
"The PTI should apologise for, instead of applauding, the inflation, unemployment, incompetence, and economic woes of the people. Many stories of flour, sugar, Rawalpindi Ring Road, and medicine scandals are a blot on the face of this government."
COMMENTS
Comments are moderated and generally will be posted if they are on-topic and not abusive.
For more information, please see our Comments FAQ