 ---
Denmark on Thursday said that without Pakistan's "rapid, efficient and broad assistance", the success of joint operations for evacuations and airlifts from Afghanistan would not have been possible.
​"In the situation evolving in Afghanistan, we are deeply grateful for the professional assistance and outstanding support to enable airlifts of vulnerable persons to Islamabad International Airport for their continued journey," State Secretary of Denmark Steen Hommel said as he met Foreign Secretary Sohail Mahmood in Islamabad.
The Danish diplomat expressed "sincere and heartfelt appreciation" on behalf of his government for the assistance extended by Pakistan.
Both exchanged views on the developing situation in Afghanistan and affirmed the importance of continued focus on security, stability and inclusive political settlement.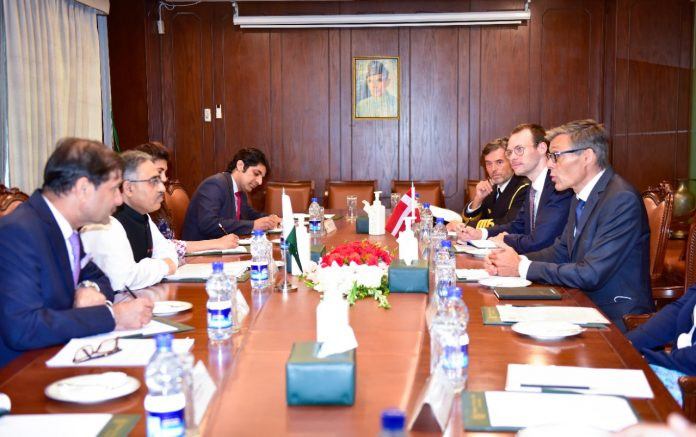 ​Renewing the bilateral relationship between Denmark and Pakistan, the two sides agreed to enhance bilateral cooperation, including high-level exchanges and collaboration in the area of renewable energy for a green transition.
Also read: Internal UN document says Taliban threatened, beat staff
Pakistan and Denmark have long-standing ties, and the ongoing coordinated efforts have brought the two countries even closer.
Thousands of people have been gathering outside the airport in recent days. Western troops are racing to evacuate foreigners and Afghans who helped Western countries during the 20-year war against the Taliban, and to get out themselves by an Aug. 31 deadline.
During this critical time, Pakistan took it upon itself to help those who were stranded on the other side of the 2,670 km long border it shares with Afghanistan. And given the security and logistical challenges, it hasn't been an easy feat by any measure.
Islamabad's top envoy in Kabul, Mansoor Ahmad Khan, who by diplomatic standards, has the most daunting assignment in the region, confirmed that since the surrender of the Ashraf Ghani administration earlier this month, the Pakistani mission has helped hundreds of Afghan nationals, foreign diplomatic staff, and workers exit Kabul.
"The Pakistani mission has been part of this humanitarian effort since August 15. We have evacuated more than 3,000 people since the collapse of the regime in Kabul through air and land routes," claimed Ambassador Khan, who is frequently seen engaging with people before their flight out of the Afghan capital.
Special mission and response
In total, Pakistan International Airline (PIA), the national flag carrier, has shuttled more than 2,100 Afghan nationals, 314 Turks, and 470 people belonging to different countries in Europe.
Last week, on one of its special missions, the national airline ferried 293 members of the World Bank Group's Kabul-based staff and their immediate families to Islamabad. The special flight also rescued members of the International Monetary Fund (IMF) team in the Afghan capital.
Read more: IMF chief thanks Pakistan for assistance with Kabul evacuation
Shortly after the teams landed safely in Islamabad, the Managing Director of IMF lauded Pakistan for its support. "Pakistan's efforts at the highest levels were absolutely critical to the safe and swift evacuation of IMF staff and their families from Afghanistan. My heartfelt thanks to Imran Khan for Pakistan's exceptional assistance in very difficult circumstances," said IMF's Managing Director, Kristalina Georgieva, in a public message on Twitter.
For its daring missions, Pakistan also earned praise from Europe. Several European leaders, including the Prime Minister of Belgium took to Twitter to thank Islamabad for its support during the difficult situation in neighbouring Afghanistan.
For the support Brussels received in carrying out its special evacuation operation for people escaping Kabul, Belgium's premier said: "Grateful for Pakistan's support as we keep running our evacuation mission Red Kite from Afghanistan via Islamabad."
Belgium is one of the many European countries struggling to rescue vulnerable foreign staff and Afghan allies since the Taliban gained control of Kabul.
Data gathered by the Express Tribune shows the special evacuation operation that started shortly after Taliban seized power, has transported a total of 3,191 passengers. Officials familiar with the situation at Kabul's airport said these missions were no easy feat given the lack of technical facilities at the airport.
Out of the 3,191 evacuees, more than 1,600 are still in Pakistan. Speaking on the condition of anonymity, a 34-year old evacuee described her experience on the tarmac as one of the worst nightmares.
"Those hours are easily the worst of my life. The uncertainty, the fear, and limited information made it absolutely unbearable. I'm grateful to the Pakistani authorities for safely moving us out of there and that too, in time," she said.
COMMENTS
Comments are moderated and generally will be posted if they are on-topic and not abusive.
For more information, please see our Comments FAQ