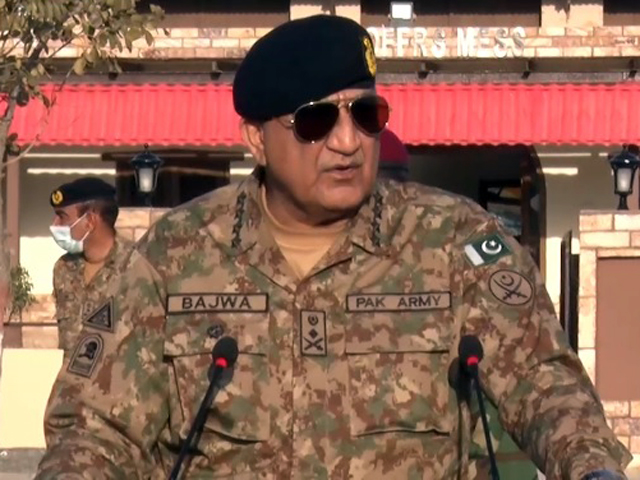 ---
Chief of Army Staff (COAS) General Qamar Javed Bajwa visited on Thursday Bahawalnagar Garrison and witnessed battle drills of Heavy Mechanised Brigade troops, Inter-Services Public Relations (ISPR) said in a statement.
Praising the competence of soldiers, the army chief expressed his satisfaction over high standards of training and combat readiness. "The core capabilities should be further enhanced to tackle full spectrum threat in a befitting manner," Gen Qamar was quoted as saying.
آرمی چیف جنرل قمر جاوید باجوہ کا سلیمانکی سیکٹر کا دورہ، آئی ایس پی آر
آرمی چیف کو فوج کی پیشہ ورانہ تیاریوں پربریفنگ ،آئی ایس پی آر
آرمی چیف نےجوانوں کی مہارت،تربیت کےمعیارکوسراہا،آئی ایس پی آر
آرمی چیف کابہاولنگرگیریژن کابھی دورہ،آئی ایس پی آر pic.twitter.com/965Zm9xphD

— PTV News (@PTVNewsOfficial) August 26, 2021
Separately, the military's media wing said General Qamar also visited troops deployed at Sulemanki Sector along the India border where he was briefed on operational readiness of troops. While interacting with officers and troops, the COAS appreciated their professional preparedness , diligence and high morale.
Earlier, on arrival at Sulemanki, Gen Qamar was received by Corps Commander Lieutenant General Khalid Zia.
Last week, Gen Qamar warned that the army would not remain silent at attempts to criticise Pakistan, stressing that "conspirators and spoilers" were the ones who had been an obstacle to regional peace.
Addressing the faculty and cadets during a visit to the Pakistan Military Academy (PMA) in Kakul, the COAS reiterated that Pakistan wanted national and regional peace and development, and would continue to play its role for peace and stability in Afghanistan.
The army chief visited the PMA where he reviewed the flag-presentation parade as the chief guest, while awarding the Battalion Standard to 4th Pakistan Battalion, which was raised on 10th of October 2016, said the ISPR.
COMMENTS
Comments are moderated and generally will be posted if they are on-topic and not abusive.
For more information, please see our Comments FAQ