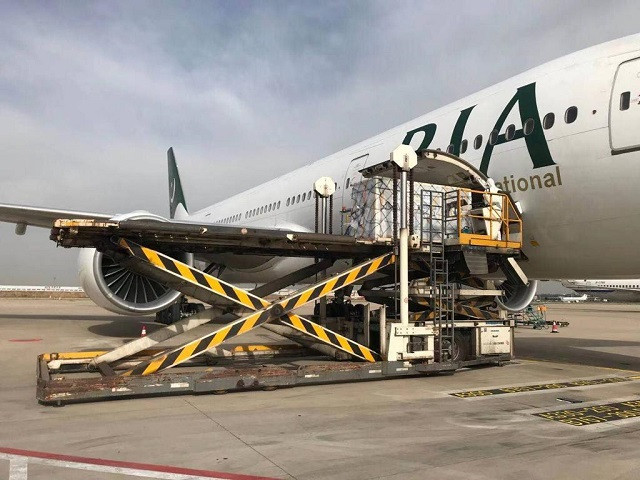 ---
KARACHI:
For anyone waiting to escape the situation in Afghanistan, the nights are long, and the days are even longer. When the government in Kabul, which had been in place for more than two decades, collapsed in less than two weeks, that too without any resistance, panic gripped the Afghan capital, and almost everyone, who could -- simply wanted out from the war-ravaged country.
During this critical time, Pakistan took it upon itself to help those who were stranded on the other side of the 2,670 km long border it shares with Afghanistan. And given the security and logistical challenges, it hasn't been an easy feat by any measure.
Islamabad's top envoy in Kabul, Mansoor Ahmad Khan, who by diplomatic standards, has the most daunting assignment in the region, confirmed that since the surrender of the Ashraf Ghani administration earlier this month, the Pakistani mission has helped hundreds of Afghan nationals, foreign diplomatic staff, and workers exit Kabul.
"The Pakistani mission has been part of this humanitarian effort since August 15. We have evacuated more than 3,000 people since the collapse of the regime in Kabul through air and land routes," claimed Ambassador Khan, who is frequently seen engaging with people before their flight out of the Afghan capital.
Also read: Peaceful Afghanistan vital for Pakistan and regional stability, Imran tells Putin
Describing the airlift as a daring task, the envoy said: "It is an extremely challenging assignment for us to fly people out of Afghanistan -- particularly when you know the technical facilities required for flight operations at the airport have been minimal since the regime collapsed."
While the overall situation is calm and under control since the Taliban took over, the ambassador hinted that the unspecified terrorist risks remain imminent.
"The threat of terrorism from groups like ISIS has made the task of shuttling people to Kabul's Hamid Karzai International Airport somewhat challenging over the past two days," he said, adding that the airfield is already surrounded by people hoping to be ferried out of Afghanistan.
According to details provided by the mission in the Afghan capital, more than 4,000 visas have been issued to people willing to exit Pakistan's landlocked neighbour. "We have worked tirelessly to ensure anyone who needs a visa, gets it," said the envoy on phone from Kabul.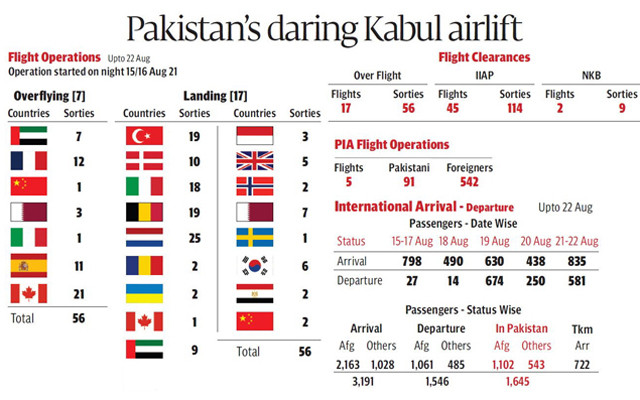 While most nations have employed military aircrafts for the evacuation missions, the government in Pakistan is using its national flag carrier's fleet to shuttle people out of Afghanistan.
Commenting on the use of civilian aircrafts, Senior defense analyst, Maj-Gen (retd) Inamul Haq said: "The use of civilian planes speaks volumes about the special relationship Pakistan has with Afghanistan and its people."
The senior expert who played an important role in the Pakistan Military during the US war in Afghanistan said: "Not many countries will risk or endanger their own people and aircrafts in such situations."
Pakistan, General Haq said, has taken on the most important humanitarian mission in the region -- and that too at a very critical time for all of us.
Special mission and response
In total, Pakistan International Airline (PIA), the national flag carrier, has shuttled more than 2,100 Afghan nationals, 314 Turks, and 470 people belonging to different countries in Europe.
Last week, on one of its special missions, the national airline ferried 293 members of the World Bank Group's Kabul-based staff and their immediate families to Islamabad. The special flight also rescued members of the International Monetary Fund (IMF) team in the Afghan capital.
Read more: IMF chief thanks Pakistan for assistance with Kabul evacuation
Shortly after the teams landed safely in Islamabad, the Managing Director of IMF lauded Pakistan for its support. "Pakistan's efforts at the highest levels were absolutely critical to the safe and swift evacuation of IMF staff and their families from Afghanistan. My heartfelt thanks to Imran Khan for Pakistan's exceptional assistance in very difficult circumstances," said IMF's Managing Director, Kristalina Georgieva, in a public message on Twitter.
#Pakistan's efforts at the highest levels were absolutely critical to the safe and swift evacuation of IMF staff and their families from #Afghanistan.

My heartfelt thanks to @ImranKhanPTI for Pakistan's exceptional assistance in very difficult circumstances!

— Kristalina Georgieva (@KGeorgieva) August 23, 2021
For its daring missions, Pakistan also earned praise from Europe. Several European leaders, including the Prime Minister of Belgium took to Twitter to thank Islamabad for its support during the difficult situation in neighbouring Afghanistan.
For the support Brussels received in carrying out its special evacuation operation for people escaping Kabul, Belgium's premier said: "Grateful for Pakistan's support as we keep running our evacuation mission Red Kite from Afghanistan via Islamabad."
I had a good call with the Prime Minister of Pakistan @ImranKhanPTI last night.

Grateful for Pakistan's support as we keep running our evacuation mission #RedKite from Afghanistan via Islamabad.

— Alexander De Croo (@alexanderdecroo) August 24, 2021
Belgium is one of the many European countries struggling to rescue vulnerable foreign staff and Afghan allies since the Taliban gained control of Kabul.
Data gathered by The Express Tribune shows the special evacuation operation that started shortly after Taliban seized power, has transported a total of 3,191 passengers. Officials familiar with the situation at Kabul's airport said these missions were no easy feat given the lack of technical facilities at the airport.
Out of the 3,191 evacuees, more than 1,600 are still in Pakistan. Speaking on the condition of anonymity, a 34-year old evacuee described her experience on the tarmac as one of the worst nightmares.
"Those hours are easily the worst of my life. The uncertainty, the fear, and limited information made it absolutely unbearable. I'm grateful to the Pakistani authorities for safely moving us out of there and that too, in time," she said.
Ambassador Khan, who is among the only four envoys currently stationed in Kabul, is hopeful that the evacuation mission, which has been temporarily halted due to security concerns, will resume soon. "At the moment getting to the airport is a huge challenge," said Ambassador Khan during a wide ranging interview.
The diplomat confirmed that the Taliban are providing security. "They have deployed members of their forces outside diplomatic missions and key government buildings. Hopefully the situation will improve soon," he said from the Afghan capital.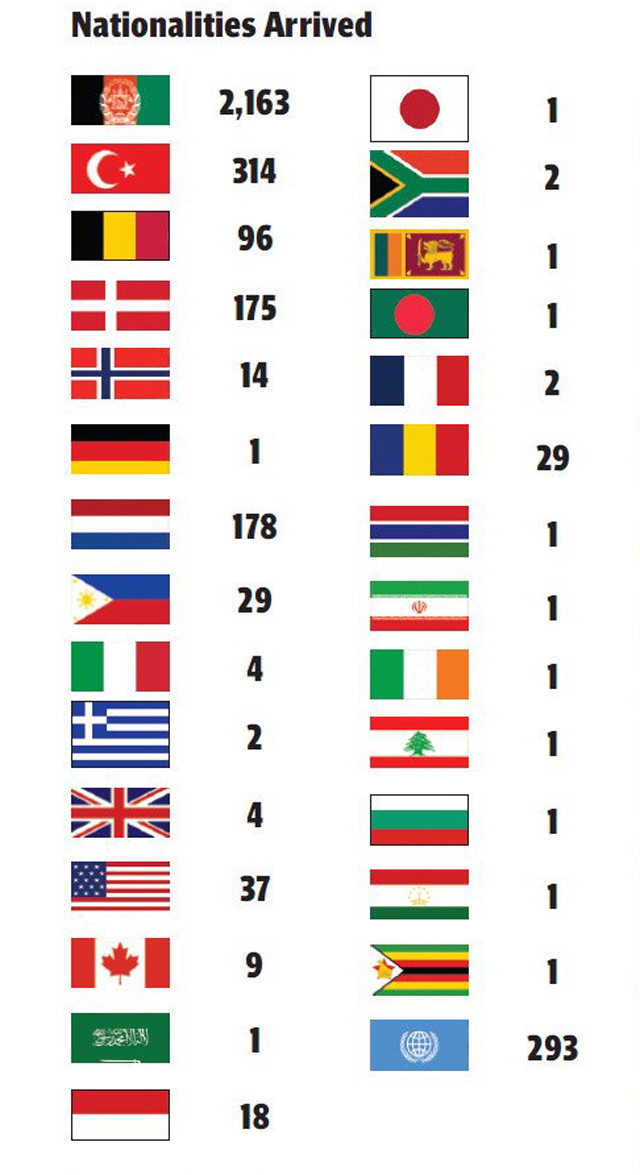 Other evacuation missions
Comparing the mission carried out by Islamabad with other flights being operated from Kabul, senior defense analyst, Maj-Gen (retd) Inamul Haq praised Pakistan for carrying out an exceptional humanitarian mission.
Commenting on the flights operated by the US, he said: "They haven't been able to manage the crowds. The special US operation, as we see it on the TV, is poorly managed."
As Washington steps up the pace of departures of Americans and other at-risk individuals from Kabul, General Haq said, the chaos has become more evident. "They have enlisted the help of six commercial airlines to transport people after their evacuation from Afghanistan," said General Haq.
In short, General Haq said the US evacuation missions have been as haphazard as their exit from Afghanistan. "And that haste has left a mark on their final efforts," he quipped.
Pakistan, he said, has managed fairly well -- even under daunting circumstances where there is no responsible administration in the Afghan capital.
Meanwhile, in Kabul, Ambassador Khan and his team say they are overwhelmed with the number of visa applications but remain committed to facilitating everyone who needs assistance.
COMMENTS
Comments are moderated and generally will be posted if they are on-topic and not abusive.
For more information, please see our Comments FAQ