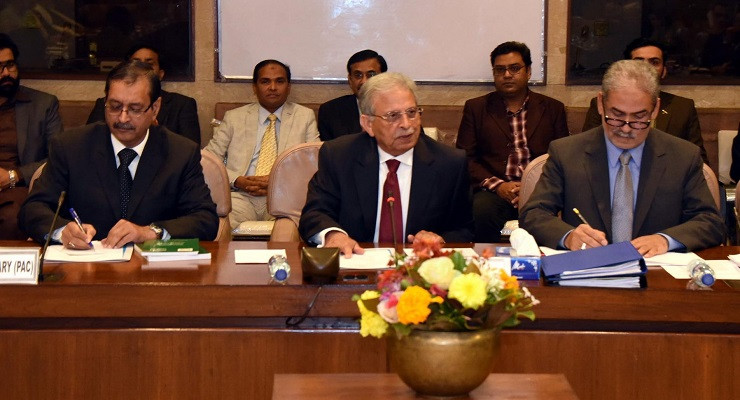 ---
ISLAMABAD:
Pakistan Agricultural Research Centre (PARC) Chairman Dr Muhammad Azeem Khan on Tuesday nearly escaped from landing in trouble for the contempt of a sub-body of the Public Accounts Committee (PAC).
The PAC sub-committee had ordered the PARC not to dismiss its employees and issued a show-cause notice to its chairman.
Instead of following the panel's directives, Dr Azeem expressed his anguish over the move, compelling the convener of the body, Manaza Hasan, to serve a parliament contempt notice to the PARC chairman as well as his suspension orders.
However, she later rolled back the move after the PARC chairman apologised and assured the panel to abide by its directives.
Earlier, the audit officials told the committee that the records of 269 PARC employees were not provided. The convener asked the PARC chairman as to how had he terminated the services of 269 employees.
The PARC chairman informed the panel that recruitments took place from 2008 to 2010 and at that time, he was not part of the committees.
Manaza, however, reminded him that he was a member of the recruitment committee.
The PARC chairman maintained that of the 269 employees, 209 were hired without the vacancies being advertised.
The convener told him that the panel had instructed that until the national food security secretary's reported the matter, neither would any employee be terminated, nor issued a show-cause notice.
"However, many employees have been terminated and show-cause notices have also been issued as well," she added.
The convener further told the PARC chairman that he had violated the instructions of this forum.
"People in your department are promoted from grade-18 to grade-20 and I have to answer in the assembly."
She raised the question as to why the sacked employees were hired in the first place. "You [PARC chairman] have disappointed me and this forum. It is a matter of the people. Many of the sacked 269 employees had PhDs. Is becoming a PhDs an easy task?"
The PARC chairman replied that his department could not carry on with the services of 209 employees who were hired without advertisement.
"I have implemented the decision of the court and won't reinstate any employee," he added.
The convener then directed serving a contempt of parliament notice to the PARC chairman and also issued his suspension order.
She also said his academic qualifications would be checked to see how he became the chairman. Committee member Mushahid Hussain Sayed advised the PARC chairman to review his behaviour.
After a break when the panel's proceedings restarted, the PARC chairman said he accepted the supremacy of parliament and would follow the committee's directives.
The committee gave him up till Sept 1 to implement its instructions.
COMMENTS
Comments are moderated and generally will be posted if they are on-topic and not abusive.
For more information, please see our Comments FAQ