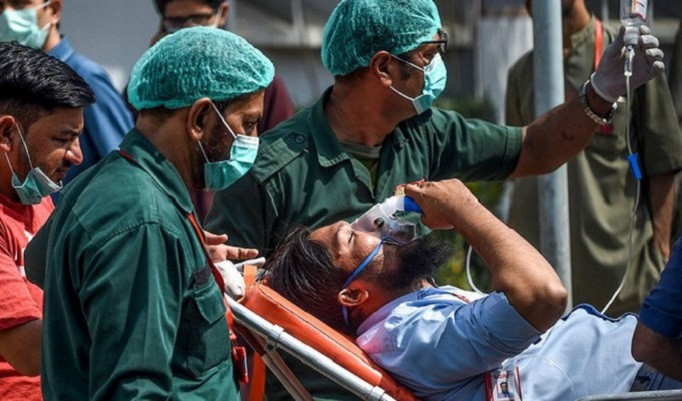 ---
Infection rate soars to 11.28% in Rawalpindi
One more coronavirus patient dies at RIUKT
---
ISLAMABAD:
Another coronavirus patient died in Rawalpindi on Sunday while the test-to-positivity ratio in the Rawalpindi district has soared to 11.28 per cent as people continue to flaunt coronavirus precautionary guidelines.
The coronavirus patient died at the Rawalpindi Institute of Urology and Kidney Transplant, health officials said.
At least 1,784 Covid-19 tests were conducted during the last 24 hours, of these, 201 were tested positive while 1,583 were tested negative.
In three major hospitals of the city, 187 patients are on oxygen support, 19 have been put on ventilators whereas 1,715 patients are observing home isolation, the health officials said. A total of 1,078 patients have died of the coronavirus so far while 27,699 patients have recovered from the deadly virus.
The district administration has urged the citizens to adhere to standard operating procedures (SOPs) devised to stem the spread of the Covid19 virus. Most of the people contracting the virus are those who have not vaccinated themselves, health officials claimed.
The district health authority has appealed to the citizens to get themselves vaccinated against the virus which is spiralling out of control.
Earlier, District Health Officer (DHO) Dr Ehsan Ghani had said that around 54 per cent of the population above 18 years of age has been vaccinated so far under the ongoing anti-covid vaccination drive in the district.
Read Covid death toll past 6,600 with 21 more fatalities
He had said that the population of Rawalpindi district aged 18 years and above was around three million out of which 1.68 million people have been inoculated against coronavirus.
The Punjab government has decided to impose microsmart lockdown in six areas of Rawalpindi. The micro-smart lockdown has been imposed in six more hot spots owing to a surge in cases to contain the spread of Covid-19 in the district.
The government has decided to restrict movement in Rawalpindi hot spots till August 24.
Call for developing indigenous Covid vaccines
The astronomical cost of the Covid-19 vaccine and its nonavailability have necessitated a partnership between academia and industry for research in developing indigenous vaccines to achieve self-sufficiency, said a scientific research journal of the National University of Medical Science (NUMS).
"There are no shortcuts on the way to self-reliance in vaccine development and production. The government needs to facilitate academia and industry to promote and incentivise research and development. Tax holidays and buyback guarantees could be offered to the industry to encourage them to invest in vaccine production", stated the research while detailing a roadmap for achieving selfsufficiency in developing the vaccine.
Cognisant of the strategic, social and economic value of vaccine production, the magazine read, "China, India, Vietnam, Indonesia, Thailand, South Africa, Brazil, Mexico and Argentina are investing heavily in promoting domestic vaccine research, development and production.
WITH ADDITIONAL INPUT FROM APP