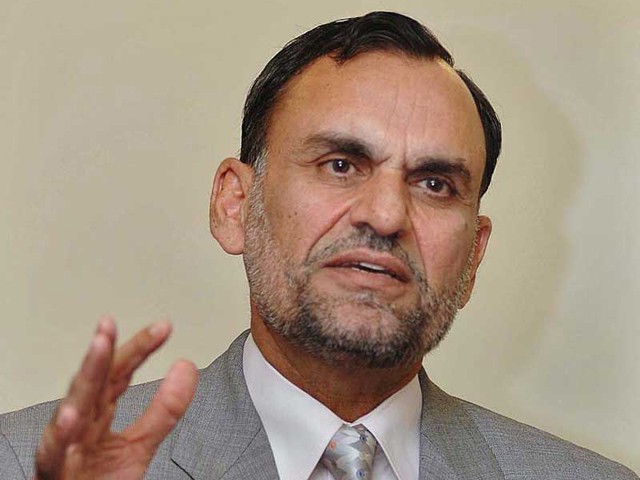 ---
ISLAMABAD:
Federal Minister for Railways Azam Swati may face the music as the Supreme Court has hinted to proceed against him for passing an order to appoint Adviser on Railways Affairs Shahrukh Khan without following the rules and regulations.
"The court shall at appropriate time examine the legality of the orders passed by Federal Minister for Railways and also if there is violation of the orders of this court in this regard and pass appropriate orders," said a nine-page order passed by a three judge bench of the apex court led by Justice Umar Ata Bandial in Railways Club case, wherein the Auditor General of Pakistan was appointed to conduct a detail forensic audit of the club.
On June 28, 2019, the Supreme Court had issued a judgment wherein the lease agreement with Maxcorp Consortium/MHPL was cancelled and the possession of the Royal Palm Golf and Country Club was retrieved and handed over to Pakistan Railways.
Read more: Railways to introduce rewards for efficient staff
Swati is not facing a tough time in the apex court for the first time. Earlier, former chief justice Saqib Nisar had taken notice of misuse of his authority as minister. Later, Swati himself tendered resignation as minister in order to avoid adverse action by the apex court. After Nisar retired, he again took oath as federal minister.
Now the court directed the federal government to immediately put Shahrukh's name on the Exit Control List till further orders.
The appointment of adviser had been made in complete violation of the laws, rules, regulations, orders of the court and without any power vesting with the federal minister for railways to do so, therefore, the service of adviser is terminated with immediate effect, the court order noted.
The bench directed Shahrukh, who was present in the courtroom, to hand over complete record, documents and assets. It was said that the railways secretary shall ensure taking over the custody of record. All perks, privileges, vehicles, police escort, if any, shall be immediately withdrawn from him, the order said.
It was said that after examining the record, the court would pass an appropriate order seeing if any financial loss created by reason of any act or omission on part of Shahrukh had occurred, who along with federal minister for railways shall be personally responsible to make up such loss.
Also read: Why should Swati resign for 'sins' committed by Rafique, says Fawad
The court noted that the "so called adviser" had been taking administrative decisions and asked under what authority of law he exercised the powers to hire, fire and transfer the club employees.
On August 12, the hearing of the case was adjourned for two weeks. On April 2, Shahrukh was appointed as the pro bono adviser to the federal minister, which was duly notified by the ministry.
COMMENTS
Comments are moderated and generally will be posted if they are on-topic and not abusive.
For more information, please see our Comments FAQ