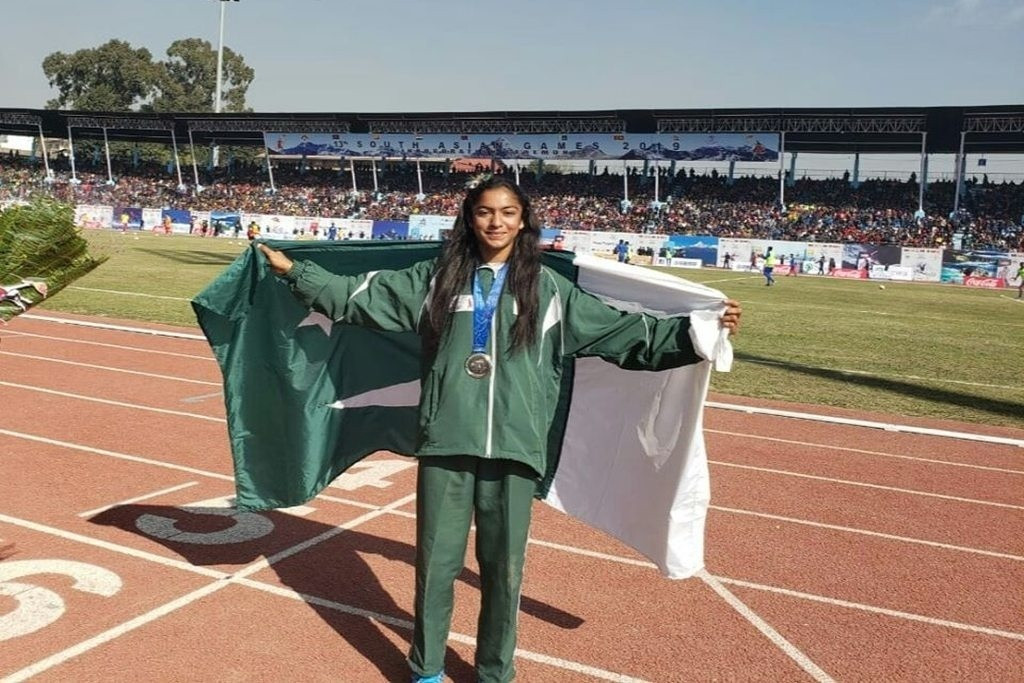 ---
KARACHI:
One of Pakistan's fastest women Sahib-i-Asra believes that this is high time for the Pakistani fans, sports authorities and government to support the athletes. She feels that javelin thrower Arshad Nadeem's campaign at the Tokyo Olympics has been a motivating and a game-changing result for the athletes across Pakistan.
More than a week has passed since Olympics concluded in Tokyo, and thanks to Nadeem and weightlifter TalhaTalib, Pakistanis finally started noticing other sports, apart from cricket.
Asra rose to prominence in 2018 when she took the gold medal in 11.60 seconds to become the fastest woman in Pakistan at the National Athletics Championships. She then finished her National Games 2019 with a gold medal in 4×400 and three silver medals in 100m, 200m and 400m respectively.
If anything, Asra is the obvious contender in the country by the results for the 2024 Olympics in Paris, as runner Najma Parveen seems to be losing her speed with her latest outing in Tokyo being a complete failure. She finished last in her heat in the 200m event.
But Asra is focusing on the impact that the track and field athletes can make, all thanks to Arshad's fifth place finish in the javelin throw event at the 2020 Olympics. It was a first for Pakistan to see an athlete in track and field qualify directly for the Olympics first, and then reach the final too.
"If you are pursuing a career in athletics in Pakistan, there is greater struggle and lack of encouragement as compared to the athletes of other countries," Asra told The Express Tribune.
"With Arshad's feat, I feel we all are very motivated that an athlete can achieve something while still being in Pakistan. He did this while training mostly in Pakistan and that is very encouraging because mostly athletes, who are not cricketers, are ignored and we don't get proper facilities either. Arshad performing so well and then getting the recognition makes me and others feel that there is a future for us. But we need more support as far as the sponsors, resources and facilities are concerned.
"Arshad's faith has been impressive and I have seen him work through troubles. Sometimes I would get disheartened while pursuing a career as a professional athlete in Pakistan, but now I feel we have hope. We just have to stay positive."
For Asra, who was hoping to be selected for international events after her impressive performance at the 2019 South Asian Games, Covid-19 brought unfathomable challenges. She won silver medal in 4x400m relay, bronze in 4x100m and a bronze in 400m at the 2019 SAG, but all of it was in vain as the pandemic caused the postponement or cancellation of events.
Dreams of Olympic medal
Asra, however, has kept herself motivated by training in her home-town Faisalabad.
Even on August 14 this year, Pakistan's Independence Day, she celebrated by training, in the hopes of competing at the National Games or at the National Championship domestically for Wapda. She is also setting her eyes on the Asian Games and the Commonwealth Games in the future. But ultimately, she wants to make Pakistan proud at the Olympics.
Pakistani women have not been able to win any medal at the Olympics so far.
"I need good training for that medal at the Asian Games, and then of course there is Commonwealth Games too. But I really need the training and the coaching that can help me improve. There is hope that we can do better, but we need more coaches and facilities in athletics," said Asra. "I am dreaming of Olympics too, but I want to qualify directly. I want to make the country proud."
The Wapda athlete feels that she needs coaches that can guide her better. She had been training with a Nigerian coach for years now, but it is through online.
She also had to give up on her favourite event that was the 100m because she felt that her technique was not working.
"I gave up on it because my coach told me that the technique is not working. In 100m, there is a lot of competition and it is tougher than other events. But the primary reason I gave it up is because my coach is not present with me. Just sending videos and getting online training can't help an athlete enough," said Arsa. "My arms are also a little weak and sometimes when I tried to beat the records on my own, I just couldn't do it. My coach told me that it is because there is a gap in coaching that can't be filled online and I need to take care of my diet and training."
Asra is now concentrating on 200m and 400m.
"My coach told me that these events are good for me and I feel I am doing well. So that is my targetin international events," said Asra, hoping that the government and the authorities looking after sports can prioritise the athletes after witnessing the power of sports through incredible performances by Arshad, Talha and shooter Gulfam Joseph in Tokyo.
COMMENTS
Comments are moderated and generally will be posted if they are on-topic and not abusive.
For more information, please see our Comments FAQ