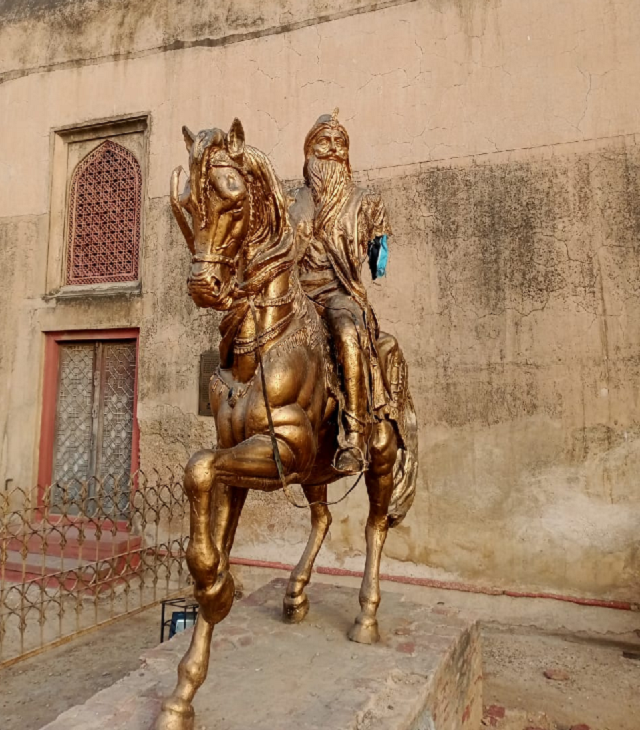 ---
LAHORE:
The Punjab Police on Tuesday arrested an activist of the banned Tehreek-e-Labbaik Pakistan (TLP) for vandalising the statue of Maharaja Ranjit Singh - the ruler of the Sikh empire during the 19th century – placed near Lahore Fort.
The act of vandalism occurred earlier in the morning, with the Lahore fort's administration saying that strict action would be taken against the accused.
In a video, the vandal can be seen chanting slogans and breaking the arm of the statute and then dismantling Singh's bust from the horse altogether.
The video further shows the individual then being restrained from causing further damage by a passer-by.
Information Minister Fawad Chaudhary condemned the incident saying that such 'illiterates are really dangerous' for Pakistan's image internationally.
Special Assistant to the Prime Minister (SAPM) on Political Communication Dr Shahbaz Gill said immediate action will be taken against the accused.
"Recently, the statue of Samiullah Sahib was also desecrated. These are symptoms of a sick mindset. This is an attempt to undermine Pakistan's assessment," the SAPM added in a tweet.
لاہور میں رنجیت سنگھ کے مجسمے کو نقصان پہنچانے والے ملزم کے خلاف فوری کاروائی ہو گی۔ پچھلے دنوں سمیع اللہ صاحب کے مجسمے کی بھی بے حرمتی کی گئی۔ یہ بیمار ذہنیت کی علامات ہیں۔ اس سے پاکستان کے تشخیص کو نقصان پہنچانے کی کوشش کی جاتی ہے۔پولیس ایسے ملزموں کے خلاف سخت کاروائی کرے گی

— Dr. Shahbaz GiLL (@SHABAZGIL) August 17, 2021
Ranjit Singh's statue has been vandalised twice before. In December 2020, a young man broke the arm of the statue. He also belonged to a religious group, while on August 13, 2019, two young men also damaged the statue.
Read More: Mob vandalises Hindu temple after boy granted bail
The Walled City of Lahore Authority claims to have deployed dozens of guards at the fort. The police were also investigating a religious billboard brought near the historic site.
COMMENTS
Comments are moderated and generally will be posted if they are on-topic and not abusive.
For more information, please see our Comments FAQ