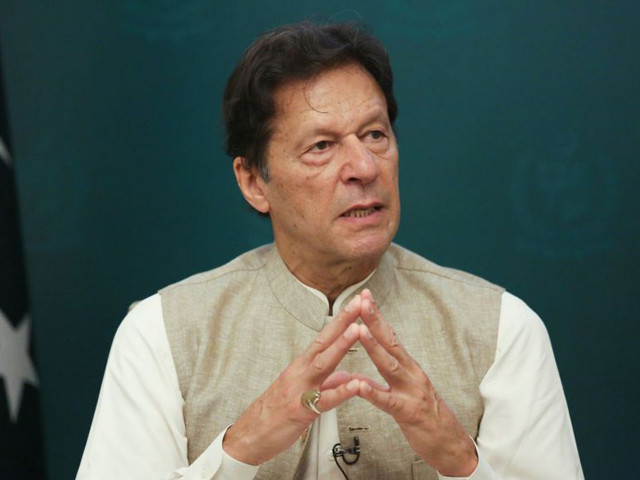 ---
ISLAMABAD:
In line with his vision to end an educational disparity in the country, Prime Minister Imran Khan on Monday launched the first phase of the Single National Curriculum (SNC) for students of Grade I-V with a view to transforming the nation into a "unified entity, rooted in common morals and ethos".
The prime minister formally launched an online portal with uniform syllabus, which has been developed by the National Curriculum Council, Ministry of Federal Education and Professional Training in consultation and collaboration with education departments of all federating units.
Addressing the launching ceremony held at the Prime Minister House, Imran said that it was his "vision to bring a uniform syllabus and end the class-based education system" in the country. "A uniform curriculum will … converge the diversified energies in achieving the common goals of progress," he said.
Imran said that Pakistan was the "only country in the world" that was using three types of syllabi – in private schools, in public schools and in religious seminaries. He added that now the SNC would lead the Pakistani youth towards "one direction and rid them of the invasion of foreign cultures".
Read More: Sindh deems Single National Curriculum infeasible
The prime minister noted that he knew that bringing a uniform curriculum would be a difficult task because the "elite system will not allow this change", however, he assured that the process that had been started "is irreversible".
Highlighting the features of the SNC, Imran said it would help the youth understand religion better "so they cannot be misled by elements" who "misinterpret the religion for their vested interests". He added that "minorities will also be provided with opportunities to learn about their respective religions".
He asked Education Minister Shafqat Mahmood to enforce the uniform syllabus for these grades by the end of this year. In his remarks on the occasion, Mahmood said the uniform curriculum had been implemented in Punjab, Khyber Pakhtunkhwa, Gilgit-Baltistan and Azad Kashmir in the first phase.
Three-phase plan
The SNC is being released in three phases. In the first phase, the plan for grades Pre-1 to 5 will be implemented from 2021-22 academic year. In the second phase, the plan will be implemented for Grades VI-VIII from 2022-23; and Grades IX to XII will follow the new curriculum from 2023-24.
The development of the SNC is driven by key considerations such as teachings of the Holy Quran and Seerat-e-Nabwi, Pakistan's constitutional framework, national policies, vision of the founder of Pakistan, Quaid-i-Azam Muhammad Ali Jinnah, focus on values and respect for diversity in cultures and religions.
It also aligns with the UN's Sustainable Development Goals (SDGs) and the development of 21st-century skills, including analytical, critical, and creative thinking. The process for developing the SNC entailed both a comparative review with curricula from other countries and consensus-building within Pakistan.
In his speech, Imran expressed satisfaction that in the new curriculum, special emphasis had been laid on the teachings of Holy Prophet Muhammad (Peace be upon Him) as an inspiration of ethics and morality. He mentioned that the minorities would also be taught about their religions.
He regretted that difference of Urdu and English-medium schooling resulted in creating a wide gulf among different social classes with the ills of intellectual inferiority or superiority complexes. English, he said, did not remain limited to a language to learn knowledge, but became a status symbol.
"Breaking the shackles of minds is more difficult and we are determined to bring the nation out of such complexes," the prime minister said, stressing that no nation could rise until it relied on its original values and morals.
Under SNC, English will be taught as a language with focus on skills. In Islamiat, new themes of "Muamilaat" and "Islam Aur Daur-e-Hazir ke Taqazay" have been added. Experts from all factions of the Ittehad Tanzimatul Madaris Pakistan were part of the consultation.
To ensure intra-faith harmony, the SNC focuses on what is common between schools of thought and avoids promoting religious differences. Social Studies has been developed to encourage patriotism, global citizenship, human rights and peace.
For students from minority faiths, a separate curriculum with the title Religious Education has been developed. Five major religions are represented, with individual curriculum for each, including Christianity, Hinduism, Sikhism, Baha'i and Kalash.
(WITH INPUT FROM APP)
COMMENTS
Comments are moderated and generally will be posted if they are on-topic and not abusive.
For more information, please see our Comments FAQ