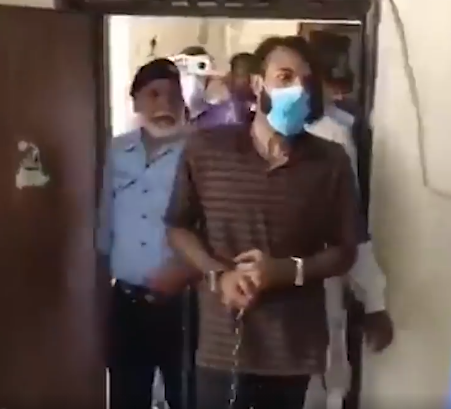 ---
ISLAMABAD:
A local court has extended the judicial remand of Zahir Jaffer and staff of Therapy Works till August 30. The court also approved the police's application of DNA tests of the co-accused, Iftikhar and Jamil.
Duty Judicial Magistrate Saqib Jawad conducted three separate hearings of the Noor Mukadam murder case on Monday.
During the first hearing, the prime suspect was brought to the court from Adiala Jail on completion of his judicial remand where his attendance was marked from a 'Bakshi Khana'. The suspect was not presented in court and was taken back to jail.
In the second hearing, the court heard the police's application for allowing DNA tests of co-suspects Iftikhar and Jamil. They were also brought from Adiala Jail and not presented before the court.
The court carried out the hearing on the application and allowed the police to conduct DNA tests of both suspects.
Moreover, the six staffers of Therapy Works were produced in the court after the completion of their one-day physical remand. The suspects, including owner Dr Tahir Zahoor Ahmed, were granted one-day physical remand on Saturday.
The police said that the staffers hid the evidence in collusion with the prime suspect's father.
During the hearing, the lawyer of Dr Ahmed argued that six staffers were booked on the basis of a supplementary statement and that his client's name is not in it, calling for the case to be dismissed.
At this, the public prosecutor Sajid Cheema said that Dr Ahmed was named in the supplementary statement recorded on July 24 and August 8. The related record of the case was also presented before the duty judge.
The investigation officer (IO) maintained that the staffers told that they were sent by Dr Ahmed. At this, the court said that Dr Ahmed must have a role in light of how he was contacted while the whole scene was 45 minutes long.
Dr Ahmed's counsel reiterated that his client's statement was not in the supplementary grant and said they were ready to submit bail bonds for the court's satisfaction.
The lawyer alleged that Dr Ahmed requires insulin every 45 minutes yet he has not been given the medicine since his arrest. He maintained why a staffer would be injured if the therapy centre wanted to hide the evidence. The injured staffer's surgery was also shown to the court.
The record of the supplementary statement of July 24 was presented in the court after which Dr Ahmed's lawyer said they are ready to submit the statement under section 164.
After the conclusion of arguments, the court sent all the staffers on judicial remand until August 30.
Published in The Express Tribune, August 17th, 2021.
COMMENTS
Comments are moderated and generally will be posted if they are on-topic and not abusive.
For more information, please see our Comments FAQ