 ---
ISLAMABAD:
Pakistanis on Saturday celebrated the country's 75th Independence Day with traditional zeal and fervour along with commemorative ceremonies held in various cities.
The celebrations began with the change of guard ceremonies at the Mazar-e-Quaid and Mazar-e-Iqbal in Karachi and Lahore, respectively.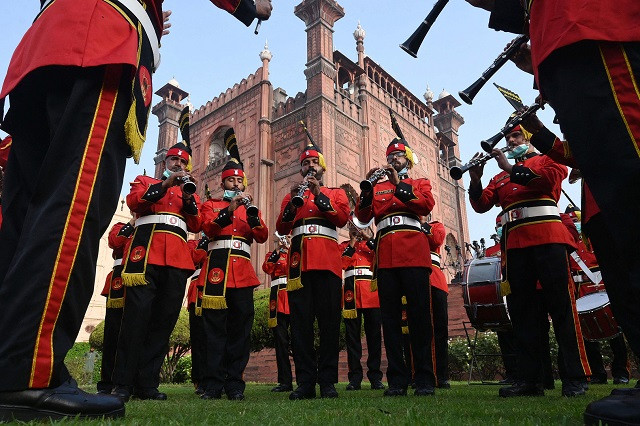 A 31-gun salute in the federal capital was followed by 21-gun salutes in all four provincial capitals.
A flag-hoisting ceremony was held at Aiwan-e-Sadr in Islamabad, where President Dr Arif Alvi was the chief guest. President Alvi congratulated the nation on completing 74 years of independence.
He began by thanking Allah for helping Muslims of the sub-continent achieve their own homeland and said "freedom is a great blessing".
"Today we should reflect on the difficulties faced in the course of Pakistan's freedom," he added.
President Alvi paid tribute to the great leaders of the Pakistan movement, including Sir Syed Ahmed Khan, Shah Muhammad Sultan, Shah Agha Khan, Allama Iqbal, Liaqat Ali Khan and Quaid-e-Azam Muhammad Ali Jinnah.
"It was their sacrifices that have led us here today", he said.
While discussing the challenges faced by the country, he talked about the ongoing race for weapons in the region and said Pakistan had been deliberately trapped, adding that despite that the country, which was essentially an agricultural economy, managed to meet its food requirements and was now on its way to becoming an industrial country.
"Pakistan is also advancing in information technology," the president said.
"When Pakistan's history is written, it will show that we accomplished major tasks while facing many issues".
He pointed out that when India had developed a nuclear bomb, Pakistan had used its intelligence and developed a nuclear deterrent only seven years later.
"Pakistan became a part of those powerful nations that protect themselves through nuclear weaponry," the president added.
He further discussed how Pakistan had dealt with terrorism when the situation in Afghanistan deteriorated. "We sacrificed 100,000 lives and lost $150 billion, but won that war."
On the occasion, the president also lauded the armed forces and police for fighting against the scourge of terrorism.
"Around 3.5 million Afghan refugees came to Pakistan and we gave them refuge without depending on anyone else, showcasing our hospitality," President Alvi remarked.
President Dr. Arif Alvi affectionately receiving the National Flag from a child during the Independence Day ceremony, at Aiwan-e-Sadr. pic.twitter.com/caiNSPSduj

— The President of Pakistan (@PresOfPakistan) August 14, 2021
"Other countries often let refugees drown, but Pakistan strengthened itself ethically."
Speaking of other challenges the country faced, he mentioned the earthquake in 2005, the floods in 2010, and the ongoing Covid-19 pandemic.
"The Pakistan nation came together to fight all these odds and this is a show of your strength", he maintained.
According to Alvi, throughout the pandemic, Prime Minister Imran Khan did not want people to die of hunger -- a concept no other leader spoke of.
"Through data, the NCOC [National Command and Operation Centre], the people of the country, and its religious clerics, we were able to combat this disease."
The president pointed out that the fourth wave of the disease was upon the country and urged citizens to follow the standard operating procedures (SOPs).
"Pakistan showed good results, with an economy that is still successful."
PM Imran also addressed the nation in a separate message through a series of tweets.
"As we hoist our national flag to mark Independence Day, we must reiterate the firm resolve to uphold our national values of unity, faith, and discipline as envisioned by Quaid-e-Azam Muhammad Ali Jinnah," he wrote.
Prime Minister @ImranKhanPTI Khan's message on Independence Day 2021:

"As we hoist our national flag to mark Independence Day, we must reiterate the firm resolve to uphold our national values of unity, faith and discipline as envisioned by Quaid-i-Azam Muhammad Ali Jinnah"

1/11 pic.twitter.com/1xhCXnQGqc

— Prime Minister's Office, Pakistan (@PakPMO) August 14, 2021
The premier said the country had sacrificed immensely and paid a hefty price because of the instability on its Western border.
"We have consistently stressed that there is no military solution to the conflict in Afghanistan. Pakistan will continue to support a negotiated political settlement for durable peace and stability in Afghanistan," he added.
According to the premier, "Naya Pakistan" has shifted its focus from geo-politics to geo-economics, with the well-being and welfare of the people being the topmost priority.
The prime minister stated that due to the universal recognition of the government's policies towards the revival of the economy, its handling of the Covid pandemic, and environment protection, "Pakistan can stand tall among the comity of nations".
He added that the nation had "surmounted monumental challenges during the course of our history to emerge as a united, peaceful and resilient nation", adding that like other times, it would overcome the challenges it faced today "with our characteristic determination and come out stronger as a nation."
The premier also expressed support for the people of Indian Illegally Occupied Jammu and Kashmir (IIOJK)|.
"Pakistan will continue to extend its full support to the Kashmiris in their just cause. Kashmiris are looking up to the international community to fulfil the promises made to them."
President Alvi also conferred 126 civil awards on Pakistani citizens and foreign nationals for showing excellence and courage in their fields.
He also conferred military awards on officers and soldiers of the Pakistan Army, Pakistan Navy and Pakistan Air Force, according to a statement issued by the Inter-Services Public Relations.
(With input from agencies)
COMMENTS
Comments are moderated and generally will be posted if they are on-topic and not abusive.
For more information, please see our Comments FAQ