 ---
The Federal Interior Ministry on Friday announced a two-day public holiday in view of the 9th and 10th of Muharram on August 18 and 19 (Wednesday and Thursday).
A notification issued in this regard said that August 18 and 19, 2021 shall be public holidays on the occasion of Ashura (9th and 10th Muharram 1443 AH).
Muharram is the month of mourning for the seventh-century martyrdom of Hazrat Imam Hussain, the grandson of Prophet Muhammad (PBUH).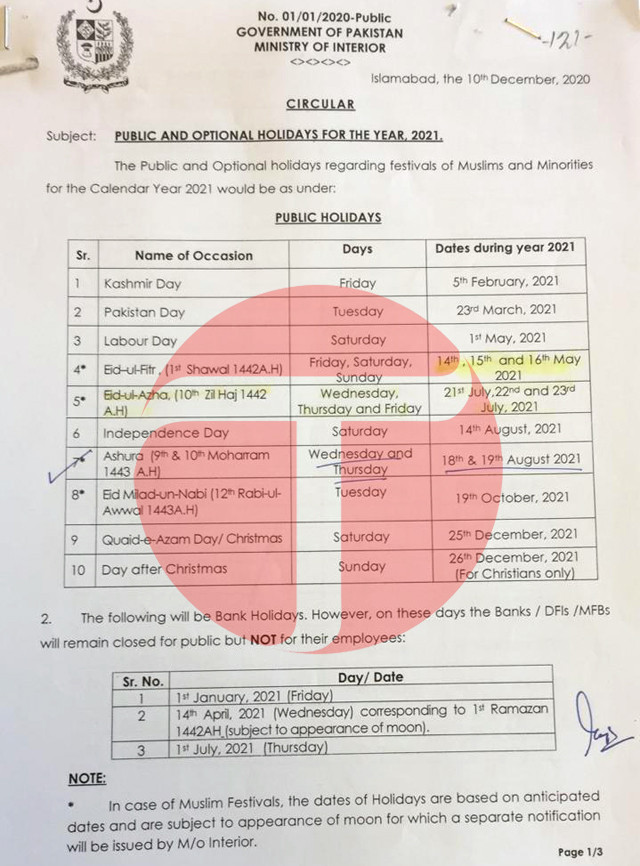 Read more: Muharram moon sighted, Ashura on August 19
Security is beefed up across the country for the many processions taken out by the believers.
The country has seen a raft of attacks at imambargahs and processions in the past.
Earlier in the month, Sindh government imposed a pillion riding ban in Karachi on the occasion of Ashura.
Also read: Call for unity during Muharram
"In continuation and partial modification of this department's notification of even number dated, 28-7-2021, the ban on pillion riding for Karachi Division shall be for 8th, 9th and 10th Muharram 1443 AH, 2021," the provincial home department's notification had said.
Like last year, this Muharram will also be observed under the Covid-19 pandemic and authorities have warned the citizens to strictly adhere to the standard operating procedures (SOPs) including mask-wearing and social distancing to avoid spike in number of coronavirus cases and deaths.
(With additional input from APP)
COMMENTS
Comments are moderated and generally will be posted if they are on-topic and not abusive.
For more information, please see our Comments FAQ