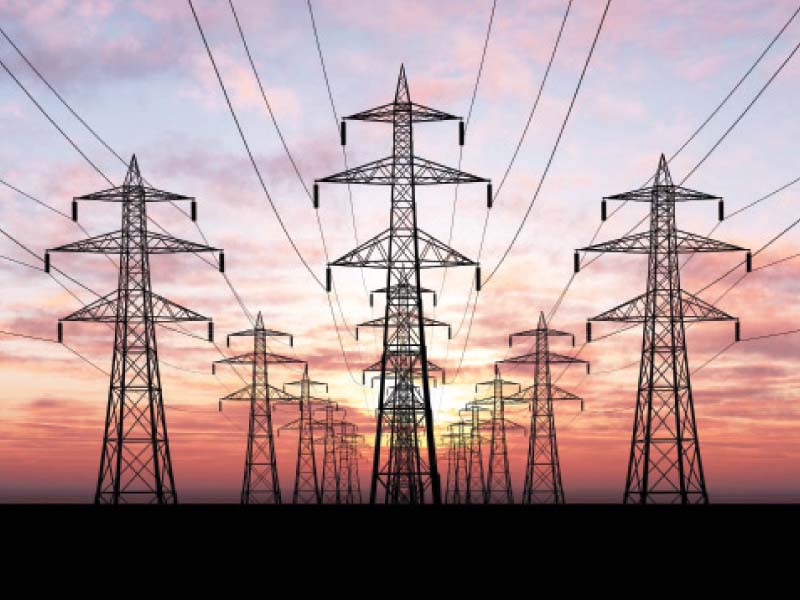 ---
KARACHI:
Pakistan has maintained its record making and breaking spree in the broader economy as it reported all-time high power generation and transmission of 24,467 megawatts (MWs) in a single day on Wednesday. The feat was achieved by partly utilising the surplus generation capacity which has remained a huge cause of expensive power for end-consumers in the country.
The required increase in demand for power generation and consumption was recorded on the back of turnaround in the domestic economy; including in all the three major sectors ie industries, agriculture and services. Besides, residential consumers have continued to upgrade their homes with electrical and electronic goods including high power consuming splits, other home appliances and gadgets.
"Record highest power was generated and transmitted yesterday (Wednesday, August 11) at 24,467 MWs," Federal Minister for Energy Hammad Azhar said on his official Twitter handle on Thursday.
This was his second tweet in about a month to report all-time high power generation and transmission.
Last month, he wrote, "highest demand and supply of power in history of Pakistan achieved at 24,284 MW. It reflects not just higher demand and generation but also increased transmission capacity." For reference, the peak load registered in 2020 in a single day was 23,370 MW and in 2018 (before the Pakistan Tehreek-e-Insaf formed its government in the centre), it was just 20,811 MW. "Average power demand and supply during these summer months is approximately 20% more compared last year," Azhar said in his latest tweet.
"This (higher generation and transmission) is good news towards the circular debt," said the Hub Power Company (Hubco) former managing director Khalid Mansoor while talking to The Express Tribune. "If the consumption has increased…it is a step in the right direction." He said the increase in power consumption would help reduce the surplus generation capacity and circular debt in the system.
"Circular debt issues emerge when the country has the capacity for take or pay and the government is forced to pay because the capacity is not being dispatched," said Manoor, who has recently been appointed as Special Assistant to Prime Minister on China-Pakistan Economic Corridor (CPEC).
The outstanding circular debt amount reached Rs2.37 trillion in the preceding fiscal year that ended on June 30, 2021. The circular debt and additional annual capacity payment (which stands at around Rs1 trillion in FY21) have jointly turned power expensive for the end-consumers in the country. Pakistan possesses installed capacity to produce over 37,000 MW of power while it holds dispatch capacity at around 26,000 MW.
Pakistan Electric Power Company (Pepco) former managing director Tahir Basharat Cheema said the other day that the government's pro-growth and industry-friendly policies have helped increase power production to an all-time high. The output of large-scale manufacturing (LSM) segment, small and medium-sized enterprises (SMEs) and export-oriented sectors has turned around in recent months. This has directly and indirectly supported electricity production in Pakistan.
The country has continued to report higher production in the past two to three months on a month-on-month basis. Pakistan's power generation touched a new peak in full fiscal year 2021, as it rose 7% to 130,223 GWh in the year compared to 121,867 GWh in FY20.
"Power generation started to increase from December 2020 owing to the announcement of industrial power package by Prime Minister Imran Khan," said Topline Research analyst Sunny Kumar earlier. "One of the main features of the package was removal of peak hours till April 30, 2021 which the government has extended till June 2022."
Moreover, the leadership has also offered 50% discount for small and medium size industries on consumption of additional power compared to their previous bills in the same period last year till June 30, 2021. The incentive package also allowed 25% discount for all industries on consumption of additional power compared to their previous bills for next three years.
"Economic activity in Pakistan improved after lockdown was lifted," Kumar added.
Published in The Express Tribune, August 13th, 2021.
Like Business on Facebook, follow @TribuneBiz on Twitter to stay informed and join in the conversation.
COMMENTS
Comments are moderated and generally will be posted if they are on-topic and not abusive.
For more information, please see our Comments FAQ