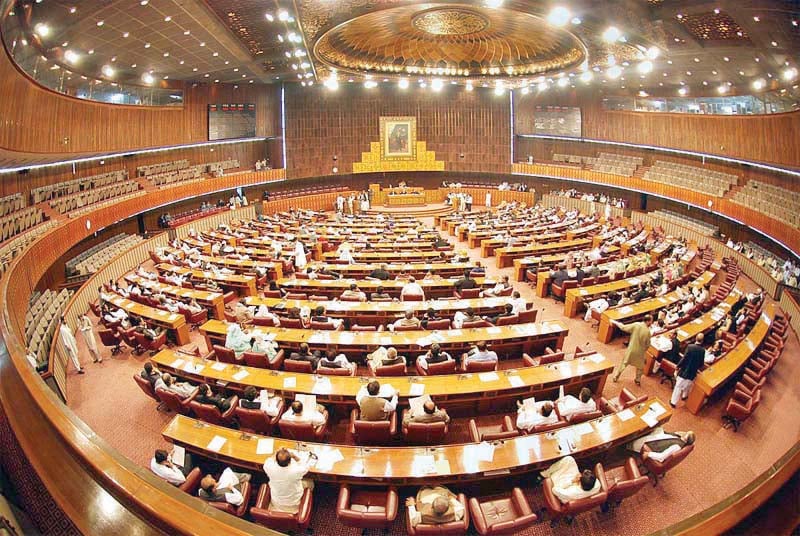 ---
ISLAMABAD:
People do different things to ward off evil spirits. Children's shoes are tied to the back of their vehicles by some while the help of sorcerers is sought to make or break a relationship by others – the lot that goes for "Mehboob Aap Kay Qadmoon Main" [Lover at your feet] when feeling dejected.
However, on Tuesday, a bill for the prohibition of magic, witchcraft and sorcery couldn't cast a spell over the National Assembly as the Standing Committee on Interior recommended that the bill seeking insertion of a new section in this regard may not be passed by the assembly.
Pakistan Muslim League-Nawaz (PML-N) lawmaker Choudhary Faqir Ahmad had presented the bill for amending the Pakistan Penal Code (PPC), 1860, and the Code of Criminal Procedure (CrPC), 1898, in the assembly and it was referred to the committee on February 6, 2020. The committee considered the bill in its two sittings and decided against it.
Through the bill, the PML-N lawmaker had suggested insertion of a new Section 297-A in the PPC and amendment in the Schedule II of the CrPC. Through the bill, Ahmed had proposed imprisonment up to seven years and a fine extending to one million rupees.
The proposed Section 297-A (prohibition of magic, witchcraft and sorcery) stated, "Whoever practices, advertises or provides services for magic, sorcery, witchcraft, or such acts in the disguise of spiritual healing or counseling shall be punished with imprisonment of either description for a term which may extend to seven years, but shall not be less than six months, and with fine which may extend up to one million."
READ Absence of ministers, secretaries in National Assembly irks Suri
He also provided exemption that the section should not extend to the spiritual counseling provided under the licence issued by the Ministry of Religious Affairs.
In the Statement of Objects and Reasons, he stated that the society is faced with ignorant malpractices such as magic, sorcery and black magic being practiced openly by individuals and associations, who in the guise of counseling and spiritual healing, are bent upon destroying the social and family fabric.
Ahmed said that the incidents of hate, deceit, injury, breaking of relationship and even threats to life and property of innocent citizens exposed to such quack healers has made hundreds of lives miserable.
In this context, he contended, it is the need of the hour to ban all such evil acts that replicate the phenomenon of spiritual healing and counseling to maintain general safety, wellbeing and peaceful minds in the society.
Ahmed added that the criminal law amendment strives to safeguard society from evils. Tuesday, however, saw the end of the proposed bill when NA Standing Committee on Interior Chairman Raja Khurram Nawaz read the agenda item leading to the disapproval of the bill – allowing the magic, to, somehow, prevail.
COMMENTS
Comments are moderated and generally will be posted if they are on-topic and not abusive.
For more information, please see our Comments FAQ