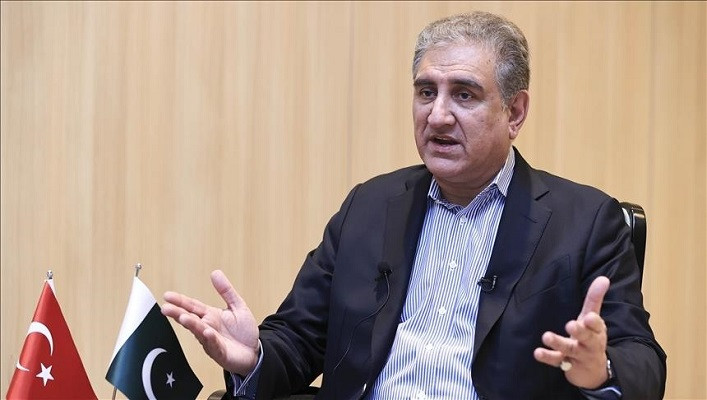 ---
Islamabad's attitude remains positive despite Ghani's allegations: FM Qureshi
India's attitude in UNSC regrettable, says FM
---
ISLAMABAD:
Foreign Minister Shah Mehmood Qureshi on Wednesday said Afghan President Ashraf Ghani has continued his allegations against Pakistan yet Islamabad's attitude remains 'positive'.
"We want improvement in Afghanistan", the FM said, adding that the Afghan people themselves want peace.
According to him, Pakistan's role in the Afghan peace process has been positive and he elaborated that a Pakistani delegation is currently in Doha and involved in peace talks.
"Our positive role and efforts for peace are not hidden from anyone, and today the world is appreciating Pakistan's conciliatory efforts for Afghan peace", he remarked.
The foreign minister spoke of unnamed 'forces' in the region that are working against peace and need to be monitored.
"Attempts are being made to hold Pakistan responsible for the situation in Afghanistan", he said, adding that a faction outside of Afghanistan is "playing the role of the spoiler".
The minister reiterated that Pakistan is "part of a global consensus" and has the same "goal" of peace. "Our efforts for peace will continue."
FM Qureshi clarified Pakistan's stance on the situation, reiterating that Pakistan has "no favourites in Afghanistan".
"If there was a military solution to the Afghan situation it would have been reached. However, no such military solution has come to light", he maintained.
Read India wants to sabotage peace in Pakistan: Qureshi
According to the foreign minister, Pakistan is in touch with all of Afghanistan's neighbouring countries and wants to come up with "an integrated strategy" for peace.
"We are concerned about the escalating violence in Afghanistan. All countries in the region must work together for peace", he emphasised.
"We do not want to interfere in the affairs of Afghanistan, however, we are ready and willing to play the role of the good neighbour", he said.
FM Qureshi further stated that fencing was done at the Pak-Afghan border to stop the movement of "unwanted elements".
"25,000 to 30,000 people cross the border daily, and we do not want dangerous elements to enter into Pakistan and worsen the country's situation", he said, adding that movement across the border should be regulated.
Discussing India's role regarding the situation, the FM commented that their attitude in the United Nations Security Council meeting was "regrettable", and that the international community and the Council should have taken note of this.
"Pakistan is not a member of the Security Council but is more affected by the situation in Afghanistan and has paid a heavy price already. If the situation in Afghanistan worsens, Pakistan will be the first to be impacted", he said.
Also read Pakistan 'watchful, but not concerned' as India assumes UNSC presidency for August
The FM maintained that Pakistan wanted to present its point of view in the Security Council. However, as chair of the Security Council, India "unfortunately did not adopt a responsible attitude".
Covid based restrictions
The FM stated that talks are underway with the United Kingdom and the United Arab Emirates to review restrictions imposed on Pakistan, with the nation's Covid statistics before them.
"Our statistics and Covid situation is not as bad as India. In our opinion, decisions regarding restrictions should be made on a scientific basis, not political", he said.
The minister hoped that the UK and the UAE will reconsider their criteria, given Pakistan's current Covid-19 situation.
Overseas Pakistanis
Qureshi dubbed overseas Pakistanis "precious assets", stating that Pakistan received billions in remittances last year.
The government has launched the Roshan Digital Scheme to facilitate Pakistanis abroad, he said.
In addition to this, the minister has set up an 'FM Portal' to listen to the complaints of overseas Pakistanis. Through this portal, Pakistanis living abroad can register their complaints, and the portal will assess and subsequently help solve their grievances.
The portal has been piloted in five major embassies, FM Qureshi said.
"We will gradually extend its scope to all missions abroad, so everyone can benefit from this facility", he added.