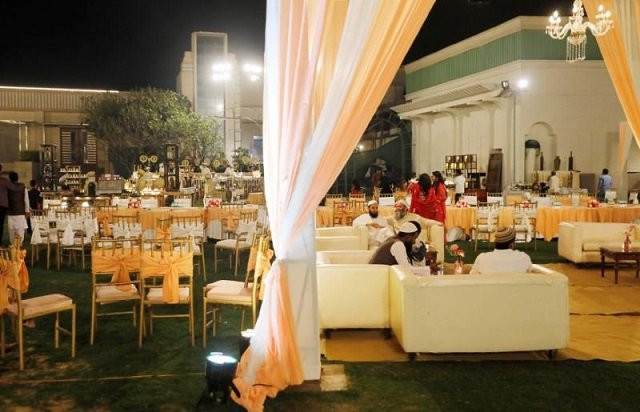 ---
LAHORE:
Lahore CIA Police claimed to have arrested another accused in the murder case of Malik Mubashir Khokhar, the brother of MPA Asad Khokhar.
Police said the accused Umar Shaukat was arrested in Lahore. The brother of Asad was murdered on Friday after the Walima ceremony of his son when the main accused Nazim had opened fire on Mubashir.
Later on, Nazim confessed to the murder after his arrest by the police. Punjab Chief Minister Sardar Usman Buzdar was also present at the event where the incident took place.
However, the provincial chief executive and other Pakistan Tehreek Insaf leaders remained unhurt. Mubashir alias Malik Goga died on the spot while another man was injured. The injured victim was shifted to an area hospital.
In the preliminary investigation, the suspect Nazim told police that he arrived at the Walima event at 8.15 pm and security did not check him. I went and sat with the guests at the ceremony while Asad Khokhar and his brother Mubashir passed by me twice, the alleged murderer confessed.
When Punjab Chief Minister Usman Buzdar was about to leave the ceremony, the three brothers were with him, he stated. "I followed the chief minister out of the marquee."
Reportedly, when the CM got in his car, the suspect went ahead and fired at Mubashir. The pistol he used was licensed and was bought for Rs40,000, according to the police report.
Read: Brother of Punjab's designated minister killed in firing incident
Nazim claimed that Mubashir was involved in the murder of his brother Balle and so the accused decided to avenge the murder. Police arrested the two suspects in connection with the murder.
A case had been registered against the accused Nazim under Sections 302, 324 and 34.
Police officials said that the wedding ceremony was going on when the accused attacked Mubashir, killing him on the spot while and injuring a guest at the event.
The postmortem of the deceased was also completed at the Lahore General Hospital.
According to the postmortem report, the victim was hit by a single bullet from close range which went through his body. The bullet hit him in the left eye and passed from behind his head. Another accused named in the case, Umar Hayat, was also arrested.
Hayat was detained after police in the investigation into Mubashir's murder.
He along with the main accused Nazim opened fire in the venue, injuring a guest named Omar Mazhar. The suspect Hayat had fled on a motorcycle after the firing.
Police booked Nazim, Umar Hayat and three unidentified persons in the murder case of Mubashir.
*With additional input from APP
Published in The Express Tribune, August 8th, 2021.
COMMENTS
Comments are moderated and generally will be posted if they are on-topic and not abusive.
For more information, please see our Comments FAQ