 ---
LONDON:
Pakistanis and Kashmiris living in the UK and Europe held rallies to mark the second anniversary of the Youm-e-Istehsal Kashmir to highlight the plight of Kashmiris in the occupied territory, on August 5.
They held held demonstrations, car rallies, conferences and digital campaign in various cities of the UK and Europe to mark the anniversary of revocation of Article 370 and 35A on the call of Tehreek-e-Kashmir Europe & UK.
The Kashmir digital campaign was launched in London to show the atrocities committed by Indian army against innocent Kashmiris to the international community.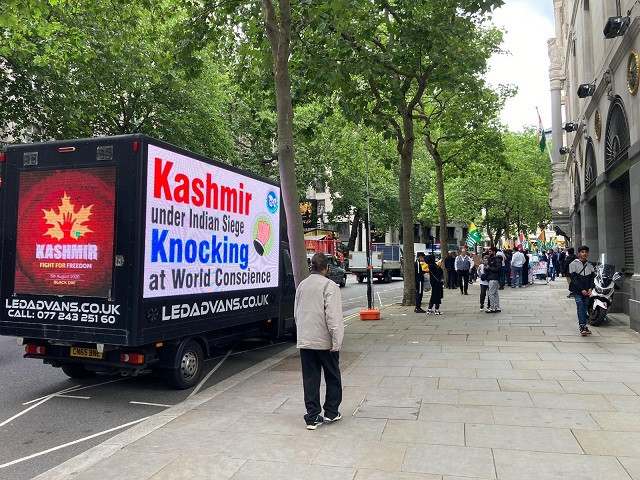 The digital van started its journey from outside the Indian High Commission, London and visited the landmarks in London. The slogans displayed on the digital van were "Kashmir under Indian Siege, Knocking at world conscience " ,
"End illegal Indian occupation of Kashmir, Indian Army out out, Kashmir is the most militarised area in the world, India! Stop genocide in Kashmir, Hold India accountable for its war crimes, 5th August is a black day for Kashmiris and India! Stop killing in Kashmir," were the slogans of the campaign.
Protest rallies
Tehreek-e-Kashmir Norway held a car rally in Oslo and arranged a demonstration outside the Norwegian Parliament.
Tehreek-e-Kashmir Denmark held a huge protest outside the Indian embassy in Copenhagen.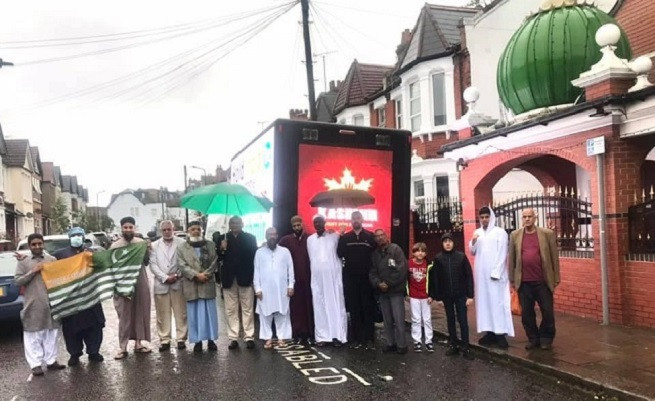 Tehreek-e-Kashmir Scotland held Kashmir Conference chaired by Fakhar Iqbal President.
Also read Pakistan welcomes UN's 'unchanged' stance on Kashmir
Tehreek-e-Kashmir Dundee and Tehreek-e-Kashmir UK held a car rally and conference chaired by Fahim Kayani, President Tehreek-e-Kashmir in Birmingham and held a demonstration outside the Indian High Commission, London.
While addressing car rally, Muhammad Ghalib, President Tehreek-e-Kashmir, Europe, said, "We would not call it two years of abrogation of Articles 370 & 35A today, but rather the Abrogation of Humanity Day.
"The Indian regime led by fascist Modi imposed brutal curfew in Kashmir on 5th August, 2019 to suppress the legitimate struggle of Kashmiris against the illegally Indian occupation of Kashmir," he added.
Fahim Kayani, President Tehreek-e-Kashmir UK said, "The Kashmiris of IOJK were degraded and treated like cattle, had no say and were locked up in an open prison called Kashmir. No where in history do we hear such a long lockdown with Draconian laws.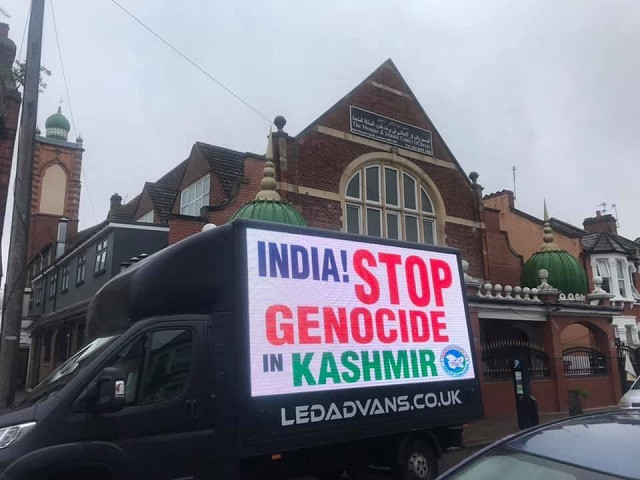 "Tehreek-e-Kashmir would request the world to unite to highlight these laws which have made atrocities easier in IIOJ&K with given impunity."
Kayani noted that the armed forces had been increased to a 'one soldier to 10 Kashmiris ratio'.
While while addressing the demonstrators outside the Indian embassy in Copenhagen, Adeel Ahmed, President Tehreek-e-Kashmir Denmark said India has committed war crimes, crimes against humanity, and genocide.
"Under the Geneva Convention and international law, India must be held accountable for these heinous crimes. The cover of impunity given to India should be withdrawn. Against this backdrop, India has no right to sit in the Security Council or preside over it," he maintained
Aaddressing the participants outside the Norwegian parliament, Shah Hussain, President Tehreek-e-Kashmir, Norway, said, "Two years ago, India invaded, reoccupied, and besieged the occupied Jammu and Kashmir. The occupation continues and the siege continues. In these past two years, thousands of men, boys, and children have been illegally detained and tortured in prison houses and concentration camps."
Mehmood Sharif, President Tehreek-e-Kashmir, Italy, Shafiq Tabasam, President Tehreek-e-Kashmir Spain, Dr Sohail Ahmed, President Tehreek-e-Kashmir, Portugal, Farooq Baig, Secretary General Tehreek-e-Kashmir, Germany, Ejaz Ahmed Tahir Chaudhry, Presifent Tehreek-e-Kashmir, Switzerland and Riaz Ghuman, President Tehreek-e-Kashmir, Hamburg said they would continue to raise the voice of Kashmiris on the global stage until Kashmiris are allowed to decide their future according to the the resolutions of the United Nations Security Council.
COMMENTS
Comments are moderated and generally will be posted if they are on-topic and not abusive.
For more information, please see our Comments FAQ