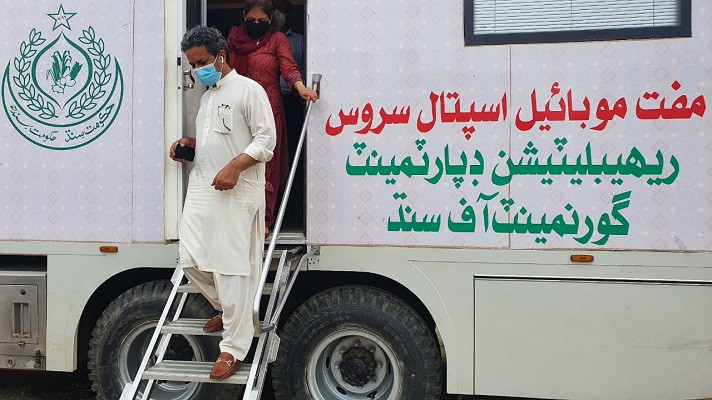 ---
Sindh begins Covid-19 vaccinations for people sans CNICs
Citizens will receive jabs through alternate documents; mobile vaccination vans introduced
---
KARACHI:
The Sindh government on Tuesday started vaccinating people who are above the age of 18 but do not possess Computerised National Identity Cards (CNICs).
According to the directives, those who don't have a CNIC can get vaccinated by presenting any other document proving their age.
Individuals who do not have a CNIC are now being vaccinated through registration on the biometric system. So far, at least 2,000 people have been vaccinated in the province using this method.
Sindh, so far, is the only province where the facility of vaccinations to people without CNICs is being extended.
Read Pakistan vaccinates more than 1m people in new daily record, says Umar
Mobile vaccination centres
The Sindh health department has also converted 12 mobile hospitals into mobile vaccination centres. The facility aims for wider coverage of areas in the city and to extend the service to people of all localities.
Two vans each have been allocated for districts South, West, East and Kemari. With another three vans dedicated to district Central and one for district Malir.
On Sunday, amid increased pressure on the existing healthcare system in the province as people rushed to get themselves vaccinated against the novel coronavirus after warnings by the authorities, the provincial government said it would operationalise 11 more vaccination centres which will work 24 hours.
As per the notification, one more vaccination centre would be established in district Karachi East, three more in Karachi South, three more in Karachi Central, one more each in Karachi West and Malir and two more in Korangi.
In another tweet, Murtaza said that 87 per cent of hospital admissions were people who had not gotten the Covid vaccine and 13 per cent were vaccinated three days ago.
"Doctors have informed #SindhGovt that generally vaccinated people by & large have had mild symptoms," he added.
Earlier today, Pakistan reported another 3,582 fresh cases of coronavirus in a day, taking the tally for confirmed cases so far recorded in the country to 1,043,277.
At least 67 more people succumbed to the deadly contagion in 24 hours, taking the death toll to 23,529.