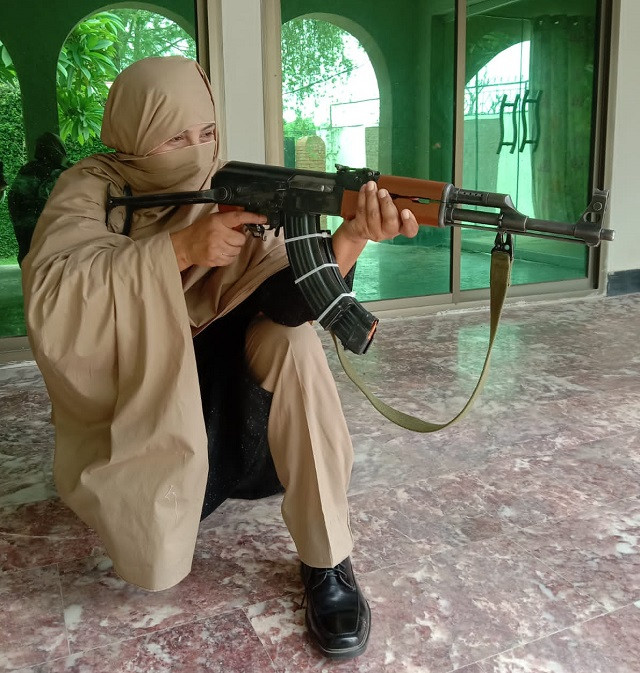 ---
PESHAWAR:
Khyber-Pakhtunkhwa (K-P) police has rendered countless sacrifices in the war on terror as it lost hundreds of its policemen right from a constable to the top cop in the fight.
Women police makes a small fraction of the overall police force but it has not lagged behind its larger male wing in terms of sacrifices.
Lady Constable Safia is a shining example in this regard. She received three bullets in a gunfight in a raid at a house in Regi village on the outskirt of Peshawar some10 years ago.
In the ensuing gun battle, a policeman was slain and Safia, along with other policemen, was badly injured. She remained under treatment for nine months.
"I was treated for a long time. I had received three bullets and surgeons were able to remove two of them but one bullet had penetrated deep and it was almost impossible to remove it without taking a mortal risk. So I still have one bullet in my body. It serves as a medal for me," said Safia while talking to The Express Tribune.
"When our male companions were being killed on a daily basis and despite that they were doing their duty without hesitation in a difficult time, I am really proud of the fact that we, policewomen, also did our job well.
Read Cop killed in Peshawar grenade attack
One of my colleagues was even killed," she said, adding that it was in July 2011 when the inevitable happened during a raid at a house on the outskirt of Peshawar.
"I was under-treatment battling for life for one month at the hospital. Another eight months were spent in lengthy surgical procedures," she recalled.
When policemen are injured in encounters with outlaws or terrorists, they are usually promoted as a reward.
But promotion is an elusive dream for Safia despite the passage of 10 long years and she is still a constable by rank.
Policemen who took part in the same operation were later promoted with the sole exception of Safia.
She was completely ignored by the force when it comes to promotion on the basis of bravery.
In the past, there was a widespread propaganda campaign in the media as part of an image-building effort by the late IGP Nasir Durrani and his influential media team which advertised almost on a daily basis that everything was done on merit in the K-P police.
Even that merit didn't bring Safia her long due promotion, unfortunately. Safia is a resident of Charsadda district of K-P who is very happy with her police job.
She thinks that she is not fit for another job other than police.
COMMENTS
Comments are moderated and generally will be posted if they are on-topic and not abusive.
For more information, please see our Comments FAQ