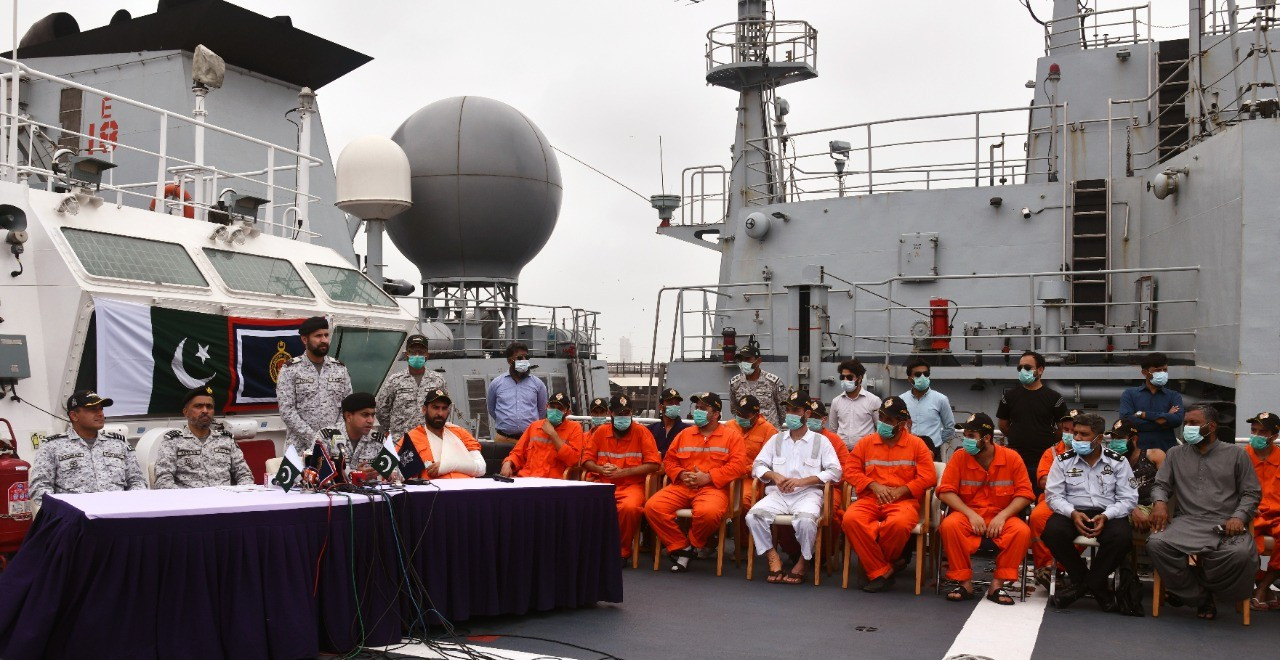 ---
KARACHI:
Pakistan Navy Ship PNS Asalat and Maritime Security Agency ship PMMS Kashmir reached Karachi Port on Sunday afternoon with 15 members of MV Suvari who survived the rescue operation.
Pakistan Navy PMSA had conducted a joint operation at 180 nautical miles south of Karachi to rescued crew of the sunken MV Suvari H.
The operation was carried out in the exclusive economic zone of Pakistani sea in which the cargo ship sank due to strong winds and tidelease.
Commanding officers of the two Pakistani ships involved in the operation, Commander Arsalan and Commander Ehsan, while giving a joint briefing, said that an unfortunate incident took place in Pakistan's Special Economic Zone on June 29, in which we were informed that a cargo ship MV Suvari-H sank in the deep sea off the coast of Karachi due to tidal waves and strong winds.
They said that emergency messages were sent by the crew before sinking, the messages were received by a nearby cargo ship, MT Elan Vital, and five crew members were immediately rescued.
Upon receiving the information Pakistan Navy aircraft on air surveillance was directed to the sinking site and a PMSA aircraft and a ship were also immediately dispatched for assistance.
Pakistan Navy and PMSA aircraft initially identified eight crew members and later five more crew members were rescued with the help of a life raft.
The identification of more members was reported to the nearby ship MT Desh Abhimaan, which rescued five more members. So far, 15 out of 18 crew members have been rescued.
All crew of the sunken ship belongs to Syria, the ship was carrying cargo from India to Somalia.
COMMENTS
Comments are moderated and generally will be posted if they are on-topic and not abusive.
For more information, please see our Comments FAQ