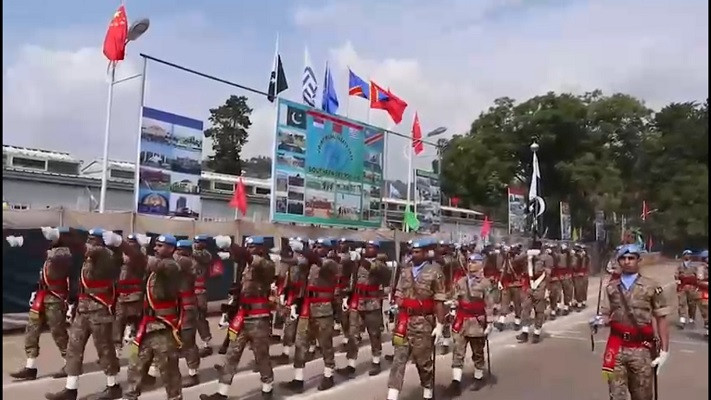 ---
Pakistan Army organised the multinational joint medal parade for the award of the United Nation's Medal in recognition of the services and humanitarian efforts rendered by peacekeepers, according to a press release issued by the Inter-Services Public Relations (ISPR) on Saturday.
Force Commander of United Nations Stabilization Mission in Congo Lieutenant General Marcos Affonso Da Costa, witnessed the joint parade which was held at Pakistan Army Contingent Headquarters in the Democratic Republic of Congo, the military's media wing added.
"Units from China, Indonesia and Uruguay participated along with Pakistani contingent," the ISPR stated.
It further added that unarmed combat drills, cultural shows and the display of military bands were also part of the event to promote multi-national culture in the UN environment.
Read More: Pakistan Army wins gold in international 'adventure competition' in Nepal
"Keeping alive the tradition, Pakistani peacekeepers have always distinguished themselves while undertaking challenging tasks of peacekeeping in conflict-torn areas," the press release added.
A large number of military and civilian dignitaries also attended the colourful event.
"The conduct of the event has been applauded by the mission headquarter, Force Commander and UN hierarchy," the ISPR stated.
Earlier in March, a Pakistan Army team won the gold medal in the international "Adventure Competition" held in Nepal from March 18 to 21, the ISPR said in a statement.
The competition was aimed at testing the physical endurance and mental agility of participants and included cross-country running, cycling and rafting, according to the military's media wing.
The Pakistan Army participated in the event for the first time. A total of 20 teams participated in the event.
In the international category, the Pakistan Army team clinched a gold medal, the statement added.
COMMENTS
Comments are moderated and generally will be posted if they are on-topic and not abusive.
For more information, please see our Comments FAQ