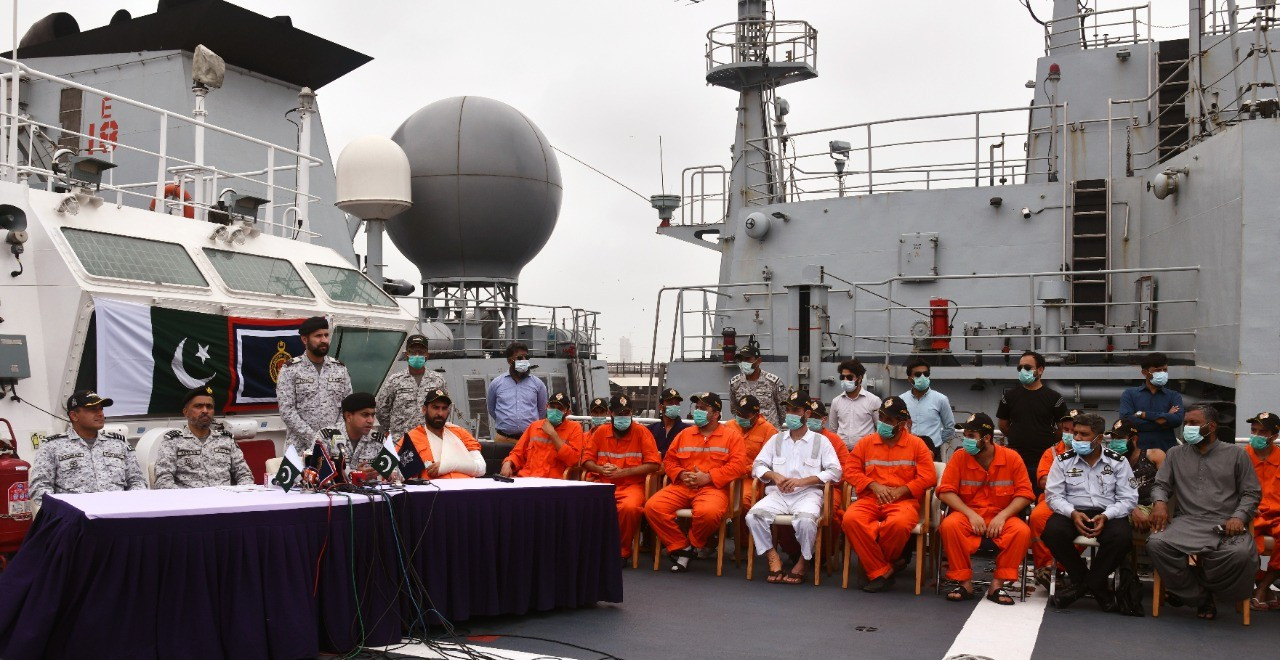 ---
Pakistan Navy and Pakistan Maritime Security Agency (PMSA) on Friday successfully ensured the recovery of stranded crew members of a merchant vessel during a joint assistance operation south of Karachi, according to a statement issued by Inter Services Public Relations (ISPR).
The military's media wing said PMSA's Maritime Rescue Coordination Centre received a report that the vessel SUVARI H that sailed from Kandla, India for Bossasso, Somalia got stranded approximately 180 Nautical Miles south of Karachi along with 18 crew members onboard.
"Pakistan Navy in coordination with PMSA, immediately tasked ships and aircraft to provide assistance to the stranded ship and save precious lives," it added.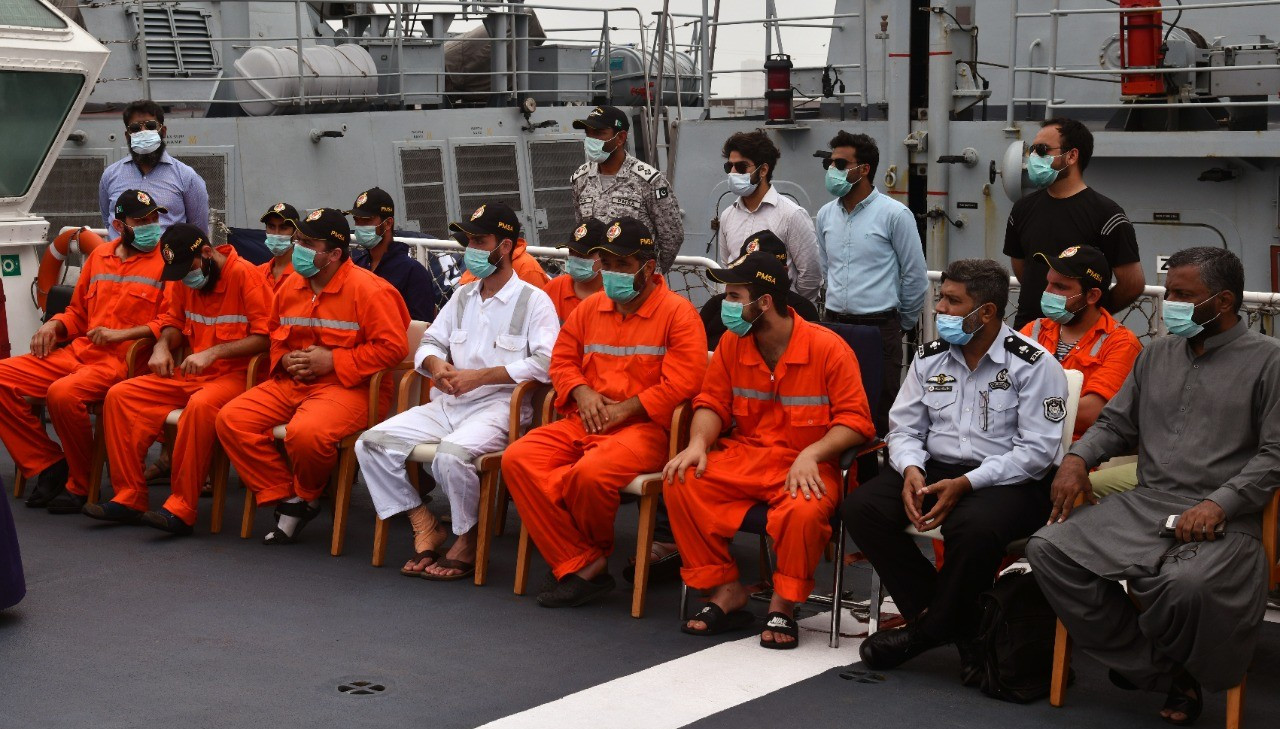 Read more: WATCH: Defuelling of stranded ship at Karachi beach 'safely completed'
​Pakistan Navy and PMSA aircraft after arriving at the scene of the incident dropped life rafts to assist the stranded crew at sea and coordinated their recovery through nearby merchant vessel MT ELAN VITAL.
Up till now, the ISPR said, 15 crew members have been recovered whereas three were still missing.
​"Pakistan Navy and PMSA ships are also conducting search and rescue operation for the missing crew around the reported position," the official communiqué read.
Pakistan Navy and Pakistan Maritime Security Agency (PMSA) successfully ensured recovery of stranded crew members of Merchant Vessel SUVARI H during conduct of joint assistance operation south of Karachi, says #ISPR #etribune pic.twitter.com/kBJqsxRCBM

— The Express Tribune (@etribune) July 30, 2021
​Pakistan Navy, being overall coordinator of NAVAREA IX, always accords priority to maritime safety and responds immediately to render assistance to shipping community in distress at sea, ISPR statement further said.
Also read: Cargo ship stuck off Karachi coast due to poor weather
The incident comes days after a vessel, MV Heng Tong 77, belonging to a Hong Kong-based shipping company, lost anchors and started drifting towards shallow waters near Karachi last week.
On Thursday, the Pakistan Navy along with other maritime stakeholders had safely completed the defuelling process of the merchant ship.
"PN [Pakistan Navy] spearheaded and coordinated all efforts; rendered assistance to overcome challenges involved in de-bunkering process thus eliminating the risk of marine pollution," the Pakistan Navy said in a tweet on Thursday.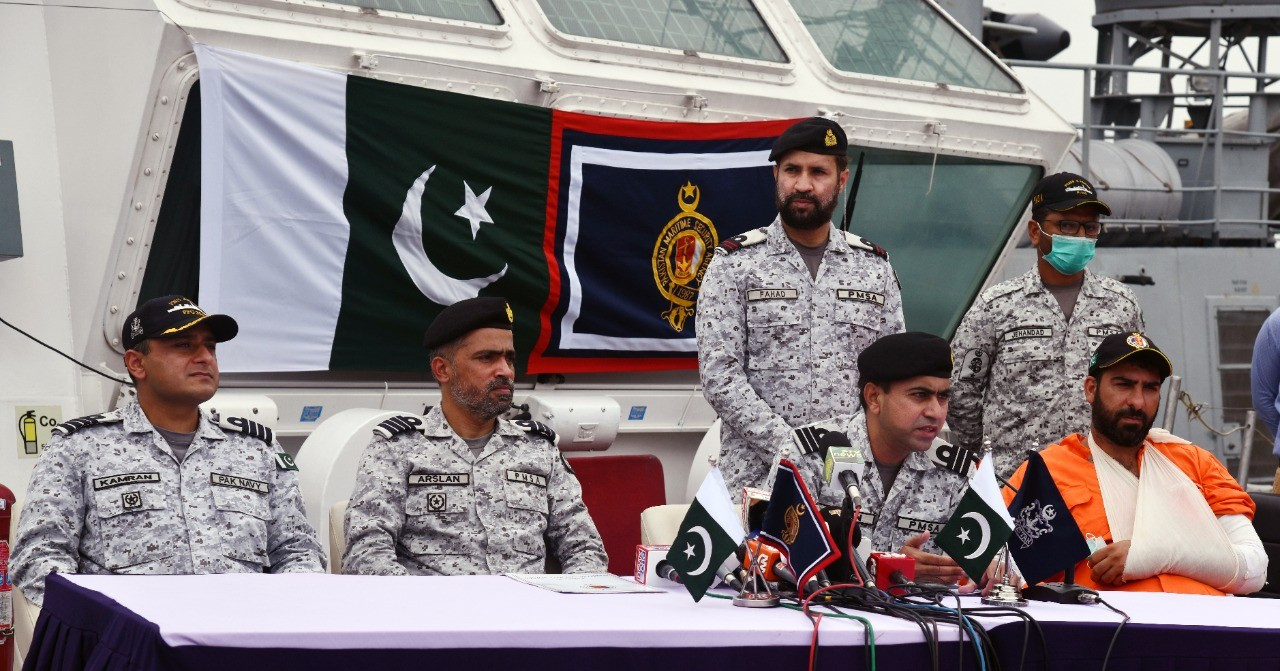 The officials of Karachi Port Trust (KPT), the Pakistan Navy and Maritime Security Agency (MSA) had jointly carried out the operation which started on Thursday morning.
The ship was carrying 118 tonnes of bunker fuel.
Earlier, Prime Minister's Special Assistant for Maritime Affairs Mahmood Moulvi had said that the authorities would make all-out efforts to avoid the spill of even "one drop" of oil before making a salvage attempt in the middle of next month.
An attempt to salvage the ship could not be made before Aug 15, Mahmood had said.
COMMENTS
Comments are moderated and generally will be posted if they are on-topic and not abusive.
For more information, please see our Comments FAQ