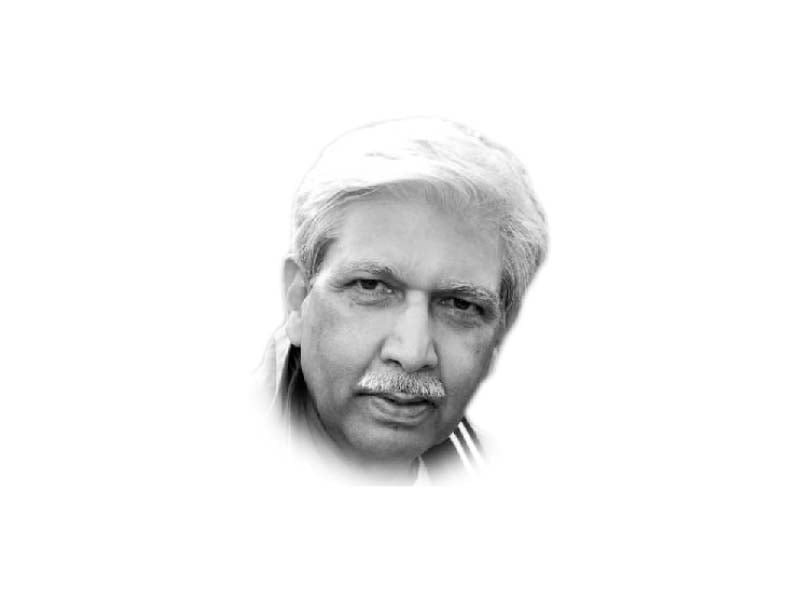 ---
The just-concluded Azad Jammu and Kashmir election 'must' be a moment of reflection for the PML-N. It is that point of inflection in their politics. PML-N is no ordinary party, rather the country's largest in historical reach and influence and time in power in Punjab and in the Centre, making it incumbent to assess the direction this party has taken in its political journey and assess its impact on the party and how it might impinge on the future political face of the nation.
Pakistan's political landscape is indeed unique. Rive with fear, strife, wars, lingering disputes, an uncertain future, and a rather impoverished political slate both in performance and in conception, it has indeed become a marriage of convenience between power wielders who have always held control of state and society's fortunes. A long period in power by the military has left the politicians feeling robbed of their right to run the country. This has distorted the sociopolitical face of the nation no end with continuing consequences. The civilian rulers are as much to blame for their inept tenures and even poorer ethos in leadership, instead reveling in massive corruption. The perception has turned into fact with tales of off-shore accumulation of moneys and assets by the ruling elites as they face case after case in country's higher courts.
With such shared failure rather than correct their moral make-up and their callous approach to governance they indulge instead in shifting blame away from abysmal performance when in power. The PML-N has chosen this as its strategy in a renewed make-up under Maryam Nawaz with an audacious assault on the country's military to shift blame and distract from its multifarious political and legal predicaments. This approach stands out in contrast with the more incremental route to regaining the lost space to the military by other political players.
One such route to regaining incremental control of essential policy direction by the civilian rulers is in how the policy governing relations with India has undergone subtle shifts. India stands out as Pakistan's nemesis and focus of policy since inception. This has been true for every disposition, military or civilian. Military men in power have been far more adventurous than their civilian counterparts in searching for peace with India against the grain of the nation's mental make-up. Musharraf's four-point formula for peace in Kashmir is a case in point. Political parties are far more conservative and tend to stick to the safer positions in policy prescription. ZAB's PPP was founded on the principle of a 1,000-year war to win Kashmir. Young Bilawal finds it difficult to shed the slogan even if changed times need a different approach. Just weeks ago, the PTI government pedaled back on opening up both talks and trade with India and had to invoke Kashmir to revert to the political safety of old rhetoric than take the risky route to breaking the impasse at a political cost.
The military however seems to have taken a more expansive, placid and a permissive approach towards the politicos experimenting their way out of a legacy morass and on terms that will be acceptable to the larger populace, not the military alone. This is a serious shift. An unsolved problem lingering for long will either lose relevance or slowly drift towards its logical end under dictates of time and environment. Musharraf changed tack and sought a via-media towards a functional solution but our civilian rulers have only been tentative to avoid a political cost for fear of appearing compromised. They need to be imaginative on Kashmir if they want to move the ball forward for their people and change the course of history. The ball on India lies truly in their court.
So shall it be in Afghanistan — another issue that has lain much in military hands for its historicity as well as its impact on the country's security. The civilian governments have been in tow mostly and thus appear pliant when engaging with these perplexing foreign policy and security issues. Together it leaves the impression of every civilian government only half in control. Afghanistan will soon end its long shadow on Pakistan as it hurtles towards its logical end. That is when it will revert back to the fold of political masters for future prescriptions. What is needed is patience. The distortions in our institutional and state structures are too deeply entrenched, not out of malice but in how the state and the region has developed over time. It will be a slow and engaged process to drawback the ceded space over decades of hybrid ownership. The politicos will simply need to up their game in performance and in political ethos.
PML-N's politics and Maryam Nawaz's style of leadership has a lot to do with why the political landscape seems so pretentious. She is anchoring her narrative on shallow premise even if she appears altruistic in intent. The message is irrelevant to the electorate as she speaks to her competing power brokers. She is thus losing the electorate and her political base. There could be triggers around party in-fighting to hasten her attempts to control the party but the adopted strategy is superficial and patently self-serving. Too frequently contrived hate shows through as she assaults the military as the ultimate challenge to dominate the politics of the country with revolutionary appeal. It remains a risky gambit. All of AJK coexists with the army as their one and only line of defence. They will not dump them for dubious political formulations. Ditto Punjab. Every third house has a linkage with the military in one shape or form among other things that determine its voting patterns. To flaunt anti-military rhetoric is self-defeating, earlier shed the better. Personal vengeance can never be nationalistic fervour. Similarly coming clean before the people is incumbent upon those that aspire to lead the people.
An odd individual or two have de-anchored the PML-N from its foundations with this newly determined theme to attack the nation's military. But is it delivering, is the question. If not, the party is on the wrong path. Musadik Malik and Mohammad Zubair will willy-nilly echo the strain, in blind pursuit, but at the cost of their caliber and reputation. Shahid Khaqan and Ahsan Iqbal, and indeed others, are at pain to explain the argument and appear incredulous. Khawaja Asif and Saad Rafique look on disbelievingly from the fringe in an attempt to save whatever credibility they can muster out of the morass. Shahbaz Sharif, a pervasively unlikely contender in a challenging environment, may still believe in the value of familial precedence and tradition but is slowly seeing the ground slip from under him in this game of thrones. Those harbouring ambitions of maligning the military lumber on at the cost of PML-N's ethos, voter base and electoral prospects. Constituency politics of Punjab, and of AJK, is far different in its flavour than some ideational chimera. It is time for the PML-N to regain control of its political direction. Changing the proverb in politics will help.
Published in The Express Tribune, July 30th, 2021.
Like Opinion & Editorial on Facebook, follow @ETOpEd on Twitter to receive all updates on all our daily pieces.
COMMENTS
Comments are moderated and generally will be posted if they are on-topic and not abusive.
For more information, please see our Comments FAQ