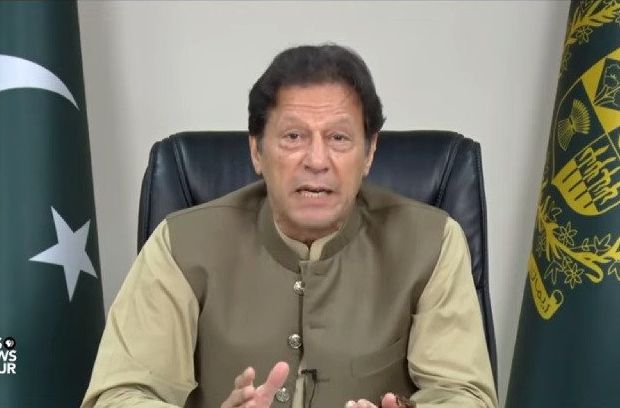 ---
ISLAMABAD:
Prime Minister Imran Khan has said that the US "really messed it up in Afghanistan" and the only solution to the country's situation was through a political settlement that was "inclusive" and involved all factions, including the Taliban.
During an interview with Judy Woodruff on PBS NewHour, the premier emphasised that there was "no military solution" to the problem.
"People like me who kept saying there was no military solution were called anti-American. I was even called 'Taliban Khan'. When they finally decided there was no military solution, unfortunately, the bargaining powers of America or the NATO forces had gone," he said.
"When there were 150,000 NATO troops in Afghanistan that was the time to go for a political solution."
When asked if the rise of the Taliban was good for Afghanistan, PM Imran replied that the Taliban must be a part of the neighbouring country's government in an effort to peacefully resolve the current situation in Afghanistan.
"The worst situation in Afghanistan would be a civil war and a protracted civil war, and from Pakistan's point of view, that would be the worst-case scenario," he pointed out.
"Pakistan would then face a refugee problem due to the continuing conflict."
PM Imran noted that Pakistan was already hosting three million Afghan refugees. "What we fear is that a protracted civil war would mean more refugees. Our economic situation is not such that we can have another influx."
The premier expressed concern that a new Afghan "civil war will flow into Pakistan because the Taliban are ethnic Pashtuns, and there are more Pashtuns on our side of the border than in Afghanistan".
"If this goes on, the Pashtuns from our side will be drawn into it," he added.
When asked about alleged Taliban safe havens in Pakistan, the prime minister replied: "Where are these safe havens? There are three million refugees in Pakistan who are the same ethnic group as the Taliban. The Taliban are not in some military outfit, they are normal civilians. How is Pakistan supposed to hunt them down [if they are in refugee camps]?"
US-Pak relations
PM Imran found comments of Pakistan's alleged support to the Taliban "extremely unfair", and said Pakistan had "nothing to do" with 9/11.
"When Pakistan decided to join the US' war on terror, this country was devastated by it. 70,000 Pakistanis died in that war – which we had nothing to do with. We had over a $150 billion dollars lost to the economy."
The prime minister further said allegations about 10,000 militants crossing into Afghanistan from Pakistan was "absolute nonsense" and that there was no "evidence" of such a claim.
He reiterated that he did not want CIA bases in Pakistan, as the US' war on terror had already "bankrupted" the country.
"We do not have the capacity to have terrorism, to have fighting within our border. When we were in the height of that war on terror, which Pakistan had joined, there were suicide bombings taking place all over the country. Businesses collapsed, tourism collapsed."
According to the premier, Pakistan would become a "target" if it allowed US bases and reiterated that Islamabad wanted to be ":a partner in peace", not conflict.
When asked during the interview what relationship Islamabad wanted with Washington at this point, PM Imran said the previous ties were transactional and Pakistan was "like a hired gun".
"Pakistan was like a hired gun. The US said we paid you, we gave you aid and that's why you were fighting this war on terror. Pakistan, on the other hand, felt that it was a country which had no need to be part of this war."
The premier said the aid was "minuscule" in comparison with the "money we lost in the economy", and that Islamabad was still "blamed for the failures in Afghanistan".
PM Imran added that Pakistan wanted to help and has helped by "getting the Taliban to talk to the US", however, the country could not afford a civil war in Afghanistan.
"We have just recovered from a desperate economic situation, and we do not want to go through it again".
"I hear that message," Woodruff remarked, but went on to ask: "Are you prepared to accept Taliban victory next door?"
"Absolutely, there's nothing more we can do, except push them as much as we can for a political settlement. That's all," the prime minister responded.
"But what happens in Afghanistan, we can only pray that the people of Afghanistan decide what government they want. And so we hope that that's what will happen in the end; they will form some sort of an inclusive government."
(With input from APP)
COMMENTS
Comments are moderated and generally will be posted if they are on-topic and not abusive.
For more information, please see our Comments FAQ