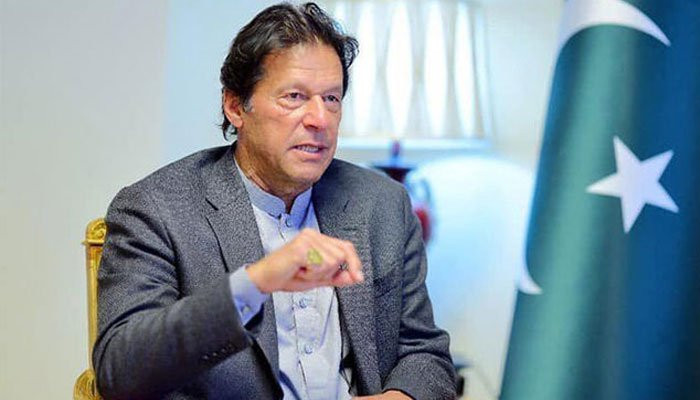 ---
During a recent appearance on PBSO News Hour, Prime Minister Imran Khan clarified his stance on the rising sex crimes in Pakistan and asserted that he has never blamed victims. He stated that his comments were deliberately taken out of context and that he solemnly holds only the rapists responsible for rape.
The premier also provided clarification regarding his comments on 'pardah' and assured that he was referring to everyone, not just women or their clothes.
With regard to his previous interview on HBO, the host questioned, "In an interview last month, you said that women bear a large part of the responsibility for the number of rising rape cases in Pakistan. Do you truly believe that?"
To this Khan said, "Look Judy, the one who commits rape, is solely responsible for it. So let's be clear about that." He went on, "No matter what a woman wears or how provocative she is, the person who commits rape is responsible. The victim is never responsible. My comments were taken out of context. We were simply talking about the Pakistani society and the rising number of sex crimes, including those against children. And when I spoke about 'pardah', which is a part of Islam, I was addressing everyone."
"The person who commits rape is fully responsible for the crime; the victim is never responsible" Prime Minister Imran Khan categorically states his thoughts on sexual crimes. He also claimed that his statement was taken out of context deliberately in an interview few weeks ago. pic.twitter.com/Ggki7p2sZM

— PTI (@PTIofficial) July 27, 2021
The premier assured that "Pardah is not restricted to clothes or women; it applies to men as well." He shared, "I was talking about bringing the temptations down in society. My comments were deliberately taken out of context because I know the interviews I've given; never would I say the victim is to blame."
Following this, the host asked a rather Islamophobic question which may reinstate the stereotype that Islam endorses violence against women. She asked, "Do you believe that the importance given to Islam in your country complicates your ability to take a stronger stance against the violence in your country against women?"
To this, Khan once again clarified, "Absolutely not, Islam gives dignity and respect to women. Having traveled across the world, I find that in Muslim countries, women are treated with far more respect and dignity. Even the rape cases in Pakistan compared to Western countries are minuscule. Yes, we have our issues, we have cultural problems, and every nation has that. But that can be resolved with cultural evolution and education. But as far as a woman's dignity goes, I can say that this society gives more respect and dignity to women."
Previously
In an excerpt of his interview on HBO – shared on the Axios' website in June – interviewer Jonathan Swan asked the PM if women's clothing had any effect on the temptation that leads to rapes. To this Khan said, "If a woman is wearing very few clothes, it will have an impact on the men, unless they're robots. I mean it is common sense."
Confused, Swan rephrased his question, "But is it really going to provoke acts of sexual violence?" Maintaining his stance, Khan elaborated, "It depends on which society you live in." He added, "If in a society people haven't seen that sort of thing, it will have an impact [on them]. Growing up in a society like yours, maybe it won't impact you. This cultural imperialism… Whatever is in our culture must be acceptable to everyone else."
have something to add to the story? Share it in the comments below.
COMMENTS
Comments are moderated and generally will be posted if they are on-topic and not abusive.
For more information, please see our Comments FAQ