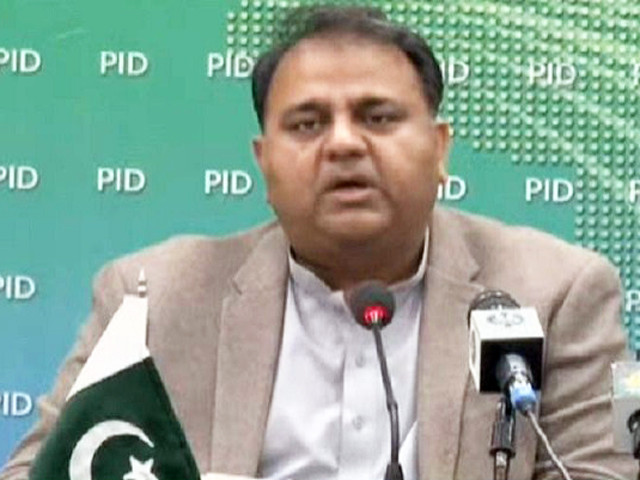 ---
ISLAMABAD:
Federal Minister for Information and Broadcasting Fawad Chaudhry on Monday said that one of the key factors behind Pakistan Muslim League-Nawaz (PML-N)'s defeat in the Azad Jammu and Kashmir (AJK) polls was its supremo Nawaz Sharif's recent meeting with the Afghan National Security Adviser Hamdullah Mohib.
He claimed the "humiliating defeat" of the party was the result of Nawaz Sharif's meeting with the "RAW agent" Hamdullah Mohib, saying "it was felt by Kashmiri people".
In a press conference, the minister, flanked by Federal Minister for Kashmir Affairs Ali Amin Gandapur, said it was surprising that the PML-N was refraining from issuing any clarification whether Nawaz Sharif's meeting with the Afghan NSA had been approved by the party.
He castigated both PPP Chairman Bilawal Bhutto-Zardari and PML-N Vice-President Maryam Nawaz for crying foul, urging them to take responsibility for their defeat and resign. "They both should resign from their posts voluntarily if they have any 'political shame' and give chance to the new political leadership to emerge within the party," the minister said.
Read More: Fawad asks Bilawal, Maryam to step down after 'historic defeat' in AJK polls
In a tweet on Monday, Maryam Nawaz threw results of the violence-marred contest into a new chapter of acrimonious allegations, echoing the alarms she had sounded regarding "rigging attempts" during her election campaign across the state. Maryam solemnly said she has not accepted the results and will never accept them. PPP leader Bilawal also rejected the results and alleged the election commission failed to take action against "violations".
Speaking at the press conference on Monday, Fawad Chaudhry said that instead of hiding behind the narrative of rigging, both the leaders should stand aside from their party positions.
"This is their last tenure, especially in the wake of their below-par performance," he said, claiming that PPP would also face similar defeat in Sindh in the next general elections.
Chaudhry said the major reason PTI won was its pro-Kashmir narrative that resonated with the people of the state, as compared to the "Imran-bashing" speeches of Maryam and Bilawal.
He pointed out there was a stark difference between the narrative employed by the PTI and that advocated by political rivals, adding that the PTI earned a resounding victory due to its language and narrative that struck a chord with the Kashmiri people.
He added that Prime Minister Imran Khan would now deliberate about the nominees for the AJK prime minister and speaker of the legislative assembly.
Nodding to Chauhdry's remarks, Ali Amin Gandapur regretted that "our previous rulers didn't play any role". He thanked the people of Azad Kashmir for supporting PTI in elections.
COMMENTS
Comments are moderated and generally will be posted if they are on-topic and not abusive.
For more information, please see our Comments FAQ