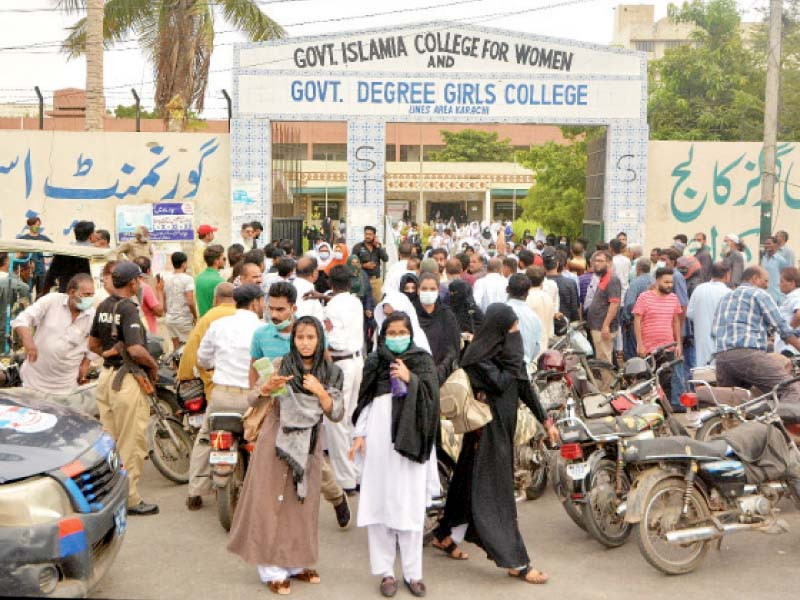 ---
KARACHI:
True to their reputation of late risers, education department officials were late on Monday morning to deliver the Higher Secondary School Certificate (HSSC) science group examination physics papers up to two hours late at many examination centres in the metropolis.
The Board of Intermediate Education Karachi (BIEK) exams for HSC started today in the same manner as the Board of Secondary Education Karachi (BSEK) Secondary School Certificate (SSC) exams, which were rife with delays and mismanagement.
However, according to officials and independent sources, there were no complaints of leaked papers.
Students were made to sit in the exam halls for one to two hours for the physics paper.
BIEK Chairperson Saeeduddin said that there were complaints of late delivery of papers in some centres. But even at centers where the papers came late students were given a full two-hour time for the exam, he said, speaking to the media while making rounds of invigilation centres around the city. There have been no reports of paper leak, he affirmed.
Saeed said a total of 210 examination centres have been set up in the seven districts of the metropolis where 112,000 students will sit for the HSSC exam.
The exams are being held under strict coronavirus-related standard operating procedures (SOPs) and students without face masks are being provided one, he said. He elaborated further on security arrangements to prevent cheating such as a ban on the use of cell phones in examination halls.
Meanwhile, a survey conducted by The Express Tribune showed that papers arrived at several examination centres with a delay of one and a half to two hours. For instance, the exam started at 10am at Abdullah College for Women and 10.30 at the Delhi Government Boys Higher Secondary School. At many examination centres, the paper arrived two hours late.
The parents of students, who sat extra hours in the examination hall, had to wait outside for an extended time period. "We come from far off places, many schools are not on bus routes, we bring our children to the exam centre and take them back with us," said one mother, who had come to Abdullah College for Women in North Nazimabad from North Karachi Sector D.
These are not the times you can allow young children, particularly girls, to go by themselves to exam centres away from home and college, she added.
Another parent said he had to take an extended break from office to bring his daughter to the invigilation centre and then drop her back home. "Delay in the exam means I am losing hours at the office."
The students said that the paper was easy but it started late and they took the paper fifteen minutes early.
Speaking to The Express Tribune, the superintendent of an examination centre said that it was the responsibility of BIEK to deliver the papers at examination centres. The papers were delivered to the centres late by the board administration, he added.
Remodeled papers
The papers have been remodeled to fit a two-hour instead of a three-hour time period. The examinations have more multiple choice questions (MCQs) and a reduced syllabus due to a disrupted academic year given intermittent lockdowns amid the coronavirus outbreak. Moreover, students have to appear only for the optional papers to clear the HSSC exam.
Read More: Girls outshine boys in intermediate exams
Students coming out of Delhi Government Boys Higher Secondary School Federal B Area Block-I said the paper was easy but it started late and the examiner took the copies away 15 minutes early.
They said that as per the new regime, they first get the MCQs sheet and after that Section B and Section C of short and long answers.
Meanwhile, in Hyderabad, 170 examination centres were established for over 46,000 students appearing from nine districts of Hyderabad.
Published in The Express Tribune, July 27th, 2021.
COMMENTS
Comments are moderated and generally will be posted if they are on-topic and not abusive.
For more information, please see our Comments FAQ