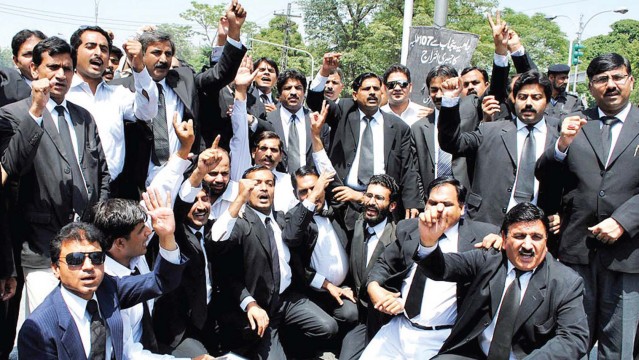 ---
ISLAMABAD:
The Pakistan Bar Council (PBC) – the apex regulatory body of lawyers – has expressed serious reservations over the Judicial Commission of Pakistan's (JCP) upcoming meeting in which the forum will consider elevation of a junior Sindh High Court (SHC) to the Supreme Court.
An emergency meeting of the PBC executive committee was held on Monday to discuss the JCP meeting scheduled for July 28 to reconsider elevation of SHC Justice Muhammad Ali Mazhar.
A statement issued after the PBC meeting said the legal fraternity had raised serious reservations over possible elevation of Justice Mazhar, fifth in the SHC seniority, at the JCP's meeting on July 13 and the JCP had deferred the matter. However, the forum has been reconvened within a short span of 15 days.
"In view of the above the executive committee has announced complete strike call from all the courts throughout the country for Wednesday, as a mark of complete protest [against] the elevation of a junior judge by ignoring four senior judges of the same high court as well as the principle of seniority as enshrined in various landmark judgments of the Hon'ble Supreme Court," it said.
Also read: JCP to discuss SHC judge's elevation on 28th
The committee also took strong exceptions to the remarks of Federal Minister for Information Fawad Chaudhry, who described the principle of seniority as ridiculous and foolish. The PBC said the minister's remarks are highly condemnable.
One section of lawyers believes that seniority should not be the only principle to elevate a judge from high courts to the SC. They call for taking into account other aspects like competence, uprightness, integrity, performance and ability while elevating a judge to the apex court.
Interestingly, the superior bars did not oppose the elevation of four junior judges to the SC in the last four years.
During the tenure of former chief justice of Pakistan Mian Saqib Nisar, Justice Munib Akhtar was elevated to the SC despite being fourth in seniority among the SHC judges.
Justice Qazi Muhammad Amin Ahmed was appointed an SC judge a month after his retirement from the Lahore High Court during the tenure of former CJ Asif Saeed Khosa. He was 26th on the LHC seniority.
Justice Aminuddin Khan of the LHC was also elevated to the SC even though he was fifth in terms of seniority. Recently elevated Justice Mazahar Ali Akbar Naqvi was third in seniority in the LHC.
COMMENTS
Comments are moderated and generally will be posted if they are on-topic and not abusive.
For more information, please see our Comments FAQ