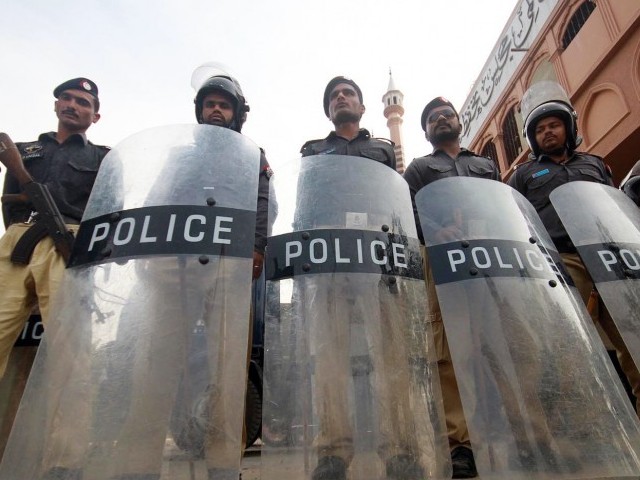 ---
Sindh govt assures foolproof arrangements for Muharram
Minister Nasir Hussain Shah says comprehensive security plan to be devised by Rangers, police
---
KARACHI:
Sindh Religious Affairs, Local Government and Information Minister Nasir Hussain Shah has said that foolproof security arrangements will be ensured across the province during Muharram and a comprehensive security plan in this regard will be devised in consultation with the Sindh Rangers, police and other law enforcement agencies.
Heading a meeting pertaining to Muharram arrangements at the Sindh secretariat on Monday, Shah assured that special cleanliness and lighting arrangements will be made in and around imambargahs and along the procession routes.
Special Assistant to the CM Waqar Mehdi has been assigned the charge of supervising all arrangements in the Karachi division, apprised Shah, adding that the Karachi Water and Sewerage Board has also been directed to ensure water supply.
Shah said the first meeting was being held to identify the issues faced by participants of Muharram processions and majalis and a second meeting, chaired by the Sindh chief minister, would be held to finalise arrangements. Besides, commissioners and deputy commissioners will also hold meetings at the divisional and district levels to discuss matters with stakeholders and procession and majalis organisers. He added that peace committees would also be formed at the district level, comprising scholars of all schools of thought.
Maulana Hussain Masoodi, Syed Shabbar Raza, Maulana Sadiq Jafari, Allama Syed Irfan Abidi, Allama Syed Asghar Naqvi, Allama Saqlain Haider, Syed Karar Naqvi, Mehdi, Home Additional Chief Secretary Qazi Shahid Pervez, Karachi Metropolitan Corporation Administrator Laeeq Ahmed, KWSB MD Assadullah, commissioners, deputy commissioners and other officials attended the meeting.
Also read: Muharram in the era of Covid-19
According to a statement issued by the minister's office, Shia scholars expressed gratitute to the Sindh government and appreciated arrangements made by the provincial government in the past.
They hoped that sufficient arrangements would be made this year as well and extended their cooperation in this regard. The Ulemas also called for mourning to be permitted in Karachi Central Jail as it had been for two decades but was suspended during the pandemic. They also demanded a review of the decision to withdraw security from scholars facing threats and demanded an end to the practice of lodging FIRs on majalis being held at homes.
Shah directed the KMC and district municipal corporations' administrators to ensure all required arrangements for Muharram are complete. Besides, he urged the Ulema to ensure implementation of Covid-19 SOPs and said vaccination centres would be set up on their recommendation. He encouraged them to motivate the public to get inoculated through their sermons.
The minister said that the home additional chief secretary would hold separate meetings regarding FIRS, the fourth schedule and the issuance of lists of incedianary speakers.