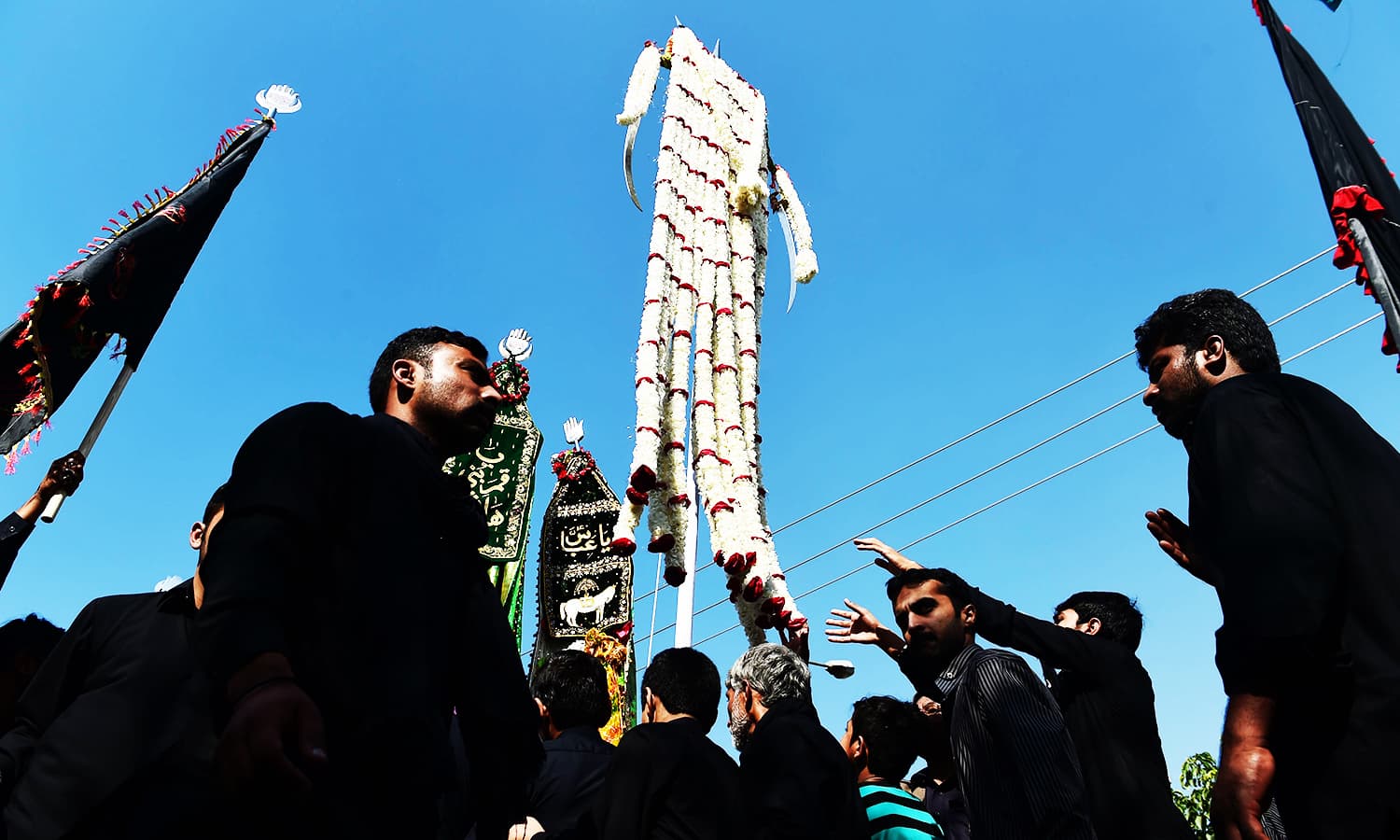 ---
Muharram in the era of Covid-19
Organising teams face task of implementing govt-mandated SOPs, WHO guidelines
---
KARACHI:
With Covid-19 cases seemingly on the decline in the country, there has been speculation of a spike in virus cases during Muharram. Parts of Karachi's Shia community, however, have chosen to lead by example and play their role in protecting mourners and participants of majalis and processions.
At a majlis in Imambargah Mehfil-e-Shahid Shahida, located in the city's Khurasan area, the organising team could be seen strictly implementing the government-mandated SOPS.
The team arranged scouts for vigilance, who ensured masks covered the nose, mouth and chin, gloves were worn to protect hands and an adequate distance - marked by orange stickers - was maintained between each mourner.
Entry was strictly curtailed too, with not more than 10 to 15 people in a room, while mourners were made to walk through disinfectant gates and have their temperatures checked before entry.
Speaking to The Express Tribune, the majlis' lead organiser, Najmul Hasan Jafry said the district administration had been informed of the community's decision to hold majalis while assuring strict implementation of SOPs.
"We held a meeting with government representatives around two months ago, and the relevant persons were kept in the loop about safety precautions against the virus," he explained. "Luckily, we did not come across anyone with symptoms, but we decided that we would politely ask such persons to return home and isolate themselves." He added that a Youtube link to the majlis was available too.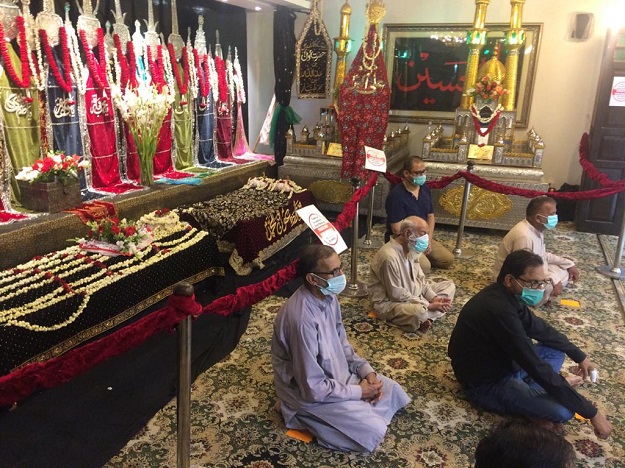 PHOTO: Abdullah Abbas
"We cannot ask people to abandon their faith during these testing times, but we played our role to ensure the community can learn how to protect people from Covid-19 during the annual majalis," he went on to say. "Our team adapts to the circumstances, but protecting mourners is a top priority."
Without support
Meanwhile, in the narrow lanes of Ancholi, where crowds and parked vehicles almost blocked the way to Imambargah Shuhada-e-Karbala, hundreds of people entered through the four walkthrough gates at the only entrance.
Most, if not all, wore masks as they navigated their way to the Imambargahs and households, where residents of the predominantly-Shia neighbourhood opened their gates for fellow community members to offer Niyaz, rest and eat Tabarruk (food distributed in Muharram).
Asim Jaffrey, the lead organiser for Ancholi's gathering - the largest in Karachi - said they too held a meeting to figure out how to accommodate mourners amid the pandemic, deciding to follow the SOPs.
Responding to a question on government support, he stated, "No material support was provided. We expected the government to at least set up a health desk for inspection, data collection or testing."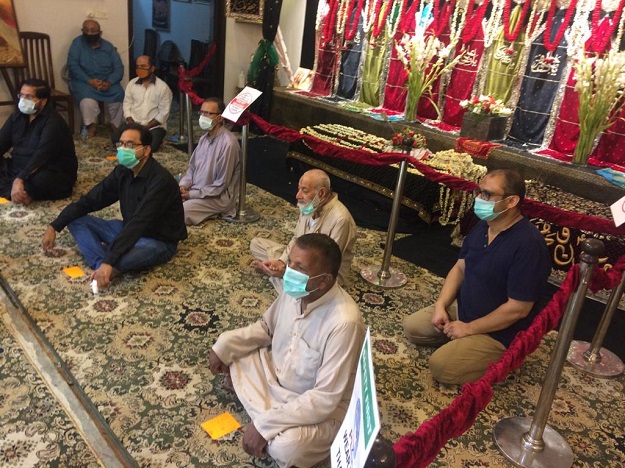 PHOTO: Abdullah Abbas
He lamented that the government lifted the lockdown before Muharram. "When SOPs are no longer being implemented in offices or in shopping malls, how can one expect us to control an entire community? People are passionate about their faith."
Aun Rizvi, a mourner at an Ancholi majlis, also opined that the government should impose a smart lockdown for Muharram, Safar and the early days of Rabiul Awwal. "If they don't, the responsibility does not entirely fall on any one of us."
Meanwhile, Syed Muhammad Haider Naqvi, from Masjid-o-Imambargah Yasrib, added that it was the Ulema's responsibility to ensure the protection of those present at any faith-based events they held. "Our faith teaches us to analyse information regarding the threat of an infectious disease and make SOPs mandatory," he said.
Published in The Express Tribune, September 7th, 2020.